SPECIAL REPORT: State of the Union 2018
Our team's special coverage of the 2018 State of the Union address
We've broken down the first State of the Union addresses of President Donald Trump and his three predecessors to show each leader's individual style and substance.
read more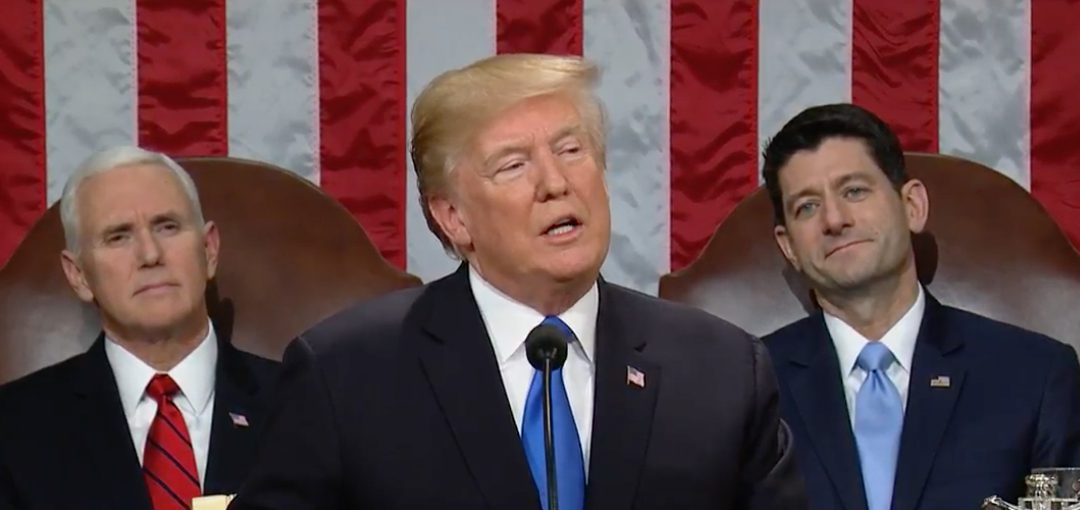 Discussing his infrastructure plan in his first State of the Union address, President Trump said "we built the Empire State Building in just 1 year." The president called for bipartisan efforts from Congress to fund $1.5 trillion in infrastructure investments.
read more
WASHINGTON — President Donald Trump kicked off his first official State of the Union address Tuesday by touting the success of his tax bill and taking credit for record stock market highs.
"Just as I promised the American people from this podium 11 months ago, we enacted the biggest tax cuts and reform in American history," he said.
"Small business confidence is at an all-time high, and the stock market has smashed one record after another, gaining $8 trillion in value."
Amidst a tense atmosphere in the House chamber, where Trump addressed a joint session of Congress and guests, he received a standing ovation from Republicans when he heaped praise on America's economic success under his tenure, while Democrats remained seated with stoic expressions.
"Our massive tax cuts provide tremendous relief for the middle class and small businesses, and since we passed them roughly 3 million workers have already gotten tax cut bonuses – many of them thousands of dollars per worker," he said.
Economic boom has been perhaps the most positive news to come out of Trump's first year in office. Since signing the $1.5 trillion tax overhaul bill in December ‒ which delivered permanent tax cuts for corporations by dropping the corporate rate from 35 percent to 21 percent ‒ national economic growth has continued to increase at a steady pace, with the government reporting a GDP annual growth rate of 2.6 percent in the final quarter of 2017.
While the president has been citing ‒ and even exaggerating ‒ the amount workers across the country are receiving in bonuses as a direct result of his corporate tax cuts, economists warn that overall the bill is still skewed to primarily benefit the very wealthy.
A recent Reuters/Ipsos poll found that merely 2 percent of workers have reported receiving a bonus or raise as a direct result of the tax cuts, as further evidence of the fleeting, short-term effects the bill has on low and middle-income workers.
"I think the kind of rush of companies coming out and saying they're handing out bonuses was more of a PR strategy than one that shows real, lasting impacts on the future paychecks of American employees," Alex Rowell, a policy analyst at the progressive Center for American Progress, said. "As far as lasting wage increases for workers, you're really not seeing that by giving them these one-time bonuses."
Trump's remarks paralleled those from his speech at the World Economic Forum in Davos, Switzerland last Friday, where he stated that the world is witnessing the resurgence of "a strong and prosperous America". He specifically referred to his "massive" tax overhaul and elimination of regulatory reductions as proof of policies that have stimulated the U.S. economy.
"America is open for business, and we are competitive once again," he said.
However, experts are hesitant to attribute a robust economy directly to Trump's policies, citing a variety of other contributing factors carried over from his predecessor such as an already strong labor market, ongoing job growth and a decreasing unemployment rate.
"You can't take credit for the continuation of an ongoing trend," said Heidi Shierholz, director of policy at the Economic Policy Institute, a think tank focused on improving the lives of people with low and middle incomes. "If things looked markedly different from their longer run trends, you'd start to wonder what Trump had done to cause that…but that's not the case."
Shierholz also said that the tax bill contributes to the trend of wage stagnation for middle class workers and rising wage inequality. Since corporate profits are already high, their incentives to invest in firms and establishments that will generate economic activity at all levels won't be affected by additional tax cuts, she said.
"During the campaign, he made blue-collar workers feel like he understood their economic insecurities and would do something about them, but since he took office every time he's had to choose between prioritizing corporate interests or the interests of workers, he's chosen corporate," she said.
Keep up with #SOTU18 as reporters Anna Laffrey and Maggie Harden fact-check President Trump's first State of the Union address in real time.
WASHINGTON — College Republicans praised President Donald Trump's first year in office Tuesday and found relatable themes during Trump's State of the Union address.
Allison Coukos, a senior and chair of the George Washington University College Republicans, said the theme of national unification resonated with her the most while watching the president's address at a State of the Union watch party.
"When you see the Democrats – I've always understood there is a role for the opposition party, the minority party, but when you flat out refuse to work with the president, you're not helping Americans, you're trying to further your own political points," Coukos said. "So when you have Trump coming in saying we need to focus on unification, we need to focus on the Americans first and foremost, politics aside, that's I think the call of a leader."
Hunter Ihrman, a freshman and another member of the GW College Republicans, appreciated Trump's focus on Americans in his speech.
"He's also done a really good job of mentioning the accomplishments of a lot of ordinary Americans. I'm actually really inspired by the way he's forging forward together," Ihrman said.
Many College Republicans agreed that one of Trump's challenges was his rhetoric and handling of social media. Some were concerned that Trump's tweets and controversial remarks would distract their fellow college Republicans from his actual accomplishments.
"There's sort of a disconnect between Trump the character and Trump the president. Hopefully, eventually, we'll see a merger of the two," Coukos said.
However, many young Republicans united to praise what Trump noted as a maor accomplishment in his speech  – his tax plan.
"With the tax plan, it's looking like it's finally cool again to be successful in this country." According to Judah Waxelbaum, director of membership for the Arizona State University College Republicans. "It's finally starting to be incentivized to do business in America,"
The ASU freshman said Trump's tax reform law has big implications for job creation in Arizona and nationwide.
"It's a big deal for a college student like me to feel like there's actually going to be job opportunities for me when I graduate," he said. "For millennials a lot of us are in very steep student debt so the idea that we'll actually be able to make money after graduation is a big deal."
Waxelbaum, who volunteered on Trump's campaign and voted for the president, said Arizona already has had a job increase because of the law.
Enrique Zalamea, a senior at the University of Michigan, also pointed to job creation as a major success of Trump's first year in office.
"The tax plan really helps in … cutting corporate tax rates down to 21 percent. I think that's a huge factor. We're seeing a lot of massive corporations – like Chrysler is actually moving an auto factory to Michigan sometime in the near future," Zalamea said. "So many big companies bringing back jobs to the U.S. and that's really what we need to bring wealth and bring back money to the American people and the American working class."
Zalamea declined to say whether he voted for Trump in the 2016 presidential election.
Trump had an average approval rating of 38 percent throughout the U.S. in 2017, according to a Gallup survey that tracked interviews conducted nationally through the year. Only 22 percent of adults between the ages of 18-34 approved Trump's handling of the presidency, a NBC News/GenFoward study conducted in November said.
Trump has divided college Republicans since the start of his campaign. At Pennsylvania State University and Harvard University, the student Republican organizations declined to endorse Trump in 2016. Still, some are trying to look past his tweets and point to the progress he's made for conservatives and Republicans this past year.
A Duke University College Republican said that he approved of Trump's nomination of Neil Gorsuch as an associate justice to the Supreme Court. He also liked Trump's moving the U.S. embassy to Jerusalem.
"The move for me personally being Jewish and a big supporter of Israel, the move to…recognize Jerusalem as the capital was very big symbolically and I think it will work out policywise as well," the Duke student, who was concerned about others knowing his political views, said.
WASHINGTON – Last year female Democratic lawmakers wore white to President Donald Trump's first address to a joint session of Congress to honor suffragettes. This year, the color will be black as both male and female members of Congress show support for the #MeToo and #TimesUp movements at Trump's State of the Union address Tuesday night.
The symbolic gesture follows a similar demonstration organized by women at the Golden Globe awards, where many in the entertainment industry dressed in black to protest sexual harassment in Hollywood and elsewhere.
"It will be a moment for so many survivors of harassment and assault to say, 'Thank God somebody in the legislature has my back. Thank God that it's not just celebrities, that it's people who have the power to invest in ending harassment and assault in meaningful way,'" said Emily May, co-founder and executive director of Hollaback!, an anti-harassment advocacy group.
With the increased national focus on sexual harassment as allegations surface in sports, the service industry, the media and more, some Capitol Hill lawmakers have taken up the crusade among their own ranks, notably Rep. Jackie Speier, D-Calif., who has proposed legislation to increase accountability for members of Congress. Sen. Al Franken, D-Minn., and Reps  John Conyers Jr., D-Mich.,and Trent Franks, R-Ariz., are among those forced to resign or retire because of sexual harassment allegations. A number of others have been reprimanded, announced early retirements or otherwise punished.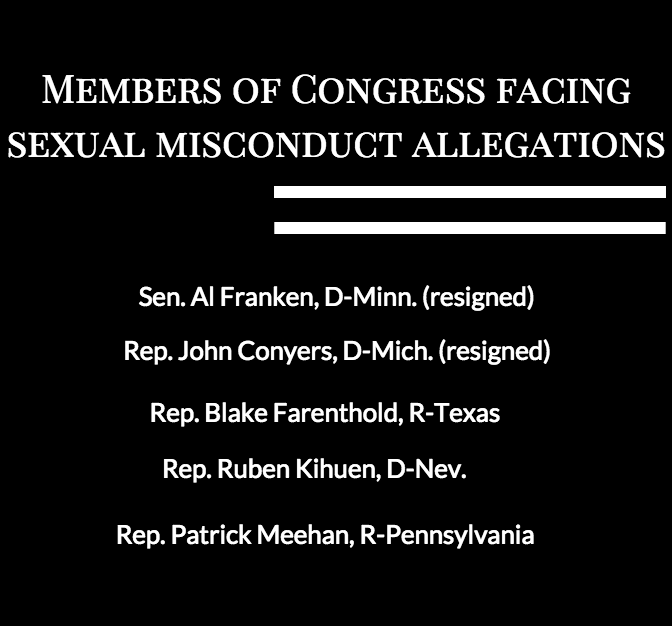 Policy experts like Jocelyn Frye, a senior fellow at the Center for American Progress and former member of the Obama administration, said that while messages and symbols highlighting this issue are important, lawmakers and employers need to follow through with reform that will benefit everyday workers, not just film stars and white-collar employees.
"We have to understand that this is not just a problem facing famous people. That's the risk," Frye said. "You have a bunch of actresses and political folks and media figures who by definition are able to tell their stories in a very public way … but they're only a piece of the puzzle."
Women of color face harassment and assault at higher rates than white women, but white women have largely dominated the #MeToo conversation. With high-profile cases like those of movie mogul Harvey Weinstein and Dr. Larry Nassar, who was convicted of sexually abusing scores of young female gymnasts, largely brought forward by white women, the emphasis was removed off of the systemic power imbalances that #MeToo movement founder Tarana Burke said are especially acute for women of color, who often don't have the wealth or social capital to push back like other women with more means.
A symbolic moment like members of Congress wearing black is powerful, Noor Mir, a board member of Washington, D.C. activist group Collective Action for Safe Spaces, said, but it is crucial to include all women.
We have to really think about who occupies seats at the table, and when we're talking about women are we really talking about all women?
Noor Mir
"We have to really think about who occupies seats at the table, and when we're talking about women are we really talking about all women?" Mir said."We still have a long way to go, I think, in equalizing the narrative."
Organizations like Hollaback! and Collective Action for Safe Spaces lobbied, often at the local level, to get governments to act. Mir praised a bill introduced by Brianne Nadeau, a D.C. council member, last year that is designed to educate city employees about how to identify and address street harassment and would follow New York City by becoming the second city to collect data on harassment's many forms.
"If this legislation goes forward, we could really become national leaders in this," Mir said.
She and May said increased criminalization is not the answer to street harassment.
"There is still this ever-present myth of it being mostly brown, mostly black and Latino men who are doing all this harassment, and that the victim is this sort of innocent white woman," May said. "What we want to make sure that we're not replicating those stereotypes, and we're not entrenching those stereotypes into laws."
On the federal level, Frye said, lawmakers should increase funding to not only combat sexual abuse, but to collect better data nationally. Equal Employment Opportunity Commission reports indicate that more research is needed to understand how it affects women from all walks of life, she said, and Congress could also expand the budget for support services for victims of sexual harassment.
Last month, Sens. Lindsey Graham, R-S.C. and Kirsten Gillibrand, D-N.Y, introduced a bill to put a stop to forced-arbitration clauses in employment contracts, making it illegal for employers to require employees to sign an agreement forfeiting their rights to take a harassment case to court.
But Mir cautioned that there is not one simple fix to the widespread sexual harassment problem. "When it comes it down to really grappling with this culture that allows for patriarchy to flourish, allows for people to think they own a woman's body and are able to do whatever they want to it, that's something that's much deeper that no text or lawmaker or policy can necessarily fix in a day."