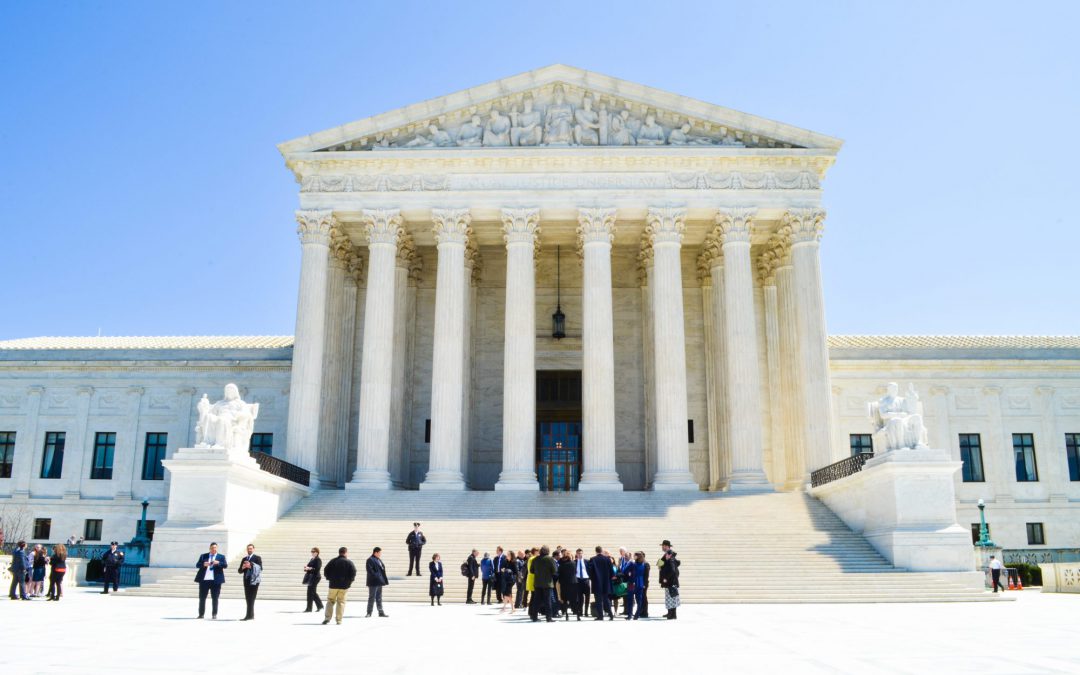 Supreme Court justices on Tuesday heard arguments on whether Boston officials' rejection of a Christian flag as part of a program in which the city occasionally replaces its own flag with those requested by private citizens violated the First Amendment.
read more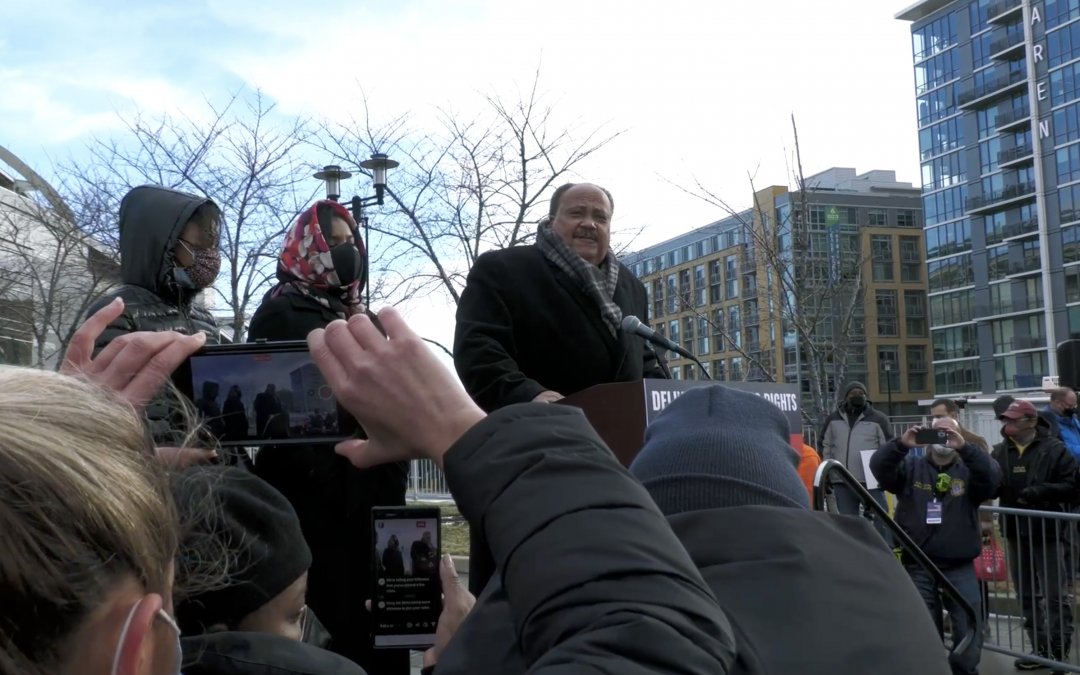 Hundreds of marchers joined Martin Luther King III, Arndrea Waters King and Yolanda Renee King in Washington, D.C. Monday to commemorate Dr. Martin Luther King Jr.'s 93rd birthday and advocate for the passing of the John Lewis Voting Rights Advancement Act and the Freedom to Vote Act.
read more
WASHINGTON — When Mohammed Alarefi, a native of war-torn Yemen, won the U.S. visa lottery in May 2018, it was the realization of his childhood dream: a chance to move to America.
"I registered every year until the miracle happened and I was chosen" for a diversity visa for fiscal 2019, Alarefi said.
The Diversity Visa Lottery program allows people randomly selected from countries with low levels of immigration to the United States to obtain visas. Every year, up to 55,000 diversity visas are available, and those selected may bring spouses and unmarried children under age 21, who are called derivatives. But the timing of Alarefi's miracle couldn't have been worse. Winners and their derivatives must complete the visa application process within the fiscal year for which they were selected. Fiscal years run from Oct. 1 to Sept. 30. Those who do not obtain their diversity visas before the end of the fiscal year will lose their spots. With a less than 1% chance of being selected in the visa lottery, not obtaining the visa in time means they most likely will have lost a once-in-a-lifetime opportunity.
In January 2017, President Donald Trump had signed an executive order prohibiting travel to the United States from seven predominantly Muslim countries, including Yemen. That was just the start of an assortment of barriers that prevented those who won diversity visas from coming to the United States.
National security cited
The justification for Trump's ban was national security, but critics assailed the rule as being targeted toward Muslims. Though the courts initially blocked it, and the list of banned countries changed several times, the Supreme Court eventually allowed the ban to go into effect.
And although it only was an entry ban, the State Department refused to issue diversity visas to lottery winners from countries subject to the ban. With that in place, Alarefi and his family were unable to obtain visas before the fiscal year ended.
"Here my dream was shattered for the first time," Alarefi said.
But he refused to give up, applying for the visa lottery again the next year. Despite the odds, he won again in the fiscal 2020 diversity lottery. And again, he and his family weren't able to obtain visas.
Solmaz Vosog, a 2019 visa lottery winner from Iran, said she feels her family has been discriminated against.
When they found out that they couldn't get visas because of the travel ban, "my surprised son asked, 'Is there still religious and racial discrimination in America?'" Vosog said. "The Constitution says all human beings are equal."
Biden ends ban
On his first day in office, President Joe Biden issued a presidential proclamation ending Trump's travel ban, calling it "a stain on our national conscience."
However, Biden's administration later announced that diversity visa winners whose status had expired during the ban would have to re-enter the lottery, citing federal law limiting their eligibility to one fiscal year.
Incredibly, Alarefi's wife won the visa lottery in the Diversity Visa Program for fiscal 2021.
"My wife and my child and I celebrated for days and nights," he said.
But although the travel ban ended in January, Alarefi's family still weren't able to obtain visas. A series of bans, policies and delays related to COVID-19 caused many 2020 and 2021 winners to lose their chance to come to the United States.
They weren't alone. A series of bans, policies and delays related to COVID-19 caused many 2020 and 2021 winners to lose their chance to come to the United States.
That is because on April 20, 2020, Trump issued Presidential Proclamation 10014, which suspended the entry of most immigrants, including visa lottery winners and their derivatives, into the United States to protect the country's economic recovery from the pandemic.
The State Department interpreted this as a freeze on not only immigrant entry, but also on issuing immigrant visas.
COVID-19 causes ban
Also, between January 2020 and April 2021, Trump and then Biden issued presidential proclamations that suspended entry of non-Americans from numerous countries to prevent the spread of COVID-19.
In March 2020, the State Department began to interpret these regional entry bans as a prohibition of the issuance of visas to individuals subject to the bans.
Biden ended the regional bans on Oct. 25.
Other COVID-19 policies impacted visa processing.
In March 2020, then-Secretary of State Mike Pompeo directed all diplomatic and consular posts "to immediately suspend all routine nonimmigrant and immigrant visa services" due to the pandemic.
Consular posts were restricted to providing "mission-critical and emergency visa services," which did not include processing diversity visas.
After consular posts were allowed to resume services, the State Department in November 2020 implemented a tiered prioritization system that placed diversity visas in the bottom tier.
This scheme remained in place even after Biden reversed Proclamation 10014, and the State Department didn't end it until November.
Tiered prioritization greatly limited the number of diversity visas issued. By the end of fiscal 2021, the State Department had issued only around 15,000 of the almost 55,000 visas allocated for the year.
Worse than before
Many visa lottery winners who couldn't get visas say they were left worse off than before, as many had given up educational and job opportunities or even sold their homes in anticipation of moving to the United States.
A State Department official said the tiered prioritization scheme was implemented because the department had a reduced capacity for processing visa applications due to the pandemic and chose to prioritize family reunification.
Curtis Morrison, a lawyer who represents visa lottery winners who are suing the government because they couldn't get visas due to COVID-19 policies, criticized the Biden administration for carrying on some of Trump's policies and for fighting in court to keep from having to issue expired diversity visas.
"They want to keep out these diversity visa immigrants," Morrison said. "Why that is, I have no idea, because Biden ran on a platform that said he was going to increase the number of diversity visa allotments, but he's fighting the ones that were allotted. It doesn't make sense."
An official from the State Department said it's the department's policy to try to issue as many of the some 55,000 diversity visas available each fiscal year as possible, but "there is currently no legal authority or mechanism to allow the State Department on its own initiative to provide [diversity visa] applicants from prior years with an avenue to seek reconsideration of their diversity visa eligibility."
Still some hope
Hope exists for some visa lottery winners, thanks to a series of court cases in which judges ordered the State Department to either issue some diversity visas or to reserve a certain amount pending the outcome of litigation.
But for the vast majority of winners, their only hope is language in the current version of the Build Back Better bill.
It would make diversity visas for 2017 through 2021 available to winners and derivatives who were denied visas or admission due to Trump's travel ban or who were unable to get visa interviews or enter the country due to COVID-19 or to bans, policies and processing delays related to the pandemic.
However, Morrison said he worries that the language won't make it into the final version of the bill, since diversity visa winners don't have as much support as other categories of immigrants, such as universities wanting to bring in international students or Big Tech wanting to bring people in on employment visas.
"I don't want any of my clients to have false hope," Morrison said. "I would hate for them to stay in limbo, wondering whether or not they're going to get relief from Congress when I know that our Congress just isn't known for that."
However, Alarefi is not giving up hope.
"Our dream is simple," he said. "Just immigrating to America."
---
Published in conjunction with

WASHINGTON – Shortly after a second case of the new Omicron variant of COVID-19 was reported in the United States, White House Press Secretary Jen Psaki said Thursday that the administration is reviewing all possible options to keep Americans safe.
"Nothing is off the table" as the administration searches for the most effective way to control the spread of the variant, Psaki said.
President Joe Biden later made an announcement on new infection-mitigating measures, including a provision for home COVID-19 tests to be covered fully by insurance.
Details remain to be worked out on how exactly that would be accomplished, Psaki acknowledged. It wasn't yet clear, for instance, whether under the new plan insurers would have to cover the costs of COVID-19 tests or whether the federal government would reimburse them.
When asked whether Biden could fulfill his campaign promise of bringing an end to the pandemic, Psaki said that "there's a lot that we don't know."
"The president believes if more people get vaccinated, things can get back to normal," she said.
Although new Omicron cases have emerged around the world, the administration would not commit to lifting the travel restrictions imposed last week on eight southern African nations. South Africa was the first country to announce detection of the new variant. Psaki said Biden would rather "err on the side of caution" and leave the restrictions in place.
Although questions on the pandemic dominated Thursday's news briefing, Psaki also addressed the unfolding crises in Eastern Europe. She announced a fresh round of American sanctions on Belarus in response to that government's alleged involvement in the deepening crisis of refugees, many from the Middle East, who are trying to enter the European Union in Poland and Lithuania, but are being blocked by authorities.
She also expressed concern about the deployment of Russian troops near the Ukrainian border. Psaki reiterated America's deep commitment to Ukraine and backed up Secretary of State Anthony Blinken's earlier statement threatening severe economic sanctions should Russian aggression continue, while also saying that all options would be considered.
On domestic events, Psaki said she would not speculate on the Supreme Court's position on abortion; the justices heard arguments Wednesday for a case regarding a Mississippi law challenging Roe v. Wade. She said Biden was committed to codifying the right to abortion into law by supporting the Women's Health Protection Act in Congress.
WASHINGTON – A lawyer for Mississippi Wednesday urged the Supreme Court to overturn Roe v. Wade, arguing it has no constitutional basis, but lawyers for the federal government and an abortion clinic challenging the state's ban on abortions for women who are more than 15 weeks pregnant said such a ruling would deprive women of a fundamental liberty. 
Mississippi Solicitor General Scott Stewart said the court should overturn Roe, which held there is a constitutional right to abortion up to the point of fetal viability, and the subsequent Planned Parenthood v. Casey decision, which held that pre-viability abortion restrictions must not place an "undue burden" on those seeking abortions. He said that the court should give the issue back to the people to decide. 
"Roe v. Wade and Planned Parenthood v. Casey harmed our country," Stewart said. "They have no basis in the Constitution." 
The abortion clinic, Jackson Women's Health Organization, is challenging a 2018 state law that would prohibit abortions after 15 weeks of pregnancy except in the case of medical emergencies or severe fetal abnormalities.  
"For a state to take control of a woman's body and demand she go through pregnancy and childbirth with all the physical risks and life-altering consequences that brings is a fundamental deprivation of her liberty," said Julie Rikelman, litigation director of the Center for Reproductive Rights, who represented the clinic.  
Justice Sonia Sotomayor suggested reversing Roe and Casey would destroy the public's faith in the Supreme Court. 
"Will this institution survive the stench that this creates in the public perception that the Constitution and its reading are just political acts?" Sotomayor asked. "I don't see how it is possible." 
Some of the justices inquired about the possibility of a compromise. Justice Clarence Thomas asked Stewart if there is a standard the court could impose other than the viability standard if the justices don't fully overturn Casey and Roe. Stewart said the court could keep the undue burden standard but get rid of the viability line. 
Justice Neil Gorsuch similarly asked U.S. Solicitor General Elizabeth Prelogar, who also argued in support of the clinic, if the Court were to throw out the viability standard whether there was another standard that could be appropriate.  
"I don't think there's any line that could be more principled than viability," Prelogar said. "I think the factors the court would have to think about are what is most consistent with precedent, what would be clear and workable and what would preserve the essential components of the liberty interest, and viability checks all of those boxes and has the advantage as well of being a rule of law for 50 years." 
Before the oral arguments, protesters on both sides of the issue gathered in front of the Supreme Court. Ava Frank, a media assistant for the anti-abortion group Created Equal, said she hopes the Supreme Court overturns Roe or at least allows for more restrictions on abortion. 
"The reason our organization is against abortion is because it is always wrong to intentionally kill an innocent human being," Frank said. 
Speaking at a pro-abortion rights rally outside the Supreme Court, former abortion clinic counselor Kenya Martin said she is "someone who has had abortions and is free of any shame or guilt and empowers others who had abortions."  
"There is nothing Christian about these abortion bans," Martin said. "God gives us free will."
---
Published in conjunction with

WASHINGTON — With her sights set on next year's midterms, Rep. Elise Stefanik unveiled her PAC's first round of endorsements for female GOP congressional candidates this afternoon in hopes of replicating the record-breaking surge of Republican women elected to Congress in 2020.
At a news conference in the Republican National Committee headquarters, Stefanik outlined Elevate PAC's 2022 congressional strategy and introduced each of the eight endorsed candidates. Although still months away from the primaries, the candidates have raised a combined $4.75 million as of Oct. 15, the deadline for the most recent campaign finance filing period.
The number of GOP women in the House doubled last year and now stands at 31; more than half of those received endorsements from Stefanik's E-PAC. The political action committee has raised more than $3 million to elect female GOP candidates since its creation after the 2018 midterms, when a wave of female Democratic candidates won 89 seats in the House.
"We were down to only 13 Republican women in the House [after 2018] and at that point, I realized we had a problem," Stefanik said. "We were not reflective of America."
Stefanik, who was elected Republican Conference chair by House Republicans earlier this year, has significant influence within the party for her role in chipping away at the Democrats' House majority last year. Of the 15 candidates that flipped seats in the House to the GOP in 2020, 11 were women endorsed by E-PAC.
Learning from November's local elections in New York and Virginia, in which GOP candidates made significant inroads in the suburbs, Republicans plan to leverage issues like inflation and crime to lure voters who are dissatisfied with the Democratic party's performance in those areas, said Stefanik.
Jeanine Lawson, candidate for Virginia's 10th Congressional District, said Republican Glenn Youngkin's successful bid for Virginia governor "proves that even liberal northern Virginia is fed up with a woke school curriculum, fed up with the nonsense of 'soft on crime' and fed up with higher taxes." Lawson is a member of the Prince William County Board of Supervisors.
Although each candidate described distinct platforms that reflect the relevant issues of their districts—which range from Pennsylvania's eastern suburbs to the southern border of Texas—a point of unanimity for their campaigns was frequently underlined: a hunger to oust House Speaker Nancy Pelosi from the the top leadership post.
"When Nancy Pelosi took over her reign here in Washington, I saw the effects that the Democrats were having on my family firsthand in a very short amount of time," said Karoline Leavitt, candidate for New Hampshire's 1st Congressional District and former White House assistant press secretary in the Trump administration. "I am running to unseat Democrat Chris Pappas and retire Nancy Pelosi."
E-PAC's first slate of endorsements for 2022 originally included another candidate, Susan Wright, but she lost a special election this summer to represent Texas' 6th Congressional District.
More than 200 Republican women have filed to run for Congress in 2022, Stefanik said, and the PAC plans to announce additional endorsements in the coming months.
WASHINGTON — With a global supply chain embroiled in pandemic lags, the Federal Trade Commission Thursday tabled until next Wednesday its decision on whether to study how large retailers have contributed to the supply shortages, especially among small businesses.
"I look forward to the commission nimbly deploying its tools to understand the sources of supply chain disruptions," Federal Trade Commission Chair Lina Khan said. "This may be really pushing our nation's small grocers, family farmers and ranchers and other small independent businesses to the brink."
If the motion passes, the FTC would use its oversight powers under Section 6(b) of the FTC Act to collect information from "large retailers and consumer goods suppliers" related to how and why consumers are affected by supply chain disruptions. However, FTC Commissioner Noah Phillips and others supported giving staff another week to make the questions and document requests more specific and to better define the scope of the investigation.
"We have to design a study that asks the right questions of the right targets," Phillips said. "And when it is as big an issue as the supply chain disruption that our economy faces here, specifically on consumer products, we should be comprehensive."
One area likely to be included in the study is the effect of supply chains on consumers at the grocery store. The public comment section that opened the meeting painted a picture of the stacked deck that small grocers have faced for years in competition with the big chains.
Cheryl Sommer, whose family owns Kaune's Neighborhood Market in Santa Fe, New Mexico, was one of a handful of small and medium-sized grocers who testified that they are experiencing shortages that larger stores have avoided. In the case of Kaune's, this means its mainly elderly customer base sometimes goes without basic paper products and food staples, she said.
"Our customers' cars cannot always get to the bigger stores safely. So if we don't have the essentials, they don't get the essentials," Sommer said.
Multiple experts underscored the ways in which large retailers and grocers have used their market power to stay fully supplied to the detriment of local stores. Matt Stoller, director of research at the American Economic Liberties Project and an expert on monopolization, focused on the problem of "power buyers," who can get better pricing terms or supply availability than smaller competitors.
"Walmart, for instance, often tells its suppliers they must deliver on time 98% of the time or it will fine them 3% of the cost of goods," Stoller said. "It's no surprise that Walmart stores are fully stocked while other retailers cannot get access to basic goods."
---
Published in conjunction with

WASHINGTON — With a backdrop of 3,000 white 'tsinelas'—or flip flops—lying in rows on the National Mall to symbolize the 30,000 Filipino lives lost under Philippine President Rodrigo Duterte's five-year war on drugs, dozens of activists and Filipino community members Thursday rallied to urge Congress to pass legislation ending U.S. support of the Philippine government's security forces.
U.S. assistance has totaled more than $2.1 billion since Duterte took office in 2016, including arms sales and aid, according to the legislation.
The Duterte regime has led a violent crackdown on environmental activists, human rights defenders, religious leaders, trade unionists and journalists under the mandate of its war on drugs, which has resulted in 376 documented extrajudicial political killings and more than 25 assassinations of elected officials, according to a 2019 report from Human Rights Watch.
The Philippine Human Rights Act—introduced earlier this year by Rep. Susan Wild, D-Pa.,—would end U.S. support to the country's security forces until the Duterte government commits to human rights goals.
"Why would the U.S. keep supporting a regime that's clearly corrupt?" asked Jo Quiambao, an educational officer for GABRIELA DC—a Filipino women's rights organization—and a speaker at the rally. "We don't want our money to go into corrupt hands."
While human rights violations in the Philippines are not unique to the current regime, the country has seen a dramatic escalation of the number of killings, tortures and forced disappearances under Duterte's rule, said Yves Nibungco, chairman of the pro-democracy organization the Malaya Movement. The drug war campaign serves as a guise to suppress government opposition, he said.
For the eighth consecutive year, the Philippines was declared the deadliest country in Asia for defenders of human rights, the environment and natural resources by Global Witness, an environmental NGO. The December Tumandok massacre—in which nine indigenous people were killed and 17 environmental activists arrested in the central Philippines—was cited by the organization as one of the "most shocking" massacres of 2020.
Some rally participants described the White House's lagging acknowledgement of the human rights crisis in the Philippines as hypocritical, particularly as it continues reaffirming a commitment to human rights in its diplomacy. The Biden administration's foreign policy is "centered on the defense of democracy and the protection of human rights," according to a statement from Secretary of State Anthony Blinken earlier this year.
"The Biden administration hasn't made any specific comments about the Philippine Human Rights Act, but it's talked about renewing a strong partnership with the country," Nibungco said. "The longer we take, the more people that are going to die."
And although the legislation is a start, it is not "the silver bullet" for holding the Philippine government responsible, Nibungco said
"The Duterte regime, not to exaggerate, is an existential threat for Filipino people," Nibungco said. "The country has fought so hard for democratic institutions and he's practically destroyed them in the span of five years."
WASHINGTON, Nov. 19 (UPI) — House Republicans pushed debate on President Joe Biden's historic $1.85 trillion social policy and climate change bill late into Thursday night, after it became clear that Democrats had enough votes to pass the measure.
Known as the Build Back Better Act, the social spending bill is a pillar of Biden's agenda. It would expand the enhanced child tax credit for one year, establish universal pre-kindergarten for 3- and 4-year-olds and allocate $555 billion to climate change initiatives.
The bill will also allocate funding to empower the Internal Revenue Service to go after wealthy individuals who avoid taxes.
House GOP leader Rep. Kevin McCarthy gave a speech that stretched out to over eight hours, which was frequently interrupted by Democrat jeers and shouts.
Anticipating the long speech, dozens of Democrats walked out of the chamber before McCarthy even started. An hour into the speech, Democrat lawmakers began walking around and conversing with each other.
Democrats appear poised to pass the bill after the Congressional Budget Office released its cost estimate of the social spending bill Thursday evening.
Tasked with verifying the White House's estimate of a $1.85 trillion price tag, the CBO's own analysis showed that the spending bill would add $160 billion to the deficit over 10 years. That figure was low enough to garner the support of moderate Democrats, who have worried that the bill would cost too much.
With the support of moderates, Democrats are finally united after months of tough negotiations on the Build Back Better Act. However, after they are expected to pass it in the House, the bill faces an uncertain future in the Senate, where numerous amendments may be introduced.
Also on Thursday, Pelosi said she wanted to make sure the bill was eligible for the Senate's rules for the reconciliation process, which would allow the measure to get Senate approval with a simple majority and avoid the need for 60 votes to break a threatened GOP filibuster.
There are 50 Democrats in the Senate, with Vice President Kamala Harris holding the tie-breaker vote as Senate president.
During the Thursday morning debate, House Appropriations Committee Chairwoman Rep. Rosa DeLauro, D-Conn., said Democrats "have an opportunity to be the architect to build a better future for working families."
Rep. John Yarmuth, D-Ky., chairman of the House Budget Committee, said that each of the bill's many provisions alone would be "a major victory for the American people."
Several House Democrats also emphasized the "millions of jobs" they say the bill would create.
Meanwhile, Republicans pushed back, tying Democrats' recent spending initiatives to rising rates of inflation. Speaking about a provision to allow state and local tax deductions, Rep. Jodey Arrington, R-Texas, said Democrats had made "a Christmas tree of giveaways to their political allies."
Rep. Jason Smith, R-Mo., called the measure the "worst piece of legislation" he had ever seen and railed against House Democrats' opaque process drafting and rewriting the bill.
On Nov. 5, Pelosi tried to bring the bill to the House floor for a vote along with the $1.2 trillion bipartisan infrastructure bill, after promising that the two historic measures would pass the House together. However, moderate Democrats derailed the effort, requesting the bill only be passed after the CBO score was released.
In a last-minute deal, the moderate and progressive Democrats agreed to pass the bipartisan infrastructure bill along with a procedural rule vote for the BBB, which allotted the two hours of debate that occurred Thursday morning.
Biden signed the infrastructure bill into law on Monday.
Published in conjunction with

WASHINGTON, Nov. 18 (UPI) — The U.S. House of Representatives edged closer to a vote Thursday on President Joe Biden's $1.85 trillion social policy and climate change bill.
House Speaker Nancy Pelosi said a vote could come as soon as Thursday afternoon.
Lawmakers have been waiting for the Congressional Budget Office to release its cost estimate of the Build Back Better legislation to compare with the White House's estimate of a $1.85 trillion price tag.
The House began debate on the measure Thursday morning. Shortly before 1 p.m., the CBO announced that the final estimate would come later in the afternoon.
Pelosi said that in addition to the CBO estimate, she has been waiting to hear back from the Senate for a "parliamentary scrub" to help clarify whether the bill fits the Senate's rules for the reconciliation process, which would allow the measure to get Senate approval with a simple majority and avoid the need for 60 votes to break a threatened GOP filibuster.
There are 50 Democrats in the Senate, with Vice President Kamala Harris holding the tie-breaker vote as Senate president.
The CBO score and parliamentary scrub are needed before Pelosi brings the legislation to a vote, she told reporters Thursday.
---
Published in conjunction with

WASHINGTON — The $1.2 trillion infrastructure bill that awaits President Joe Biden's signature is expected to send tens of billions of dollars to New York, with Albany gaining nearly $29 million for its airport and the Capital District Transportation Authority receiving almost $114 million. The measure also calls for $30 billion in Amtrak Northeast Corridor improvements.
According to the White House, the infrastructure package for New York is intended to revamp roads and bridges, upgrade public transportation, expand its electric vehicle charging network, provide better broadband coverage, improve water infrastructure and modernize airports. Biden signed the bill during a ceremony on Monday on the White House South Lawn.
Senate Majority Leader Charles E. Schumer, who helped broker the bill, called it "a record deal and a once-in-a-generation investment in New York infrastructure." He also said it would create jobs throughout the state.
Albany International Airport is expected to receive $28.7 million in federal funding, according to Schumer's office.
Airport CEO Philip Calderone said some of the money would be used for three projects — modernizing the terminal, expanding the airport's cargo facility and building a new aircraft hangar.
Calderone said the terminal was built before Sept.11, 2001, and the Transportation Security Administration's checkpoints installed afterwards have created congestion during peak travel periods.
"We need to modernize the terminal. We want to improve our air quality, air filtration systems, upgrade our business center, create a family center, create outdoor space where folks post-TSA could enjoy outdoor dining," Calderone said.
He said improving airport infrastructure will allow people to travel more easily, improve the quality of life for local communities and boost the economy.
"Airports are the front doors of our state and of our communities, and they help drive business growth and development, and attract visitors, tourists and residents to our state, into our communities," Calderone said.
According to Schumer's office, the Capital District Transportation Authority will receive approximately $113.9 million over the next five years if Biden signs the bill as expected.
Carm Basile, CEO of CDTA, said the funding will provide stability to CDTA and strengthen the transportation system in the Albany area.
"This is a great win for the transportation industry. For CDTA, this means a 30 percent increase in the federal funding we receive on an annual basis," Basile said in an email. "This will allow us to put more service on the street and to develop innovative projects throughout the Capital Region." 
Jaime Kazlo, CDTA director of corporate communications, said the new federal dollars would allow CDTA to increase Flex service, expand the scooter, bike share and car share programs, generally "increasing our route network on multiple modes of mobility options."
Albany County Executive Daniel P. McCoy said the county has approximately 300 miles of county highways, 86 bridges and thousands of culverts that need to be maintained.
"Beyond that, this funding will support my commitment to providing high-speed internet access to every county resident by 2023 and the electrification of the county vehicle fleet by 2030," McCoy said in an email.
The infrastructure bill also includes funding for highways and bridges, as well as an estimated $175 million over five years to expand the electric vehicle charging network in New York, according to Schumer's office.
"For decades, we have put investments in critical infrastructure on the backburner, leaving communities in our Capital Region and across the nation unequipped to deal with crumbling roads and bridges, insufficient public transit, unreliable broadband and countless other issues," U.S. Rep. Paul Tonko, D-Amsterdam, said in a statement. "Our bipartisan infrastructure framework tackles these most pressing needs."
---
Published in conjunction with