Latest in National Security News
Get up-to-date national security news from our reporters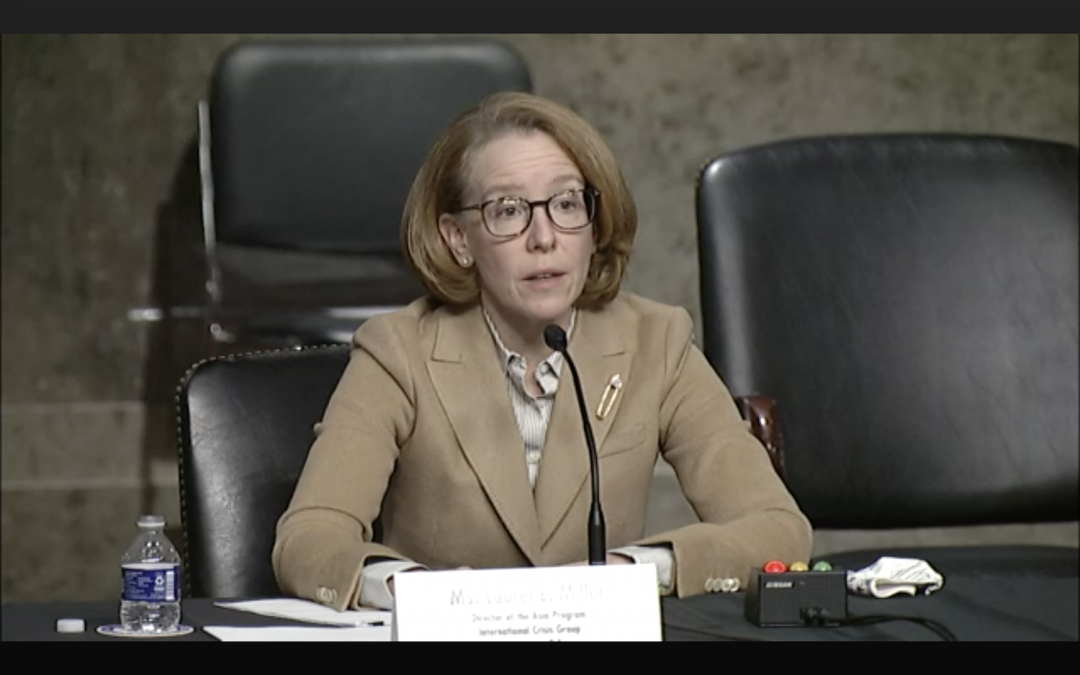 Senate Foreign Relations Committee evaluated key takeaways from the 20-year war in Afghanistan that ended in a Taliban victory.
read more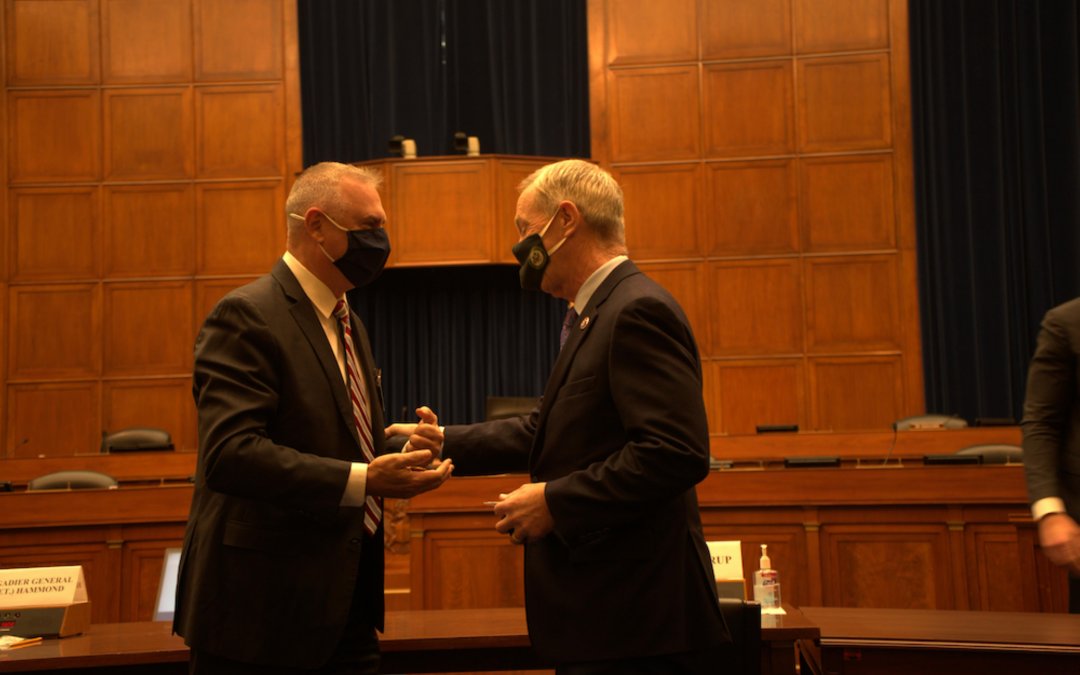 "Ultimately, he decided taking his own life was the only way to ensure he no longer hurt or let down those he loved," retired Staff Sgt. Johnny Jones said.
read more
WASHINGTON — Supreme Court justices on Wednesday heard arguments on whether the death penalty was incorrectly overturned for one of the Boston Marathon bombers, focusing most of their questions on the trial judge's decision to exclude evidence about the other bomber's possible involvement in other crimes.
On April 15, 2013, Dzhokhar Tsarnaev and his brother Tamerlan set off two bombs near the finish line of the annual Boston Marathon, killing three people and injuring approximately 264 others. Tamerlan was shot several times during their arrest, run over by his brother's car and died later. Dzhokhar was convicted of 30 offenses, including three counts of using a weapon of mass destruction resulting in death. He was sentenced to death on six counts; the judge also imposed 20 life sentences.
Tsarnaev appealed the sentencing decision. In July 2020, the 1st U.S. Circuit Court of Appeals affirmed 27 of his convictions, reversed three, threw out his death penalty sentence and ordered that Tsarnaev continue serving a life sentence until a new penalty-phase trial is held.
The appeals court vacated the death sentence on two grounds – that the trial judge should have asked prospective jurors specifics about their news consumption about the case pretrial and that during the penalty phase, the trial judge should not have excluded evidence that Tamerlan Tsaraev allegedly was involved in a triple homicide two years before the bombing.
The 1st U.S. Circuit Court decision said that "omitted evidence might have tipped at least one juror's decisional scale away from death."
During trial, Dzhokhar Tsarnaev's lawyers argued his brother served as a "radicalizing catalyst" who influenced Dzhokhar to participate in the bombings. The government said the brothers were equally culpable.
During Wednesday's hearing, justices focused most of their questioning on why Tamerlan's connection to the triple-homicide was not allowed in evidence during the trial and whether it mattered to imposition of the death penalty.
Chief Justice John Roberts noted that the information about Tamerlan's alleged crime could not be verified since he was dead and Tamarlan's friend who had said it happened also was dead.
Justice Amy Coney Barrett made the point that even if hearsay rules would not have excluded the information, a federal district judge still might have discretion to keep it away from the jury.
Justice Sonia Sotomayor said that "part of the problem is that the district court withheld information, and so the defense attorney could not proffer everything."
Justice Elena Kagan pointed out other pieces of evidence about Tamerlan that were allowed in court.
"This court let in evidence about Tamerlan shouting at people, about Tamerlan assaulting a fellow student all because that showed what kind of a person Tamerlan was and what kind of an influence he might've had over his brother," Kagan said. "And yet this court kept out evidence that Tamerlan led a crime that resulted in three murders?"
U.S. Deputy Solicitor General Eric Feigin said that the alleged crime was irrelevant to the defense's argument because it was about a different crime in which Dzhokhar was not involved and would have distracted the jury.
"The jury was supposed to be focused on [Dzhokhar] not on something Tamerlan might have done two years earlier that was quite a different crime," he said.
Ginger Anders, Tsarnaev's attorney, argued the inclusion of this evidence was essential to the defense's case.
"The theory is that Tamerlan influenced Dzhokhar. The theory is that Tamerlan indoctrinated Dzhokhar and Dzhokhar radicalized because of Tamerlan and Tamerlan was more likely to have led the bombings," Anders said.
Barrett asked Feigin about the government's goal for bringing the case to the high court in spite of the Biden administration's opposition to federal executions.
"The administration continues to believe the jury imposed a sound verdict and that the Court of Appeals was wrong to upset that verdict," Feigin answered.
According to Robert Durham, executive director at the Death Penalty Information Center, the Biden administration's stance on the death penalty is largely irrelevant.
"If the (Supreme) Court's decision [is] against Tsarnaev, this case will be in the courts for another decade at least," long past when Biden will have left office, Durham said. "If the court decisions are in favor of Tsarnaev, the Department of Justice will have to make the decision of whether to seek the death penalty in a reset and revictimize the entire Boston community."
---
Published in conjunction with

WASHINGTON – U.S. Capitol Police deployed their equivalent of a SWAT team on Tuesday because of a suspicious vehicle parked outside the front entrance of the Supreme Court, eventually removing a Michigan man and arresting him, the same man who had made "concerning statements" while in the Capitol complex area in August.
The incident occurred on the second day of the high court's new term. Proceedings in the court were not affected, but the area was closed off by the police.
The 55-year old suspect, Dale Paul Melvin from Kimball, Michigan, was taken into custody and has been charged with failure to obey a police officer and assault on an officer.
Police said Melvin parked his Chevrolet Tahoe in a no-parking zone outside the Supreme Court at 9:30 a.m. EST. Melvin, who was in the car, appeared "frustrated" and did not engage with crisis negotiation officers who tried talking to him, only saying that the "time for talking was done." At around 11:00 a.m., a Capitol Police Containment and Emergency Response Team – comparable to a SWAT team – stormed the car and arrested him.
Melvin had been stopped by police at the Capitol Complex in August and was heard making "concerning statements," according to police.
The car was still on the scene an hour later. A police officer involved confirmed that police were going through the interior of the car and securing any potential evidence. The police department in a press release later said that no weapons were found inside the Chevrolet.
While not very active on his Facebook page in recent years, Melvin had previously posted a number of posts that showed a dislike of Democratic politicians and their policies and support for the U.S. military. He had also reshared conspiracy theories, including on alternative treatments for cancer, although they did not elicit much reaction from his friends on the social media platform.
In August, a man parked outside the Library of Congress, which is next door to the Supreme Court, claimed to have a bomb in his vehicle – all while holding what appeared to be a detonator. After hours of negotiations with police, he surrendered. There had been no bomb.
WASHINGTON – Top defense experts said al-Qaida and the jihadist movement are big beneficiaries of the Taliban's victory in Afghanistan at a Senate hearing Thursday, part of a series of congressional hearings aimed at understanding how the 20-year, $2 trillion war ended last month in a Taliban victory.
"There is no doubt that the Taliban's victory in Afghanistan is a boon for the global jihadist movement and al-Qaida in particular," said Thomas Joscelyn, senior fellow at the Foundation for the Defense of Democracies and senior editor of The Long War Journal, at a Senate Armed Services Committee hearing.
"The Taliban won this war, but so did al-Qaida," Joscelyn added.
Vali Nasr, a professor of Middle East Studies and International Affairs Johns Hopkins University School of Advanced International Studies, attributed what initially went wrong with U.S. involvement in Afghanistan to the United States' shift from a purely military strategy focused on counterinsurgency toward a nation-building mission.
"Most of the problems we face, such as corruption, misgovernment, misrule, alienation of the population had to do with the state-building, not with the military mission," said Nasr, a former senior advisor to the U.S. special representative for Afghanistan and Pakistan from 2009 to 2011.
Both expert witnesses criticized the Doha Agreement, which Nasr said came as a result of the U.S. war effort looking deadlocked.
The February 2020 agreement between the U.S. and the Taliban outlined the steps for a complete U.S. troop withdrawal from Afghanistan in exchange for the Taliban preventing al-Qaida and other terrorist groups from operating in the country, as well as a ceasefire that would start talks between the Afghan government and the Taliban.
Excluding the Afghan government at the negotiating undercut its appearance of sovereignty, the experts said. "To recognize the Taliban regime as a legitimate government in Afghanistan would give them a political victory that would compound their military victory," Joscelyn said.
But despite the agreement's flaws, Nasr said that "the worst-case government in Afghanistan is not a Taliban government, it's no government at all."
Sen. Elizabeth Warren, D – Mass., underscored how much taxpayer money was wasted. "We foolishly tried to build an army without stable institutions under it."
Sen. Tammy Duckworth, D-Ill., said she proposed legislation to establish an independent commission to investigate what went wrong in the past 20 years, which Joscelyn supported, saying his main critique of the war in Afghanistan was that "the decision making was not clear at any point in time."
WASHINGTON –Biden's national strategy for countering domestic terrorism will require federal agencies to develop new tools that focus on internal threats rather than foreign terrorists and bring up divisive issues of information sharing among law enforcement, the Homeland Security Director for Counterterrorism John Cohen told a House committee on Wednesday.
For the first time in the nation's history, the Biden administration has presented a national strategy for countering domestic terrorism, Rep. Jamie Raskin, D-Md., said.
"For more than two years, we have been urging the administrations to adopt a coherent strategy," he said during the hearing on white supremacy by the House Oversight Committee's Civil Rights Subcommittee, which he chairs.
Raskin said the FBI under President Donald Trump refused to testify before the committee, saying there was no substantial threat from white supremacists.
The Jan. 6 storming of the Capitol by a violent, far-right mob has been a pivotal point for the way the federal agencies go about protecting the nation from internal threats.
"There were several lessons we learned from January 6th," said Cohen. The lessons were used to heighten preparations for a Sept. 18 rally outside the Capitol by far-right groups, which was smaller than originally predicted.
"There was a much greater level of security preparedness and much higher level of intelligence sharing," he said.
Sharing intelligence, however, remains a sticking point more broadly. Republicans on the committee suggested that some local law enforcement agencies, particularly liberal municipalities, might not collaborate fully with federal authorities on sharing information.
While not addressing that criticism, Cohen said that he was generally "disappointed at the state of information sharing" and emphasized that fixing this ought to be a top priority.
Shifting from a focus on external threats to paying more attention to domestic terrorists poses a major operational change, all the witnesses appeared to agree.
"Many of the tools and resources we've used don't necessarily apply – we need to develop new tools," said Cohen.
One of these new toolsets is a public health approach to counterterrorism, in which federal agencies work more closely with local groups, including those that provide important community and mental health services.
Deputy Assistant Attorney General Brad Wiegmann added that effectively countering threats at home will also demand a delicate balancing act: Between obtaining good intelligence and respecting the privacy of those living in America.
"It's a balance we strike every day – and we're not always perfect."
WASHINGTON – Almost a month after the U.S.'s rapid evacuation from Afghanistan, top Pentagon officials, Defense Secretary Lloyd Austin, Chairman of the Joint Chiefs of Staff Gen. Mark Milley and Central Command chief Gen. Frank McKenzie, testified Tuesday on Capitol Hill.
Milley warned that terrorist attacks from the Taliban with ties to Al-Qaeda could present themselves in the next 12 to 36 months.
In Milley's opening remarks, he addressed the recent revelation in Washington Post reporters Bob Woodward and Robert Costa's new book "Peril" regarding holding a backdoor phone call with a Chinese general.
He acknowledged the call but said top officials and congress members such as then-Acting Secretary of Defense Christopher Miller and House Speaker Nancy Pelosi were consulted about the call.
The secretary and both generals did not respond directly to questions raised about how many U.S. citizens remain in Afghanistan and who takes full responsibility for the evacuation.
Austin will testify again Wednesday in the House, and on Thursday, the Senate Committee on Armed Services will reconvene to review U.S. military operations in Afghanistan.
WASHINGTON — "That's when I said to Mom, 'I don't want to die.'"
Holocaust survivor Halina Yasharoff Peabody remembered her pleas to her mother as they stepped off a train and walked toward Gestapo in Jaroslaw, Poland. The jig was up — a German discovered they were Jewish and was forcing them to surrender.
Peabody was born in 1932, so she was a young child in what is now Ukraine when World War II broke out. Her father fled to Romania, thinking only men were in danger under Soviet occupation. When he tried to return home, he was accused of espionage and deported to Siberia. After the war ended, the four family members were reunited.
After her father was deported, Peabody, her mother Olga Litman, and younger sister Eva obtained false identity papers that identified them as Catholic and left to live in Jaroslaw, Poland.
"I understood that my life depended on it," Peabody said. "So I got very good at pretending to be Catholic."
On the train to Jaroslaw, a German discovered they were Jewish and said he would turn them in. Olga gave the man all of their belongings, asking in return that they be shot when handed over to the Gestapo so that they would not be separated. Olga feared her daughters would not survive. After Peabody's pleas to her mother, Olga began bargaining with the German again, finally asking, "Why do you want us on your conscience?"
He let them go.
Today, Peabody volunteers at the U.S. Holocaust Memorial Museum, sharing her story to honor her mother and ensure that the Holocaust is not forgotten.
"I think that one of the things that our survivors — you hear from them all the time — is they feel a responsibility to share their history. In some ways it's about remembering and honoring those that didn't survive," said Diane Saltzman, director of constituency engagement for the U.S. Holocaust Memorial Museum. "But it's also to make sure that they share the lessons of what happened to them so that people today can learn from it."
The number of anti-Semitic incidents recorded by the Anti-Defamation League has recently increased. In 2019, there were 2,103 recorded anti-Semitic incidents. In 2013, there were 751.
"If you're not careful, it can happen to you," Peabody said. "So please, watch out."
WASHINGTON – Gabriella Karin was eight the first time she heard Nazi propaganda. It was the day after Kristallnacht, the Night of Broken Glass, in Europe. Within four years, officials announced the plan to declare her home country "judenrein" — cleansed of Jews.
Karin, a Jewish woman born in Czechoslovakia, survived the Holocaust by adopting a Christian identity, taking a new name, attending daily mass and living in a convent. She then spent years in hiding with her mother in a house across the street from a Gestapo headquarters.
"What bothers me the most is how people can hate each other," Karin said. "That people can turn against each other, I cannot understand."
Nazi propaganda encouraged Europeans to adopt anti-Semitic views. According to Steve Luckert of the United States Holocaust Memorial Museum, Nazi propaganda — including Adolf Hitler's book Mein Kampf — led to the murder of 6 million Jews.
"The Nazis were ardent anti-Semites from the very start but they had to convince many Germans to support their radical agenda," Luckert said.
Today, 75 years after the Nazi death camp Auschwitz was liberated, Nazi ideology still exists around the world.
According to the Anti-Defamation League, there were 2,713 cases of white supremacist propaganda documented in the United States in 2019. It's the highest number the ADL has ever recorded.
"It's upsetting me," Karin said. Karin, a professional artist, shares her story through art at the Los Angeles Museum of the Holocaust and in schools across the city.
The 2,713 incidences recorded by the ADL include only propaganda in physical spaces, including "the distribution of racist, anti-Semitic and anti-LGBTQ fliers, stickers, banners and posters." The ADL separately tracks hate speech posted online. 
"This is really significant because it's the highest we have tracked," ADL Investigative Researcher Amy Iandioro said. "We have this increase partly because of coordinated efforts by white supremacist groups."
The 2,713 incidences include only propaganda in physical spaces, including "the distribution of racist, anti-Semitic and anti-LGBTQ fliers, stickers, banners and posters." The ADL separately tracks hate speech posted online.
To combat the distribution of hate speech, especially that of an anti-Semitic nature, Rep. Carolyn Maloney, D-N.Y., sponsored a bill in the House of Representatives that would expand funding for Holocaust education programming. It passed the House 393-5 in January. The bill was then referred to the Senate Committee on Energy and Natural Resources.
"I feel that we not only need to be reactive to these attacks," Maloney said, "but also be proactive in stopping them before they even occur – and that happens through education."
Karin hopes Holocaust education will be sculpted around survivors' stories.
"I don't believe something can substitute the survivors," Karin said.
Maloney recognizes the "tough truth" that Holocaust survivors will soon no longer be here to share their stories personally.
"We can at least make sure that all teachers have the tools they need to bring this hard-to-teach subject into their classrooms in a meaningful and appropriate way," Maloney said.
Karin said in her experience Holocaust education can make young people more empathetic and help them grapple with issues they face in their own lives, like racism or trouble at home."Many, many times kids come up to me and say, 'You can do it, I can do it too,'" Karin said.
More than 600 of the 2,713 incidents tracked by the ADL in 2019 took place on college campuses. At Northwestern University, a series of stickers bearing a white supremacist logo were discovered around campus last spring.
"It makes me feel like I shouldn't be in these spaces," said student Rishi Mahesh, who was the first to find a sticker.
Luckert said there are elements of white supremacist distribution today that are reminiscent of the 1930s. For example, the Nazis technology like radio to spread propaganda across borders is akin to internet usage today.
"The idea for the Nazis is to expand their messages, tailor to those particular audiences abroad to promote anti-Semitism," he said. "The Nazis saw that as an important tool as propaganda." Nazis also targeted campuses with Hitler Youth and book burnings even before they came to power, according to Luckert. "Essentially the student youth organizations had become Nazified."
Luckert said the threat posed by distribution of white supremacist propaganda today is "a very real one," citing violence incited by white supremacists, including the synagogue shootings in Poway, California, and Pittsburgh. 
However, unlike the rise of Nazism, he said, white supremacists today don't have the massive base of followers that the Nazis built before coming into power.
Scott Blackburn, research director at the Institute for Free Speech, said the government cannot and should not regulate political speech. He said existing regulations limiting freedom of speech should stay in place, but remain narrow. Hate speech is protected under the First Amendment.
"It's much harder for hate speech because it's so context-dependent," Blackburn said. "I think it's important in debates about speech restrictions and debates about hate speech specifically to remember that applications of these laws will never be done perfectly." 
Said Luckert: "It's really up to all of us to counter these messages of hate." Iandioro with the ADL said reporting white supremacist propaganda to the appropriate authorities is paramount.
Karin said she has been a victim of white supremacist propaganda and harassment. Prior to a speaking engagement at a Los Angeles bookstore, a white supremacist organization threatened to disrupt the event.
"Very upsetting, I can't tell you how upsetting," said Karin. "I am worrying about the next generation a lot."
Ending an endless conflict: efforts beyond the White House to bring peace to Israel and Palestine from Medill Washington on Vimeo.
WASHINGTON – In the Israeli settlement of Shiloh, located where the ancient Biblical city of the same name is rumored to have been situated, a Jewish woman defends her decision to move to there.
"We can have different views about who this land can belong to," Eliana Passentin said, "but if we want to teach the next generation to move together, we don't teach hatred."
About 60 miles north, a Palestinian artist runs a gallery in the Israeli town of Umm al-Fahm, which borders the Green Line separating the State of Israel from the West Bank. Said Abu Shakra said he hopes his gallery can attract Arab-Israelis, Jewish-Israelis and Palestinians.
"We started to collect our pieces and to create again our identity," Abu Shakra said.
Despite some efforts in Israel and the Palestinian territories to live peacefully, peace has not prevailed. Since the Carter administration, the United States has repeatedly attempted to broker peace in the region. Some efforts have nearly succeeded, but ultimately come up short.
Two bloody Intifadas plagued the region between 1987-1993 and 2000-2005. Over the past five years, violence has continued to escalate. The Palestinian militant group Hamas governs the Gaza strip, and over the course of 2019, fired hundreds of rockets into Israel, according to the Israel Defense Forces. Between March and November 2018, Israeli military forces killed 189 Palestinian demonstrators, according to Human Rights Watch.
In January, the Trump administration released its own Mideast peace plan. The 181-page plan proposes giving control of Jerusalem to Israel and allows Israel to oversee security of the West Bank. It also calls for Hamas to disarm. It does not discuss the right of return, referring to the approximately 7 million Palestinians displaced around the world.
It was applauded by Israeli Prime Minister Benjamin Netanyahu and rejected by Palestinian leadership. The plan also was criticized by Democratic members of Congress and former diplomats.
"It's not a peace process," said Rep. Alan Lowenthal, D-Calif. "It does not call for the two sides to come together and talk about it."
Before the Trump administration unveiled its proposal, Lowenthal sponsored a resolution approved by the House of Representatives in December that puts forth a different proposal. It calls for a two-state solution: "that enhances stability and security for Israel, Palestinians, and their neighbors can both ensure the state of Israel's survival as a Jewish and democratic state and fulfill the legitimate aspirations of the Palestinian people for a state of their own."
The bill passed 226-188, with four Democrats voting against it and five Republicans voting for it.
Trump's proposal is the right approach and "marks an historic opportunity that must be seized upon," said Rep. Joe Wilson, R-S.C.
Lowenthal said the resolution was not drafted with the intention of immediately establishing peace in the region. In fact, he said, language in the resolution makes it clear it is ultimately up to the Israelis and Palestinians to make a peace deal. The U.S. can help set the stage.
"Time is not on our side," Lowenthal said, urging Israelis and Palestinians to come to the negotiating table. "How you deal with the settlements, national security, the rights of return, all those have to be discussed in negotiations between the two sides."
And while Congress and the White House attempt to mediate peace in different ways, think tanks and nonprofits are working on less grand issues, known as "track two" discussions, like bringing clean water to the West Bank.
"We need to do something that's highly practical, that sends a message that when you cooperate, something good comes out of it," former ambassador Dennis Ross said. Ross worked in Middle Eastern diplomacy from the Reagan administration through the Obama administration before stepping down to become a distinguished fellow at the Washington Institute for Near East Policy.
Working at a think tank, Ross said, "you can do things formal officials can't do."
These "highly practical" efforts work best when they involve Israelis and Palestinians on the ground, Ross said. Citizens like Passentin and Abu Shakra are affected by the conflict on a daily basis and can offer ideas that would make their day-to-day existence easier.
"If I didn't see Israelis and Palestinians who were willing to work together," Ross said, "it wouldn't matter what I wanted to do."
Even the coronavirus could offer an opportunity for collaboration.
"Here's an area where an operation is unmistakably in mutual interest," Ross said. "How do you take advantage of a crisis to advance a larger cause?"
At the Center for Strategic and International Studies, another Washington think tank, attention has been diverted from the Israeli-Palestinian conflict in recent years. Will Todman, who works in the center's Middle East Program, cites fatigue and pessimism.
"There's probably been a sense that nothing is shifting," Todman said, "or at least that nothing is shifting in a positive direction."
Todman said another bout of violence could reignite interest in the conflict.
The dynamics in the region have shifted in recent years, as Israel demonstrated its military and economic prowess and formed alliances with Arab countries like Saudi Arabia and the United Arab Emirates. Ross said the United States should take advantage of its diplomatic relationships with these nations to help bring peace to Israel and Palestine.
"If Arab leaders say, 'Here's a serious basis for negotiations,'" Ross said, "Palestinians cannot say no."
Ultimately, Ross said, a two-state solution is the only solution. A one-state solution is, he said, "a prescription for an endless conflict, not ending the conflict."
WASHINGTON— Former government terrorism experts say stricter oversight of federal agencies is needed to ensure anti-terrorism surveillance and monitoring don't violate people's privacy and civil liberties in response to a Department of Homeland Security report labeling two environmental activists as "suspected environmental rights extremists."
"We have to use all the forces we can [to increase oversight of federal agencies]— direct action, litigation, legislation, public education," said Carlton E. Williams, former executive director of the Water Protector Legal Collective, an organization offering legal support to environmental activists.
An internal report from the DHS obtained by Property of the People, an organization dedicated to uncovering censored government documents, and published by The Guardian in January place two environmental activists alongside white supremacists in a list of "extremists" posing a threat to national security.
White supremacists listed in the document include James Fields, who ran over protesters with his car in Charlottesville, Virginia, and Dylann Roof, who killed nine people in a 2017 shooting targeting black churchgoers in Charleston, South Carolina.
The environmental activists were part of the group often referred to as the "Valve Turners" who in 2016 closed the valves on pipelines carrying oil to four states. The activists warned the energy companies before closing the valves and waited for their arrest at the site.
"The use of these kinds of labels is intended to demonize political movements and particularly when these law enforcement agencies have been repeatedly criticized both throughout history and recently in treating civil disobedience as terrorism," said Michael German, a former FBI agent and fellow at the Brennan Center for Justice.
Federal agencies have been surveilling activists for decades. In the 1960s, the FBI monitored leaders of political movements, including Martin Luther King Jr. Congress later criticized the agency for "abridging First Amendment rights," according to the FBI website.
In a document released in 2010, the FBI inspector general acknowledged that "in some cases, the FBI extended the duration of investigations involving advocacy groups or their members without sufficient basis."
Documents obtained by civil rights groups Color of Change and the Center of Constitutional Rights showed that the FBI tracked the whereabouts of civil rights activists traveling to protest at a multinational agrochemical company in 2014.
DHS is responsible for monitoring a wide spectrum of national security threats, including threats to critical infrastructure. The Valve Turners' protest posed a threat to national security because they disrupted an important pipeline, said Daryl Johnson, former senior analyst for domestic terrorism at the DHS.
DHS should have differentiated environmental activists from white supremacists and categorized them as a lower threat to national security, Johnson said.
"People that sabotage a pipeline— yeah, it's a big deal to the company and yeah, it may disrupt the economy somewhat— but they're not going to kill people," said Johnson. "You need to prioritize the threat."
Being listed as an "extremist" by a federal agency can mean an activist will face surveillance and also can deter supporters and funders who fear their activities are dangerous, said Basav Sen, a climate justice expert at the liberal think tank Institute for Policy Studies.
"Part of the intent of [monitoring activists] is to silence the leadership of these movements and therefore to incapacitate them," said Sen.
But James Carafano, a national security expert at the conservative Heritage Foundation, said the Valve Turners qualify as extremists because terrorism is a threat against innocents for political purposes and the Valve Turners threatened the activity of an oil company for political motives. Their action should be considered extreme because it can foment more serious acts that can threaten national security, he said.
"Just because people do not intend to do incredibly violent acts or they don't intend to hurt people [doesn't mean they shouldn't be categorized as extremists,]" said Carafano. "But if humans can be injured [because of that activity], then authorities have to take that seriously."
Sen and Johnson said Congress should pass legislation to require more oversight of law enforcement and anti-terrorism agencies to require stricter oversight and tougher punishments for abusing the law in an attempt to crack down on civilian dissent.
Johnson also said that Americans can file Freedom of Information Act requests to access censored documents that might expose wrongdoings in law enforcement, which could lead to legal proceedings against federal agencies.