Latest in National Security News
Get up-to-date national security news from our reporters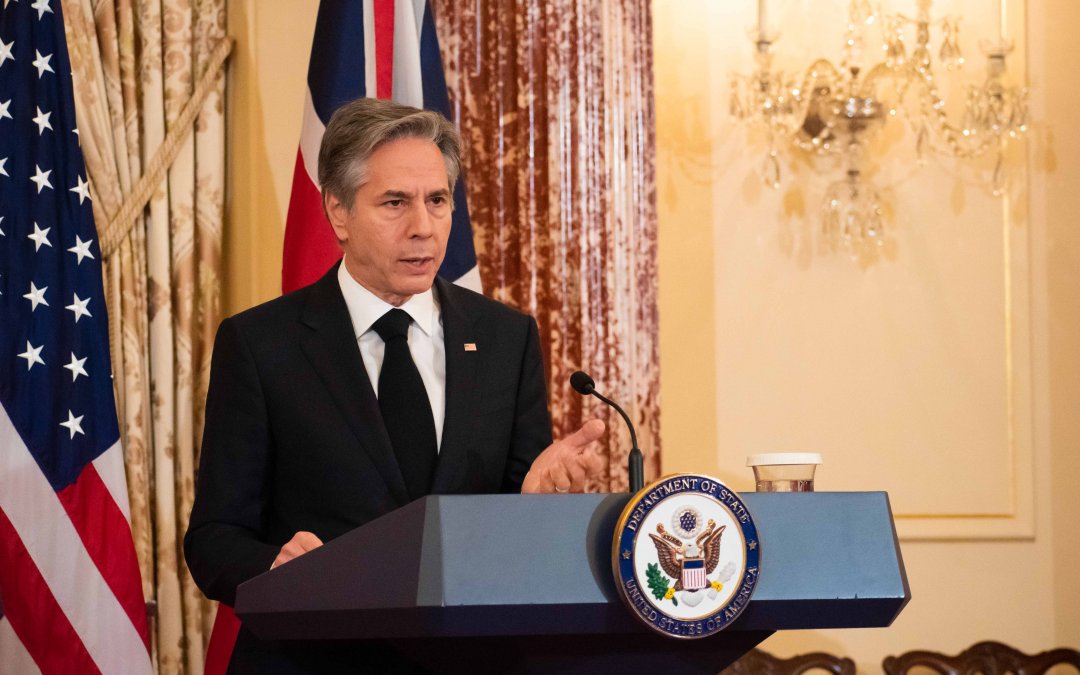 While he stayed away from certainty, Blinken said he is confident President Xi Jinping will get the message that aiding Russian forces or systematically evading sanctions would be a "serious problem" in future relations with the U.S. and their allies.
read more
ARLINGTON, Va., –– The Defense Advisory Committee on the Investigation, Prosecution and Defense of Sexual Assault in the Armed Forces met this week to discuss and review their fifth annual report, due to the Secretary of Defense and to the Committees on Armed Services...
read more
WASHINGTON – Lawmakers on Capitol Hill raised new warnings about China's threats to the U.S. and condemned its brazen attempts at spying after the U.S. Air Force shot down a Chinese surveillance balloon, prompting new worries about the relationship between the two superpowers. Many expressed disappointment that the president made muted mention of the dangers during the State of the Union.
Four congressional committees, including the House Foreign Relations Committee, held hearings focused on China this week as worries loom about Chinese dominance. Congressional members pressed the White House, the Pentagon and the State Department over both their responses to the balloon and their interactions with the rival nation.
In the Senate Foreign Relations Committee hearing Thursday, the tone was stern, serious and incredibly cautious. The atmosphere was tinted by a hue of anxiety as members probed senior administration officials on U.S.-China policy. 
"The China challenge affects every region in the world, and you're going to have to do a better job of resourcing these efforts," Senate Foreign Relations Committee Chairman Bob Menendez (D-N.J.) said at the hearing. "That means more people in our embassies, it means modernizing the way we do business, it means offering an alternative to China."
The lawmakers set their priorities on training, technology and techniques. Senators called for greater attention toward Taiwan, greater investment in military technologies and artificial intelligence, and greater diplomatic efforts.
"The PRC (People's Republic of China) is the only competitor with the intent and means to reshape the international world order," U.S. Deputy Secretary of State Wendy Sherman testified to the Senate Foreign Relations Committee hearing on Thursday morning. 
Additionally, senior officials from the Office of the Director of National Intelligence, the State Department and the Defense Department briefed both the House and the Senate on the balloon in separate closed-door meetings on Thursday morning.
The briefings followed an announcement on Thursday morning from the State Department that the balloon was part of a vast surveillance operation launched by the Chinese military that had collected information from dozens of countries.
"The administration obviously was vigilant in taking down this balloon," Sen. Richard Blumenthal (D-Conn.) said following the Senate briefing. "But it's only one of a number that the Chinese have launched over this country and other countries around the world and represents a clear and present danger to our democracy." 
The Senate is also set to receive a broader closed-door briefing on China next Wednesday.
The hearings come on the heels of new revelations about China's rapid military development. In a Jan. 26 letter to the House and Senate Armed Services Committees, a senior military official informed lawmakers that China now holds more land-based intercontinental ballistic missile launchers than the U.S.
"This should serve as a wake-up call for the United States," a group of Republican lawmakers wrote in a press release on Tuesday.
The House also voted unanimously Thursday morning to adopt a non-binding resolution written by House Foreign Relations Committee Chairman Michael McCaul (R-Texas) to condemn China's use of the balloon. 
House Republicans previously considered bringing a resolution condemning the Biden administration's response to the situation to the House floor Tuesday before his State of the Union address, but opted instead to take a bipartisan approach.
During his State of the Union address on Tuesday night, Biden only briefly mentioned China, leaving many Republican lawmakers dissatisfied – especially because China has recently come under fire for the human rights violations of Uyghurs, renewed hostilities toward Taiwan and blatant spy attempts in the United States. 
"I thought the president was very inadequate in his description of how we best counter the policies of the Chinese Communist Party," Rep. French Hill (R-Ariz.) said Tuesday night. "I thought he could have gone into a much more detailed approach and worked with Congress on the right policies."
Lawmakers in both the House and the Senate expressed frustration with the president's failure to comprehensively address China in his remarks. Sen. Josh Hawley (R-Mo.) said Biden "has his priorities mixed up" in terms of foreign policy.
"What he should have said is the Europeans need to take the lead here when it comes to Ukraine, and we need to take the lead when it comes to China," Hawley told Medill News Service following the president's speech Tuesday night.
The sentiment was shared by those beyond the Republican Party. 
"Administration officials eloquently talk about not letting Putin's bad behaviors become the new normal," Nury Turkel, chair of the U.S. Commission on International Religious Freedom, a congressionally created federal commission, said in an interview after attending the State of the Union as Hill's guest. "The same line, same logic can be applied to (Chinese President) Xi Jinping. Why would we allow him to carry out a genocide or threaten a democratic ally of Taiwan on a regular basis?"
WASHINGTON – Republicans on the House Oversight Committee sparred with Democrats over the Biden administration's policies regarding the southern U.S. border Tuesday, which GOP lawmakers say has created a "crisis."
The hearing – part of the House GOP's promise to hammer the Biden administration's immigration policies – featured the testimony of two border patrol agents.
While Republicans stressed that the southern border is in chaos with cartels smuggling migrants and fentanyl traveling freely into the U.S., Democrats said bipartisan immigration reform is needed to address issues at the border.
"Administration officials continue to say they are creating a 'safe, orderly, humane' immigration system," said Chairman James Comer (R-Ky.). "But reality contradicts this propaganda. Conditions at the border are dangerous, chaotic and inhumane."
Rep. Jamie Raskin (D-Md.), the top Democrat on the committee, said Republicans are hindering progress with immigration legislation.
He cited the Border Safety and Security Act, a restrictive immigration bill that failed to reach the floor in the first two weeks of the 118th Congress after pushback from moderate Republicans.
"Republicans, driven by the extreme MAGA wing of their party, have been systematically thwarting and derailing comprehensive efforts to improve our immigration system and strengthen border enforcement," Raskin said.
The dialogue resembled last week's Judiciary Committee hearing about the border. Republicans zeroed in on fentanyl trafficking and cartels putting migrants and U.S. citizens in danger.
Comer asked John Modlin, the chief patrol agent of the Tucson Sector, whether he believes that cartels have significant power at the border. 
"Noone crosses the border in the Tucson sector without going through the cartels," he said. 
Gloria Chavez, chief patrol agent of the Rio Grande Valley Sector, also testified. Both witnesses avoided referring directly to the Biden administration or taking political sides, even when pressed by lawmakers. 
Many Republicans brought up fentanyl traffic as evidence that the Biden administration does not have control over the border. Democrats rebutted that authorities most often encounter fentanyl at legal ports of entry.
"My colleagues on the other side of the aisle would have us believe that the solution to the fentanyl problem in this country is to discourage both illegal and legal immigration," said Rep. Maxwell Frost (D-Fla.), the youngest member of the House.
Rep. Melanie Stanbury (D-N.M.) said a lack of action from the federal government forces local communities, including her constituents in New Mexico, to bear the burden of increased migrants.
"Our government is failing, the system is failing and we need action," Stansbury said. "It is the inhumane policies of the previous administration that have contributed to this crisis."
Rep. Paul Gosar (R-Ariz.) responded to Stansbury.
"All I hear is they want to speed up the number of people coming into this country," he said.
The White House released a memo Tuesday morning ahead of the hearing saying that Republicans are "pushing an agenda that would make things worse at the border." Rep. Andy Biggs (R-Ariz.) introduced articles of impeachment against Homeland Security secretary Alejandro Mayorkas last week.
Chavez said that Congress was discussing the same immigration issues since she started working for CBP 27 years ago.
"I think that we really need to embrace change, and good change, so that we reform our immigration laws," Chavez said. "We seriously need to find a solution because we are border patrol agents. We are the ones that enforce policy – your policy – that Congress puts out."
WASHINGTON –  The State Department strategically announced Thursday it was imposing sanctions on more than 40 groups linked to Russia's mercenary outfit Wagner Group as senators demanded action in a separate meeting. 
Victoria Nuland, undersecretary of state for political affairs, told the senators that the sanctions were coming during her testimony before a Senate Foreign Relations Committee hearing focused on countering Russian aggression. 
Still, both Republicans and Democrats on the panel called for stronger actions in support of Ukraine.
Foreign Relations Committee Chairman Bob Menendez (D-N.J.) pleaded for increasing sanctions against China, arguing that the country must be held accountable for aiding Russia to "continue its onslaught of Ukraine" by sending Russia dual-use technology that has been critical for missile guidance systems. 
"It seems to me that we should not forsake the potential sanctions against China if it is providing critical assistance," he said.
Only one of the sanctions currently announced Thursday target China, Nuland admitted. 
After much grilling by Menendez, Nuland agreed with the senator, pledging that the administration would impose sanctions under the Magnitsky Act "in a very short time." She was referring to the law passed by Congress requiring the president to impose sanctions against foreign individuals who have committed human rights violations or been involved in significant corruption. 
The latest sanctions against Wagner and its head, Yevgeniy Prigozhin, come after the administration last week designated the group as  a "transnational criminal organization." The Treasury Department also announced new financial sanctions on Thursday against Wagner and its leaders.
Sen. James Risch (R-Idaho), the ranking member of the committee, quickly steered the conversation toward the Biden administration's announcement Wednesday that it would provide 31 of its powerful M1 Abrams tanks to Ukraine.
Risch scolded the administration for taking too long to agree to the move, noting that the tanks would not be in place before any planned spring offensive against Russia. 
"Through all of this we have been pressing the administration to do things and they usually do the right thing. But it takes forever to get there," Risch said. "As a result of that, there is a great loss on the battlefield and lives lost in the meantime." 
In an interview outside the hearing, Menendez said the time it took to come to the decision was necessary.  
"When we say we are hesitant, we make an analysis, we just don't say you ask and you get right away," the senator said. 
Sen. Tim Kaine (D-Va.) held a more generous opinion saying in an interview after the hearing: "We are not making a decision about what they need. We are listening to them and we have great communication with the Ukrainian defense forces." He even suggested that he may support sending fighter jets to Ukraine, a move that would likely be viewed as a major escalation by the U.S. 
In conjunction with the Biden administration, Germany also committed to sending 14 of its Leopard 2 tanks and approved shipments of the tanks from other countries.
Russia has dismissed the power of the additional weapons being sent. "It overestimates the potential it will add to the Ukrainian army," Kremlin spokesman Dmitry Peskov during a daily briefing on Wednesday. "These tanks burn just like all the others."
Sen. Ben Cardin (D-Md.), however, challenged Russia's bravado.
"There is no question – these tanks will be extremely helpful for Ukraine not only to defend itself but to retake territory that's currently controlled by the Russians," Cardin said in an interview with Medill News Service.
WASHINGTON — President Joe Biden announced Wednesday that the U.S. will send 31 of its powerful M1 Abrams tanks to Ukraine, capping months of anticipation over whether the West would provide Ukraine with some of its strongest military equipment.
"These tanks are further evidence of our enduring, unflagging commitment to Ukraine and our confidence in the skill of the Ukrainian forces," Biden said at the White House Wednesday, flanked by Secretary of State Antony Blinken and Secretary of Defense Lloyd Austin.
The decision to escalate military support to Ukraine comes alongside a similar commitment from Germany, which announced Wednesday it would send 14 of its Leopard 2 tanks and approve shipments of the tanks from other countries. About 2,000 of the Leopard 2s are held by several countries across Europe, some of which have signaled their intentions to contribute to the effort to help Ukraine regain territory taken by Russia over the last eleven months.
Last week, defense officials from approximately 50 nations failed to reach an agreement to send Western tanks to Ukraine during the eighth iteration of the Ukraine Defense Contact Group. 
"Hundreds of thank yous are not hundreds of tanks," Zelensky told the group, pleading for Ukraine's Western allies to greenlight the transfer equipment.
While German Chancellor Olaf Scholz was expected to announce a shipment of Leopard 2s to Ukraine at last week's World Economic Forum in Davos, he instead said that Germany would not do so until the U.S. agreed to send its Abrams.
The Russian Embassy in Berlin called Germany's decision to send tanks "extremely dangerous," while Kremlin spokesperson Dmitry Peskov said Wednesday before Biden's announcement that the U.S. supplying Ukraine with Abrams would be "absurd."
The tanks are part of a new wave of increased military support for Ukraine from the U.S. and its allies, including Poland, France, Denmark, Sweden, Italy, Estonia, Latvia, Lithuania, Finland and Canada, which ranges from anti-aircraft Stinger missiles to howitzer firearms. The U.K. has also agreed to send 14 of its Challenger 2 battle tanks.
The U.S. has provided over $27 billion in military assistance to Ukraine since the beginning of the war, with the Pentagon announcing $3.75 billion in new assistance last week that included 50 Bradley armored vehicles and more ammunition. Ukrainian troops are also currently undergoing training on the U.S.' Patriot missile system at Fort Sill in Oklahoma.
Senate Minority Leader Mitch McConnell (R-Ky.) called the decision to send tanks "overdue" and said he hopes other European countries with access to Leopard 2s will move swiftly to provide Ukraine with more tanks.
Biden explained that the tanks are intended to help Ukraine defend its sovereignty and territorial integrity, emphasizing that there is no offensive threat to Russia. He also acknowledged the challenges in transporting, maintaining and operating the tanks, barriers that have held the Biden administration back from sending the tanks even as Ukraine has requested them for months.
In an address to Congress last month, Ukrainian President Volodymyr Zelensky thanked the U.S. for its military assistance but also pleaded for more.
"I believe there should be no taboos between us in our alliance," Zelensky said, assuring American leaders that  Ukrainian soldiers are capable of operating American tanks and planes.
The White House acknowledged that it will take time to get the tanks to Ukraine but said training on the Abrams will start "very soon." 
National Security Council Communications Coordinator John Kirby resisted suggestions that the U.S.' decision was motivated by a need to provide cover for Germany.
"I wouldn't use the word cover," Kirby told reporters in a White House press briefing Wednesday afternoon. "What this decision does do is show how unified we are with our allies and partners and doing all of this in a coordinated way."
Ukrainian officials applauded the announcements from the U.S. and Germany, and are asking for fighter jets next, but the White House has not commented on whether it will agree to supply Ukraine with the planes.
WASHINGTON — As Americans reel from the spate of mass killings in recent weeks, the United States Secret Service released a report on Wednesday that aims to shed light on what it calls mass attacks in public spaces.
The agency's National Threat Assessment Center identified 173 mass attacks in public spaces between 2016 and 2020, defined as an incident where three or more people were harmed during an attack in a public or semi-public space.
The report, however, was a behavioral assessment of the attackers involved and gave no concrete solution to communities. 
When asked what communities should be doing to prevent attacks, chief of the National Threat Assessment Center Lina Alathari said in a news conference the Secret Service encourages communities to use this information and the resources available to identify potential attackers and stop them but gave no further guidance. 
Among the more surprising aspects of the report was that many of the attackers were on the radar of some law enforcement agency, according to Alathari. 
Nearly two-thirds had a history of criminal charges or arrests and one-third had at least one contact with authorities that did not result in arrest. Several also had a history of domestic violence. 
"What the research tells us is that these individuals engage in concerning behavior and this concerning behavior is evident to those around them," Alathari said. 
The Secret Service is hoping that the report will teach communities how to identify potential threats.
"We know why these (attacks) happen, we see the warning signs, but how can we get this information out there to make sure that communities are equipped with the tools, resources, training to be able to identify, assess and intervene before a tragedy occurs," Alathari said.
While Alathari said there is no profile for the attackers, there are commonalities in behavior that can be identified, including criminal background or violent history and motive. Overwhelmingly, such attackers have unresolved grievances. 
"Consistent across the five-year time frame and in every year we've studied, by far grievances were the top motive for the attacks," Alathari said. "These were attackers retaliating for some sort of perceived wrongs." 
Of the 173 attacks, 88 targeted businesses, 60 targeted open spaces and 13 targeted places of education. In just under half of the attacks, the perpetrator had an affiliation with the location. 
While over half of the attackers experienced mental health symptoms including depression and psychosis, Alathari emphasized that mental illness is not an indicator of potential threat. 
"It is not a correlation for mass attacks," Alathari said. "The vast majority of individuals with mental illness in this country will never be violent." 
During the presentation, reporters asked Alathari about the wave of violence in California, including the mass attack in Monterey Park, Calif., on Lunar New Year.  But she declined to address reasons for those attacks directly.
The research also described a variety of beliefs and fixations. About one-quarter of attackers believed in conspiracy theories or held hate-focused beliefs on gender and identity. 
In one-third of cases studied, researchers were able to find evidence that the attackers planned the incident. One-quarter communicated their plans online overtly or covertly, according to Alathari. 
The research concluded that the attacks happen all over the country and in every type of community. 
"There is no community that's immune to this, there's no profile for what kind of community," Alathari said.
She added that everyone — schools, businesses, local officials, family members and friends — have a role to play in the prevention of these tragedies, to ensure no information or concerning signs slips through the cracks.
"I want the communities to understand this: these tragedies can be preventable if the communities are equipped with identifying warning signs, encouraging bystander reporting and knowing how to act on that information," Alathari said.
WASHINGTON — The Department of State announced a new program Thursday that will allow groups of American citizens to sponsor refugees looking to resettle in the United States.
The program will significantly restructure the U.S. Refugee Admissions Program, which in the past has given money to a group of nonprofit organizations that handle refugee resettlement. 
The latest program, dubbed the Welcome Corps, will allow groups of five or more citizens to join up to sponsor refugees. The groups will have to raise at least $2,275 per refugee and pass background checks, as well as take other steps.
"The Welcome Corps is the boldest innovation in refugee resettlement in four decades," Secretary of State Antony Blinken said in a press statement released Thursday morning.
Julieta Valls Noyes, assistant secretary of state for the Bureau of Population, Refugees, and Migration, acknowledged that many Americans could meet the financial threshold to sponsor refugees individually rather than as a group. But the five-person threshold reflects the department's view that refugees are more likely to be successful with a broader support network, she said. 
"It's not about money," Noyes said during a State Department press briefing Thursday afternoon. "It's about commitment. It's about the community. It's about bringing people together and forming a group so that the refugees have more than one person that they can turn to and can work with."
The structure of the Welcome Corps mirrors that of the Sponsor Circle Program for Afghans, which allowed groups of five or more to sponsor refugees fleeing Afghanistan after the Taliban regained control of the country in 2021. Ukrainian refugees seeking to resettle in the U.S. following Russia's 2022 invasion of Ukraine have also been able to seek temporary parole with the help of sponsors based in the U.S. under the Department of Homeland Security's Uniting for Ukraine program.
Most recently, the Biden administration announced a new parole program to allow up to 30,000 migrants from Cuba, Nicaragua, Haiti and Venezuela with U.S.-based sponsors to enter the country each month, hoping to deal with a surge of migration at the southern border.
Unlike those initiatives, which only provide refugees from specific countries with temporary parole, the broader Welcome Corps aims to help refugees permanently resettle in the U.S. and integrate fully into their new communities.
Drawing on those limited programs, the Welcome Corps aims to expand the capacity of the refugee program, Blinken said in a release. The new initiative also draws on a similar program in Canada that has allowed Canadians to sponsor refugees for over 40 years, a senior State Department official said Thursday.
Once a group completes a welcome plan and is approved, it will be responsible for providing the refugee with "essential assistance" for 90 days, including helping refugees find housing, employment, health care and education.
The initiative also fulfills an executive order President Joe Biden signed in February 2021 to establish a private refugee sponsorship program. The administration solicited partnership proposals for a pilot program in May 2022.
Since taking office, Biden has struggled to revamp refugee resettlement efforts following a significant rollback of the refugee program under former President Donald Trump. In fiscal year 2022, the Biden administration fell short of its goal for refugee resettlement, filling fewer than 26,000 of the 125,000 available spots.
The U.S. remains on track to miss its 125,000-person goal once again, welcoming only 6,750 refugees in the first quarter of the new fiscal year that ends in September, but the new program may help fill many of the slots.
The State Department aims to identify 10,000 sponsors and welcome at least 5,000 refugees in its first year, with the first refugees under the new program set to arrive as early as April. 
Noyes said the early numbers are a "lagging indicator," noting that U.S. Citizenship and Immigration Services conducted over 20,000 interviews of refugees overseas in the first fiscal quarter, and that the government expects many of those refugees to arrive in the coming months.
The department is pursuing multiple avenues to streamline the resettlement of refugees, including expanding referrals from nongovernmental organizations, hiring more staff and looking to clear out the current backlog of cases, she added.
"The launch of the Welcome Corps is one initiative, but we're doing a lot of work with our traditional resettlement agency partners to try and speed up processing while maintaining the integrity and the security of the program and not in any way changing the requirements," Noyes said.
The announcement was met with widespread support from activists, including more than 200 organizations that endorsed the program Thursday.
Elizabeth Foydel, the private sponsorship program director at the International Refugee Assistance Project, said she was excited that the new program allows individual Americans to step up and provides a long-term solution for refugees awaiting resettlement.
"Given the kind of interest that we've seen, I think that Americans have been really wanting an opportunity to engage in this very direct, tangible way for a long time," Foydel said. "So to have a really formal opportunity, where they know that they're going to receive the support and the training that they need to do it, I think is going to enable a lot of people to do that."
Her group is one of the organizations participating in the consortium of nonprofits partnering with the State Department to support and guide private sponsors and refugees.
The State Dept. program will be rolled out in two phases, with the focus in the first half of 2023 remaining on matching sponsors with refugees who have already been approved for resettlement. Many of the first refugees to be welcomed will be those from Sub-Saharan Africa who have been waiting for resettlement for multiple years.
In the second phase, sponsors will have the option of referring refugees they intend to support to the program.
Ilya Somin, a law professor at George Mason University and a long-time advocate of private refugee sponsorship programs, said he sees the ability to select refugees to participate in the program as an important step. However, Somin said he believes more can be done to improve the refugee resettlement system.
"I think the primary ways to improve this program would be to first, make the pipeline faster, and second – and this latter part would require statutory change – expanding the definition of who can qualify as a refugee," he said.
Somin, who sponsored a Ukrainian refugee family through Uniting for Ukraine, said that program was "great by the admittedly low standards of U.S. federal government bureaucracy," but that the lack of speed and efficiency in the processing of refugees is one area for improvement in the system.
WASHINGTON — U.K. Foreign Secretary James Cleverly and U.S. Secretary of State Antony Blinken reaffirmed their support for Ukraine in bilateral talks Tuesday.
In a joint press conference Tuesday afternoon, Blinken and Cleverly told reporters they discussed Russia's recent missile strike on a residential building in Dnipro that killed at least 40 people this weekend, in addition to Iran, China, Northern Ireland and other topics.
"From the onset of this crisis, Britain and America have worked hand-in-glove to help our Ukrainian friends defend their homeland against Putin's aggression," Cleverly said, thanking the U.S. for its support. "Ukraine's heroic armed forces have liberated thousands of square miles, and I have no doubt they can win in their battle for freedom." 
The visit comes two days after the U.K. doubled down on its longstanding support for Ukraine against the Russian invasion that began last February. On Sunday, U.K. Prime Minister Rishi Sunak committed to send Challenger 2 battle tanks to Ukraine in an extraordinary measure that few Western nations have been willing to take and that Blinken said the U.S. "applauded."
Despite pressure from the U.K., the Biden administration has resisted calls to send its powerful Abrams tanks to Ukraine, even as it has recently agreed to send infantry fighting vehicles alongside Germany.
Dr. Schuyler Foerster, a scholar of NATO policy and former military officer and diplomat, said the unique relationship between the U.S. and the U.K. positions both countries to exercise significant influence over the war in Ukraine.
"It is not possible to overstate the importance of Britain and the United States together standing in support of security on the European continent, on which neither of them sit," said Foerster.
Dr. Ray Raymond, an adjunct professor at the U.S. Military Academy at West Point and a former British diplomat, added that the U.K.'s steadfast support for Ukraine bolsters the potential for continued domestic support for military assistance in the U.S.
"European nations – Britain included  – must pull the weight," said Raymond, who co-authored a paper with Foerster on the U.S.-U.K. "special relationship" in 2017 for the Scowcroft Center's Transatlantic Security Initiative at the Atlantic Council. "This is crucial to the American political effort, because any U.S administration has to be able to say that we're not acting alone, that we have real European support behind us and they do."
Foerster and Raymond explained that, while the U.K. has become more dependent on the U.S. since exiting the European Union, the relationship between the two countries remains unparalleled.
In a fireside conversation with CNN's Kylie Atwood at the Center for Strategic and International Studies this morning, Cleverly emphasized that the war in Ukraine has implications beyond Europe.  
"The importance of what we're doing transcends Ukraine in itself," Cleverly said at the event. "We're defending the UN Charter. We're defending the rule of law. We're defending territorial integrity. We are defending the concept that the powerful cannot just do what they like on the world stage without consequences. This is what's at stake. And those are things that are absolutely essential for us both – us all – to defend."
Cleverly said the U.K.'s decision to send tanks to Ukraine sends a message to Russian President Vladimir Putin that the country is willing to provide Ukraine with the support it needs to defeat Russian forces. 
While Cleverly declined to preview what future military support for Ukraine could look like, he noted that support has "evolved," and will likely continue to do so. Cleverly pointed to the fact that sending tanks to Ukraine was not a possibility the U.K. was discussing last March.
Cleverly also would not predict how long he foresees the war lasting, but emphasized his belief that there is a moral imperative to bring the war to a conclusion promptly. He underscored that, even though the U.K. and its allies want to see the war ended as soon as possible, it must be resolved "properly and fully."
"Properly and fully means that we don't end up with a kind of protracted, stale conflict that then at some point in the future kind of heats up again and turns into another kinetic battle like we're seeing at the moment," he said. "We all have an incentive for this to come to a conclusion, for peace to be reestablished, and for that peace to be enduring."
Cleverly and Blinken also took the opportunity to emphasize their partnership in opposing the current Iranian regime following its recent execution of British-Iranian citizen Alireza Akbari.
The execution of Akbari, a former deputy Iranian defense minister who was sentenced to death on espionage charges that he denied, comes as Iran's regime has cracked down on unprecedented protests by increasing its use of death penalties.
"It fits a pattern of abuse by the regime: detentions, torture, forced confessions, unjust executions," Blinken said of the execution. "We'll continue to work with the United Kingdom and our other allies and partners to hold Iran's leadership accountable for these and other abuses.  We'll keep standing with the brave Iranians who are standing up for their own basic rights led by young women – all of this in the face of extraordinary repression."
Iran's execution of Akbari has drawn strong condemnation from the U.K. – which has sanctioned Iran's prosecutor general and temporarily recalled the British ambassador to Tehran – as well as its allies, including the U.S., France and Germany.
Blinken and Cleverly both emphasized the need to engage in diplomacy even with countries that act against their countries' interests, including both China and Iran. Blinken said that while the Joint Comprehensive Plan of Action is not currently on the table, the U.S. continues to believe that diplomacy is the most effective avenue to enforce President Biden's commitment that Iran never acquires nuclear weapons.
WASHINGTON – "One cannot wage war," Gen. Douglas MacArthur once said, "without the support of public opinion." What happens, though, when the public seems readier for war than the U.S. government? 
Recent polling data presents just that question.
Cygnal Polling & Analytics, a national polling firm that works with center-right GOP candidates and committees, in conjunction with Ukraine-based Gradus Research and Response: AI polled over 3,500 citizens of Ukraine, the United Kingdom, the United States and various European Union countries. Among other data, including favorability ratings of world leaders from Volodymyr Zelenskyy to Xi Jinping, Cygnal found that a plurality of American respondents support establishing and enforcing a no-fly zone over Ukraine, as well as the U.S. intervening militarily to thwart the Russian invasion at clips of 45%-24.9% and 39%-34.2%, respectively.
Though perhaps needless to say, this sort of posture is a significant departure from statements made by U.S. lawmakers who overwhelmingly oppose such direct action to defend Ukraine.
Sen. Ted Cruz (R-Texas) told Medill News Service before the poll's publication that establishing a no-fly zone over Ukraine would be "a serious mistake."
"A no-fly zone would significantly increase the chances of direct military conflict between American servicemen and women and Russian soldiers," Cruz said last week. "That would be foolhardy."
Sen. Josh Hawley (R-Mo.) demurred when asked about his thoughts on such a step, saying, "I suppose that would usually involve us shooting down — if we're going to enforce it — shooting down Russian planes, etc. This would be an act of war … seems like a fast track to war with Russia."
Hawley would not clarify to MNS whether he supports or opposes establishing and enforcing a no-fly zone.
The CNN Effect
If U.S. lawmakers are not yet at the point of calling for more direct American intervention to halt the Russian invasion, experts believe that the will of the people may soon push them in that direction.
"We have done no-fly zones to save people's lives," said former U.S. Ambassador to Georgia and State Department spokesman Ian Kelly. "We did it in Bosnia, we did it in Libya and we did it in Iraq, so I'm not surprised that Americans would be in favor of trying to protect [Ukraine] for humanitarian reasons."
"U.S. diplomats and national security officials are all accountable to the people," Kelly continued, "and the people's representatives are in Congress. We're always accountable to the Congress in the first instance and in the second instance to the people, so that's a big factor in foreign policy."
On the question of what exactly might compel the U.S. government to action, Kelly pointed to a phenomenon known as the CNN effect. 
"[Bill] Clinton was really reluctant to get involved in Bosnia," Kelly told MNS, "and there happened to have been a video camera in the main square of Sarajevo where a mortar shell landed on market day. There were all these terrible images of all these people on the ground who had been killed. There was a direct correlation between that incident and Clinton saying, 'OK, we got it. We've got to use our air power to take out these artillery sites around Sarajevo."
In Kelly's view, the continued deluge of images and video documenting Russian atrocities in Ukraine will only bolster the American public's desire to take more drastic action.
Alexander Hamilton Society Executive Director Gabriel Scheinmann said public opinion does not necessarily influence foreign policy.
"Presidents have views on what they want to do, and then they look at the polling to give them latitude to actually do it," Scheinmann told MNS. "If the polling is unsupportive or against what they want to do, it's more about figuring out the way in which they can do it without going against the American people."
As for whether public opinion on foreign policy should be given a significant amount of weight, Scheinmann said, "the reality is that what the public is responding to can already be outdated information, and the public is also being asked broad questions as opposed to minute ones that go into a lot of complexity."
Lessons from Afghanistan
The question, said Scheinmann, is not whether the U.S. government should give credence to public opinion during a crisis, but absent one.
"The public's seeming support for withdrawal [from Afghanistan] was actually a lot softer and not as solid as we thought," he said, "and similarly here in Ukraine, the public's previous support for a hands-off American approach was, again, a lot softer when push came to shove."
Though public opinion on increased U.S. involvement to stymie the invasion has shifted, American elected officials — with the notable exceptions of Rep. Adam Kinzinger (R-Ill.) and Sens. Rick Scott (R-Fla.) and Roger Wicker (R-Miss.) — have held fast in their opposition.
President Joe Biden has consistently shut down any notions of establishing a NFZ or sending American troops to defend the besieged nation and has bipartisan support on the issue.
"I don't support a move like that," Sen. Todd Young (R-Ind.) told MNS when asked whether shifting public opinion might change his mind. 
Sen. John Barrasso (R-Wyo.) concurred, saying, "Russia has been escalating every day, but I still think it's not in the best interest of the United States or the world to put planes in the air over Ukraine to go into head-to-head combat with Russia."
From the other side of the aisle, Sen. Debbie Stabenow (D-Mich.) told MNS, "I support everything possible for the Ukrainians. They're incredibly brave. We don't help them by doing anything that starts World War III, but I'm going to support them in every way that I can."
Even Sen. Lindsey Graham (R-S.C.), who earlier in March ruffled feathers with a tweet calling on the Russian people to assassinate Vladimir Putin, said he is not quite at the point of supporting direct American military intervention.
Asked about what might trigger him to support such drastic measures, Graham said to MNS, "If they keep committing war crimes on a mass scale. But right now, let's help the Ukrainians. They seem to be doing a hell of a job. Not giving them the fighter jets is just unconscionable; I don't get that. But no no-fly zone yet."
"On foreign policy issues in particular, [perspective] flows a little bit more from elite thought leadership and national security leadership toward public opinion," said Ronald Reagan Institute Policy Director Rachel Hoff. "For example, on Iraq and Afghanistan, you saw the partisan split on public opinion shift very significantly from before the Trump administration to later in the Trump administration, where the president himself was quite vocal on ending the wars … then we saw Republican public opinion shift as a result."
Hoff told MNS that though lawmakers are not necessarily beholden to the American public's opinion on foreign policy issues, there is a significant benefit to understanding where the general public stands.
"It's valuable to know where the views of the broad bipartisan national security consensus aligns with the American people — like around the rising threat of China — or where it doesn't align, and that's where thought leaders and policymakers might have some work to do."
Reagan Institute Policy Assistant Thomas Kenna said public opinion polling gives ample reason for faith in the American people's knowledge of foreign policy.
"About 25% of Americans list the Ukraine crisis as the top issue facing [the United States] right now," Kenna said. "There isn't necessarily a direct link between something in Eastern Europe and the United States in an obvious way, and yet Americans have a nuanced view and understand that it's all interrelated."
"There has remained pretty strong support among the American people for strong American leadership in the world," said Hoff. "When you ask Americans more specifically about particular situations where American leadership matters, the numbers only go up."
Though it is far from predetermined, these numbers may foretell a recalculation in the Oval Office.
"The president's proclivities are still to try and keep this limited and not to have the United States engaged in it," Scheinmann said. "The question is: Will [Biden] read the polling as saying, 'the American people are with me and my instincts are right,' or will he say, 'the American people are not with me, and I've got to figure out a way to achieve what I want to achieve without it being a losing issue for me?'"
Internal pressure is not the only way to affect policy change.
Earlier in March, Ukrainian president Volodymyr Zelenskyy addressed the United States Congress and — alongside an eminently powerful video documenting Russian atrocities in his country — pressed the U.S. to establish a no-fly zone. 
The Cygnal poll shows that Americans have a more favorable view of Zelenskyy than they do their own president, and with American sympathies lying with the Ukrainian president, a growing consensus of Americans wish their country to heed Zelenskyy's call to defend not just Ukraine but the West itself.
WASHINGTON –– When Jen Burch first returned from a tour in Afghanistan nearly a decade ago, she was seriously sick.
Her temperature was so high that it was flagged going through the airport en route to Okinawa, her home base at the time. When she arrived, she took a cab straight to the ER, where she was diagnosed with pneumonia and bronchitis. Since then, Burch has endured painful migraines, post-traumatic stress disorder and significant weight loss as a result of toxic exposure. 
"You know when you turn the car on and all the lights come on? That's how I felt," Burch said.
Toxic exposure occurs when military members are exposed to harmful chemicals and toxins while serving. For Burch, it was burn pits in Afghanistan. For Vietnam veterans, it was Agent Orange. For World War II veterans in Japan, it was radiation. Exposure to such toxins can cause wide-ranging, long-term health impacts. 
But the U.S. government has historically moved slowly to address such conditions. Following the Vietnam War, it took over a decade of advocacy and lawsuits to prompt the Department of Veterans' Affairs to recognize the damaging effects of Agent Orange. 
Now, over 20 years since the U.S. invaded Afghanistan, granting benefits to toxic exposed veterans is gaining momentum. President Joe Biden addressed it during the State of the Union, announcing nine new medical conditions the VA will link to toxic exposure. Both the House and Senate have passed varying versions of toxic exposure legislation.
"For one of the first times, it feels like we're being seen," Burch, now an advocate for Iraq and Afghanistan Veterans of America, said. "It's been a journey. I've been out of Afghanistan for 10 years now. But there's other vets who have been out even longer, who have been battling this for much longer than I have, that have gone through some pretty tough hardships to get where they are. Unfortunately, some veterans have died."
Differing Legislation
Many lawmakers and advocates alike want to get toxic exposure to the president's desk. But the path forward is uncertain. The legislation passed by the House, the Honoring Our PACT Act, is markedly different from the legislation passed by the Senate, the Health Care for Burn Pit Veterans' Act. 
The House version, the Honoring Our PACT Act, expands health care coverage for over three million veterans and draws presumptive connections between 23 different illnesses and toxic exposed service members. 
The Senate version, Health Care for Burn Pit Veterans Act, however, doesn't link any medical conditions to toxic exposure, instead expanding the timeline for eligibility for VA health care to 10 years after service and training VA service providers to look for toxic exposure. The act is just one segment of a three-part legislative push, with plans to address connections between illness and service and expand benefits in the future. 
With two different bills, veterans' advocates and lawmakers are divided on where to go from here. Rosie Torres, founder of the veterans' advocacy organization Burn Pits 360, said the expanded eligibility in the Senate legislation doesn't go far enough.
"It's a delay tactic," Torres said. "That delay, deny, wait until you die tactic on behalf of the government, just to say, 'We won't give you compensation and the burden of proof will still be on you, but here's some more health care.' We know that the onset of these conditions [can be] more than 10 years. It's not always 10 years, it could be 20 years when these issues start to surface." 
Burch called the House version the "most comprehensive" legislation Congress has ever created to address toxic exposure. She worries that the Senate's idea of passing a three-part plan is not enough, saying breaking apart the legislation runs the risk that it might not pass in the future.
"You get the whole package there," Burch said of the House version. "It's not this cut-up part. [After] Vietnam, it took years, decades to get stuff passed and it would just be these tiny pieces. Instead of waiting decades and just slowly running smaller packages, let's do it all now in one big one."
Some leaders of the American Legion, however, said they would support either piece of toxic exposure legislation. Ralph Bozella, chairman of the American Legion's Veterans Affairs and Rehabilitation Commission, said the two different acts don't have to compete, saying he will be happy as long as toxic exposed veterans receive expanded health care.
Lawmakers Grapple
Now, it's up to lawmakers to figure out which piece of legislation to move forward with.
The Health Care for Burn Pit Veterans' Act passed unanimously in the Senate, while the Honoring Our PACT Act passed unanimously among House Democrats. The latter didn't perform as well among House Republicans, however, only garnering 34 votes in favor.
For some Republicans, the price is a sticking point. The House version would cost $208 billion over the following decade, while the Senate version would cost less than $1 billion.
Rep. Mike Bost (R-Ill.), ranking member of the House Veterans' Affairs Committee, has frequently criticized the price tag of the House legislation. In a March 3 statement, Bost took issue with the House passing the Honoring Our PACT Act rather than taking up the Senate's legislation. 
"Instead, House Democrats' shoved the deeply flawed policies and wildly expensive costs of the PACT Act through the House with no regard for finding common ground," Bost wrote in the statement. 
House Speaker Nancy Pelosi (D-Calif.), however, condemned the idea that the cost should deter Congress from passing the House version. She said what the act will do for veterans should outweigh any price concerns. 
"This is a cost of war that we should recognize when we go," Pelosi said in a March 2 press conference outside the Capitol.  "And that is – there should be no question. Because this is not going to be expensive, it's going to be worth it."
In a statement, the Senate Veterans' Affairs Committee said Chairman Jon Tester (D-Mont.) has been working closely alongside Ranking Member Jerry Moran (R-Kansas) and colleagues in the House to get "bipartisan, comprehensive toxic exposure legislation" through Congress as soon as possible. 
The House Veterans' Affairs Committee did not respond to multiple requests for comment.
Moving Forward
Regardless of which legislation veterans' advocates support, many are at a consensus: they want greater acknowledgement of toxic exposure, and they want it signed into law soon.
Torres, a supporter of the House version, said she feels the bill has the support of the White House and President Biden, who spoke about expanding presumptions during the State of the Union. Now, one priority of hers is to change Republicans' minds that the bill is "fiscally irresponsible."
American Legion National Commander Paul Dillard noted that cost concerns remain a dividing factor. But his colleague Bozella said they remain heartened by the bipartisan support for toxic exposure. 
"This battle is not going to be a battle because it's non-partisan," Dillard said. "Both chambers [were] all jumping in, so I think we're in the right direction."
Burch, now over a decade removed from her service in Afghanistan, was heartened by the passage of the House legislation. But she's not ready to let the momentum slow anytime soon.
"Now the push is there," Burch said. "It lifts your spirits, and it's like, 'Okay, we got a victory. Let's keep going.'"