Latest in National Security News
Get up-to-date national security news from our reporters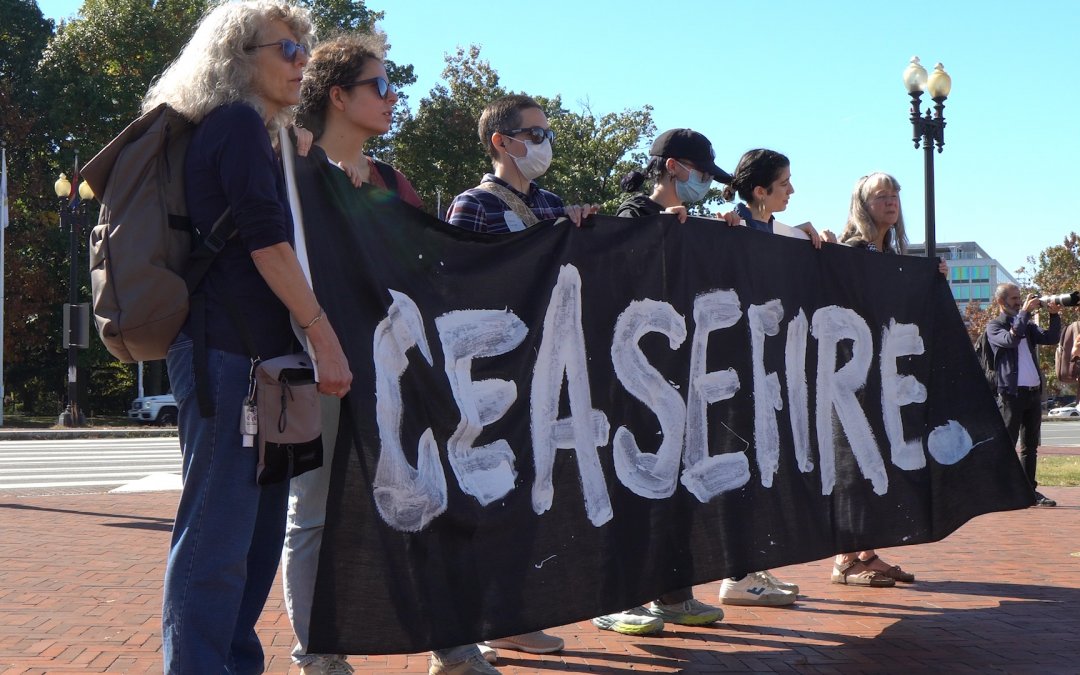 House progressives and protesters demand the Biden administration seek a cease-fire in the Israel-Hamas war.
read more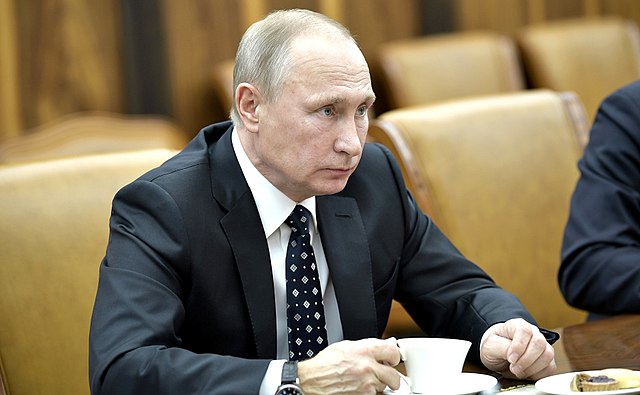 Biden administration officials warned senators on Wednesday that Ukraine cannot win its war against Russia without more aid from the United States. If Russia wins, then Putin could next target Poland and the Baltic states, jeopardizing U.S. national security interests in Eastern Europe.
read more
WASHINGTON — House representatives are worried that on-the-ground development of the submarine industrial base may become a victim of the new House speaker's push to reduce government expenses. 
The issue became a focus of a House Armed Services subcommittee hearing last Wednesday, held minutes after Rep. Mike Johnson, R-La., was elected the new speaker of the House.
The Biden administration two weeks ago requested $3.4 billion in a supplemental funding plan aimed at strengthening the American submarine industrial base, specifically by adding to the fleet of Virginia-class nuclear-powered submarines. While the package primarily focused on more money for Israel and Ukraine, adding submarines would bolster the U.S.' deterrence policy, a key defense strategy against China and in the Israel-Hamas war. 
But representatives warned defense officials that the strategy could be at risk with the new goals of House leaders. 
"My mind is troubled," Rep. John Garamendi, D-Calif., said, referencing Johnson's opening remarks to reduce the deficit, backed by conservatives calling for budget cuts. 
COVID-19 supply chain issues and maintenance backlogs have also strained the development of the submarine industrial base over the past two years, Rep. Trent Kelly, R-Miss., said.
Several members of Congress questioned whether the submarine-building is actually happening, especially because of a worker shortage — and whether those factors could threaten national security. 
"It's one thing for the defense ministers to get together," Rep. Joe Courtney, D-Conn., said. "It's another thing for the people doing all the welding to get together." 
Rep. Robert Wittman, R-Va., also raised the concern of employee retention. "It's also the quality of life for these shipyard workers," he said. "If we don't have people in the yards to build these submarines, this enterprise fails." 
But witnesses urged members of Congress to support investment. Mara Karlin, the DOD's deputy undersecretary for policy, said there has been robust bipartisan support for the submarine industrial base, pointing to America's undersea capabilities as a "comparative advantage" on the global stage. 
Karlin said that investing in the submarine base would continue support for the U.S. National Defense Strategy, which is a DOD plan released every four years. She said the strategy hinges on the AUKUS agreement, a trilateral security partnership between Australia, the United Kingdom and the U.S. Australian Prime Minister Anthony Albanese visited Washington last week to discuss the partnership's developments. 
"We're making sure all three have the most capable undersea capabilities and are going to be able to operate together to help ensure a secure and safe Indo-Pacific," she said. 
Defense officials told lawmakers they were looking at ways to address the workforce problem. Erik Raven, the undersecretary of the Navy, said the military plans to bring hundreds of Australian workers to the U.S. to train them in building submarines. 
Vice Admiral William Houston urged Congress to move forward with legislative proposals soon. Despite the tough questions, however, lawmakers and witnesses reiterated the importance of the trilateral partnership.
"I'm not sure about everything else," Garamendi said in an interview. "But AUKUS will continue."
WASHINGTON — Cutting the budget of the federal cyber defense agency will severely weaken the government's protection against foreign cyberattacks, cybersecurity officials told lawmakers Wednesday.
"A significant cut to our budget would be catastrophic. We would not be able to continue [or] even sustain some of the core functions across programs," said Eric Goldstein, an executive assistant director of the Cybersecurity and Infrastructure Security Agency, to lawmakers on the House Homeland Security Committee's cyber subcommittee. 
CISA, an agency within the Department of Homeland Security, was created in 2018 under former President Donald J. Trump and put in charge of protecting federal civilian agencies and private infrastructure companies from cyberattacks. 
However, the agency has recently come under intense scrutiny. Some Republican lawmakers have accused CISA of colluding with social media companies to censor information the White House deemed damaging to the Biden administration. 
The belief among Republicans that CISA was, according to a report by the House Judiciary Committee, chaired by Rep. Jim Jordan (R-Ohio), the "nerve center" of federal "surveillance and censorship operations" led to a legal battle between Republican state attorneys general and the Biden Administration. The Supreme Court on Friday agreed to hear the case and temporarily blocked a lower court decision that limited communication between the government and social media companies about content moderation.
In September, more than 100 House Republicans, including Jordan and the newly elected House Speaker Mike Johnson (R-La.), also supported an amendment to the Department of Homeland Security Appropriations Act that would cut funding for CISA by 25%. The amendment ultimately failed. 
A 25% budget cut of CISA's $3 billion budget would make the agency unable to carry out key functions, such as its Continuous Diagnostics and Mitigation Program that provide a range of network and data security tools and services to federal agencies, Goldstein said. It will also expose vulnerabilities that foreign adversaries will exploit.
Similarly, a government shutdown would force CISA to pause all of its nonessential operations, including the devising and deployment of new protections, Goldstein said.
Chris DeRusha, the federal chief information security officer in the Office of Management and Budget and a deputy director at the Office of the National Cyber Director, agreed that cutting CISA's budget would weaken the U.S.'s ability to protect its cyberspace.
During the hearing, Goldstein touted CISA's achievements in safeguarding federal agencies against cyberattacks. He said the agency has improved on many measurable metrics of cybersecurity, including a 79% decrease in known exploited vulnerabilities across federal networks from last year.
He said the agency has also made significant investments in modernizing and expanding its programs to reflect the changing technological landscape, such as the adoption of mobile and cloud-based services.
Rep. Carlos Gimenez (R-Fla.), however, dismissed Goldstein's claim that CISA cannot afford a deep budget cut and said he "never heard somebody in a bureaucracy telling me that a cut to their budget would not be catastrophic."
But Democrats on the subcommittee shot back. Rep. Troy Carter (D-La.) called the idea of cutting CISA's budget "very dangerous," and Rep. Eric Swalwell (D-Calif.), the subcommittee's ranking member, said partially defunding CISA would leave the U.S. vulnerable to cyberattacks from its geopolitical rivals. 
"At a time when there are conflicts in multiple parts of the world, I cannot comprehend how we would do anything to reduce our ability to defend against cyberattacks," Swalwell said. 
Just hours before Thursday's hearing, House Republicans elevated Johnson after three weeks without a Speaker of the House. Johnson, a constitutional lawyer, played a major role in crafting and promoting theories to overturn the 2020 presidential election. 
Considering that CISA's responsibilities include the securing of elections, discussion around the new speaker was notably absent from the hearing. Every House Republican voted for Johnson in the Speaker's election. The cyber subcommittee chair Rep. Andrew Garbarino (R-N.Y.), a supporter of CISA, also put out a statement Thursday afternoon announcing his support for Johnson's speaker bid and for him to lead the House's appropriations process.
In Thursday's hearing, lawmakers were also curious about CISA and ONCD's plan for artificial intelligence. President Joe Biden is slated to formally announce his executive order on federal AI guidelines on Monday, and DeRusha said he expects the executive order to include safeguards that address the security threats the new technology poses. 
Goldstein said CISA is actively monitoring the risk of AI on cybersecurity. At the same time, the agency is also examining ways to harness AI's power in analytics and threat detection.
"We want to make sure that our operators, our analysts can leverage AI tools so that they can do less of the work that machines can do and more of the work that only humans can do," Goldstein said.
WASHINGTON — Policy advisers and fellows from non-government organizations pressed members of Congress on Wednesday to impose and enforce harsh sanctions on Iran after Hamas' surprise attack on Israel earlier this month.
The State Department says Iran has provided Hamas with up to $100 million annually. Witnesses at a House Financial Services subcommittee hearing Wednesday said the militant group would not have been able to carry out its Oct. 7 attack on Israel without Iran's backing.
"Without that funding over time, Hamas could not be the capable organization it is today," Matthew Levitt, a senior fellow at The Washington Institute for Near East Policy, told House members.
The hearing — by the Subcommittee on National Security, Illicit Finance and International Financial Institutions — took place more than two weeks after Hamas, an armed Palestinian militant group, launched a surprise attack on Israel on Oct. 7, resulting in the deaths of more than 1,400 people.
After declaring war on Hamas, Israel launched airstrikes on Gaza in the days that followed. According to Gaza's health ministry, which is governed by Hamas, at least 5,971 Palestinians have been killed so far in the Israel-Hamas War.
Witnesses at Wednesday's hearing offered recommendations on ways to limit Iran's influence in the Middle East, citing the importance of enforcing existing sanctions while calling for shifts in current United States policy toward Iran.
Though the United States. has an arms ban and near-total economic embargo on Iran, both nations still engage in trade relations. According to the U.S. Census Bureau, the U.S. exported $45.5 million in goods to Iran in 2022, while importing $11.2.
Richard Goldberg, senior adviser at the Washington, D.C.-based Foundation for Defense of Democracies, told the lawmakers that the Biden administration has a "sanction non-enforcement" problem toward Iran that must change.
He called on members of Congress to pressure the administration to further enforce sanctions against Iran.
"Lock it down," Goldberg said. "You can do it because the administration won't. Turn the screws on oil sanctions enforcement."
Levitt, however, expressed a view that sanctions on their own may not limit Iran's support for Hamas and other militant groups in the Middle East. He stressed the importance of the United States maintaining a credible military threat in the Middle East, which he suggested could be more effective than diplomatic or economic sanctions.
"Sanctions can only solve your problem however long," Levitt said. "They have to be part of a larger tool kit."
Subcommittee members also debated the efficacy of President Joe Biden's policy toward Iran, with House Republicans saying the administration's efforts are not forceful enough.
Rep. Blaine Luetkemeyer, R-Mo., the subcommittee chairman, criticized some of the Biden administration's recent actions toward Iran, suggesting weak enforcement of oil sanctions.
Luetkemeyer also said the administration's decision to give Iran access to $6 billion in frozen assets in exchange for the release of five American prisoners was "naive and irresponsible."
Since Hamas' attack on Israel earlier this month, several high-profile Republicans – including former President Donald Trump – have suggested that the Biden administration is complicit due to the transfer.
In addition, Rep. Dan Meuser, R-Pa, suggested that the Biden administration has an "affinity and affection" for the Iranian regime.
Ranking Member Rep. Joyce Beatty, D-Ohio, however, defended the president's recent actions toward Iran, citing efforts by the Treasury Department to financially hurt Hamas and the Iranian regime through new sanctions.
She said the department is working to prevent "bad actors" in Iran from using illicit activities to launder money.
"The Biden administration has employed a multilateral approach to U.S. national security, overseeing the most significant set of comprehensive sanctions against Iran," Beatty said.
---
Published in conjunction with

WASHINGTON — Assistant Secretary of State of African Affairs Molly Phee defended the State Department's response to the July coup in Niger, pushing back on assertions from senators that the Biden administration hasn't been forceful enough in condemning the West African nation's new government.
The Biden administration has yet to impose formal financial sanctions on Niger, which saw its democratically elected president overthrown by military officers in late July. Instead, the State Department announced in early October that it was suspending U.S. assistance to Niger totaling about $500 million. 
"We are actively and continuously looking at options for sanctions," said Phee, the sole witness at Tuesday's Senate Foreign Relations Committee hearing. "But in the current approach, we're trying to direct [Niger's leaders] back to a democratic transition. That's a factor in the assessment."
However, senators on Tuesday, including Chairman Sen. Ben Cardin (D-Md.), expressed frustration with the administration's decision not to impose sanctions on Niger, citing a "shift in policy." The U.S. typically uses economic sanctions to punish countries that work against its interests. 
Following Nigerien President Mohamed Bazoum's ouster from power in July, General Abdourahamane Tchiani — former leader of the nation's Presidential Guard — declared himself leader of a new junta, the country's military government. The coup came more than two years after Niger's first democratic transition of power since gaining independence from France in 1960. 
Additionally, Cardin criticized the Biden administration's decision to not formally designate the power shift in Niger as a coup until Oct. 10, more than two months after the takeover had taken place. 
"To me, it's giving the wrong signals looking at the number of coups we've seen in this region," Cardin said. "The consequences won't be there." Nations in West and Central Africa have recorded at least eight coups since 2020.
In response, Phee said government leaders in West Africa — including Ghana, Senegal, Ivory Coast and Nigeria — had asked State Department officials to delay naming the overthrow a coup, as they were aiming to restore Bazoum back to power. The former Nigerien president has been held hostage since July with the U.S. and its allies calling for his release.
Senators at the hearing also questioned the U.S.'s continued military presence in Niger, which was one of the U.S.'s few allies in the region prior to the coup. More than 1,100 U.S. troops are currently stationed in Niger — a presence that Phee referred to as important to the region — to aid the nation's forces in combatting terrorism. France's recent withdrawal of troops from the region, however, has increased speculation that the U.S. may follow suit.
The Senate may vote later this week on the future of the U.S.'s military presence in Niger, Cardin said.
Committee members, including Ranking Member Sen. James Risch (R-Idaho), also discussed terrorism in Niger and surrounding countries. The Sahel — the region of Africa spanning from the Atlantic Ocean to the Red Sea that includes 10 countries — is now considered the world's "epicentre for terrorism," according to the Global Terrorism Index. The region has accounted for 43% of all deaths resulting from terrorism in 2022.
"The primary threat is Islamic Terrorism," Risch said of the Sahel region. "Large parts of Mali and Burkina Faso are controlled by groups linked to Al Qaeda and the Islamic State. Terrorist groups are expanding their attacks on governments and populations in many countries."
To respond to these threats, Phee said she recommends the U.S. Congress strengthen the Trans-Sahara Counterterrorism Partnership, a strategy established in 2005 that aims to assist North and West African countries in combatting terrorist threats. 
Though Tuesday's hearing focused primarily on Niger and West African nations, Phee also shared new information on U.S. efforts to address the war in Sudan. More than 9,000 people are estimated to have been killed in the more than six-month-long conflict between the Sudanese military and a paramilitary group.
According to Phee, U.S. Secretary of State Antony Blinken will meet with an African co-facilitator in Jeddah, Saudi Arabia on Thursday to pursue a ceasefire in Sudan and an end to hostilities. She added that about 100 Sudanese civilians are also currently meeting in Addis Ababa, Ethiopia's capital, to form a pro-democracy civilian front.
"There's a lot of division among the Sudanese folks, but we're actively encouraging those dialogues," Phee said. "We hope that this is the start of a serious process to form the next government of Sudan and to serve as a counterweight to the security forces."
WASHINGTON — Jacob Lew, the Biden-nominated choice for the next U.S. Ambassador to Israel, faced a range of prickly reactions — from protesters and Republican senators alike. 
The former Secretary of the Treasury appeared in front of Senate Foreign Relations committee members to answer questions about his plans for maintaining U.S.-Israel relations in a hearing Wednesday. Lew's nomination comes at a highly anticipated time, as the Israel-Hamas war intensifies and Biden visits Israel.
During the opening remarks made by Lew and Chairman Ben Cardin (D-Md.), a protester suddenly arose from his seat, shouting, "We need a ceasefire now!" Two protesters followed moments later, repeating that there was an "Israeli genocide of Palestinians." 
While the hearing proceeded after security rushed the demonstrators out the doors, the tension in the room did not dissipate. Senators from both parties said they condemned the actions of Hamas and terrorism but viewed Lew's impact on the future of U.S.-Israel relations in starkly different terms. 
GOP senators grilled Lew on his history with Iran and its threats to national security and its alleged involvement in the Oct. 7 attacks in Israel.
"Holding hands with Iran under the table doesn't work," said Sen. James Risch (R-Idaho),  referencing Lew's role in the Joint Comprehensive Plan of Action (JCPoA). This once-U.S.-backed initiative aimed to limit Iran's nuclear development in exchange for sanctions relief. 
Diplomacy in the deal has been on and off. While Washington and Tehran said both would make moves to return to the original plan after Trump's withdrawal in 2018, Iran's nuclear program largely remains unchanged. Today marks JCPoA's Transition Day when the United Nations is set to lift embargoes on Iran's nuclear programs.
Risch also referenced a claim by Washington Post columnist and ex-presidential speechwriter Marc Thiessen stating that in 2016, investigators found the Obama Treasury Department — which Lew led — granting Iran the ability to convert millions of its assets through the American financial system. Risch said he was "deeply disappointed" and implied Lew was lying. 
Sen. Ted Cruz (R-Texas), shared Risch's doubts on whether Lew could ensure the aid sent to Gaza and the West Bank — a million-dollar package Biden announced live during the hearing — wouldn't be used for malign purposes by Hamas nor Iran. 
"The death squads in Israel from Hamas are funded in real and meaningful ways by the billions of dollars the Obama administration — now the Biden administration has flowed directly to Iran," Cruz said. "That has proven disastrous."
Sen. Bill Hagerty (R-Tenn.) said money given as "humanitarian expenses" to Iran — what he claimed as "high risk" in feeding into Hamas' operations — has dramatically increased in the past few years. Hagerty questioned if Lew would actually act in the interest of the U.S. and work to see American hostages held by Hamas released.
"Bringing Americans home safely will be one of my highest priorities," Lew said if elected, reiterating that he and the Biden administration will prioritize U.S. security above all else. 
Democrats also pushed back against the Republicans' characterization of the nominee. "This should be the moment where we try our best to rise above partisanship," Lew said. 
In the coming week, the Senate committee is expected to vote on Lew's appointment.
WASHINGTON — Protesters in support of Israel and the Palestinian cause took to the streets in Washington, D.C., last weekend as casualties in the Israel-Hamas war continue to rise.
Just days apart, hundreds of participants — some as young as nine — rallied blocks away from each other. Emerging from them is a spectrum of voices, including rabbis and Jewish activists urging Biden to call a ceasefire to Israeli war assistance.
Watch the video report here:
WASHINGTON — While the United Nations Security Council has approved the deployment of a multinational security force to Haiti to crack down on rampant gang violence throughout the country, the mission — to be led by 1,000 Kenyan officers — faces roadblocks before troops can set foot on Haitian soil.
Those include division in the Kenyan government and a strong opposition movement from the Haitian diaspora.
In July 2022, violence spiked between rival gangs in Haiti's capital of Port-au-Prince. The G9 and G-Pép gangs, backed by rival political parties, fought for control of the city. It was coined the "10 days of violence," and more than 470 people were killed or went missing.
Prime Minister Ariel Henry then called upon the international community to deploy troops to aid Haitian law enforcement. Thousands more Haitians have been killed, kidnapped or injured since his appeal.
One year later, with the Security Council's authorization secured, Haitians across the diaspora are protesting the intercession.
"The Haitian people have been in the streets demanding their sovereignty from foreign intervention for centuries," said Jacqueline Luqman, an organizer for the Black Alliance for Peace, a human rights project that combats imperialism and says it has some 40 member organizations. "It's not a police delegation; it's an invasion."
This sentiment isn't just held by Haitians. Ekuru Aukot, a Kenyan lawyer and politician, filed a petition against the deployment, citing that it was unconstitutional. While the president commands the military, the troops deployed to Haiti wouldn't be soldiers — they would be police officers.
Aukot argued that Kenyan President William Ruto cannot send police officers to another country without the approval of Parliament. In response, The High Court temporarily paused the deployment until Oct. 24 to further investigate the case.
Despite not being military, the police officers will come from an elite Kenyan force trained in counterterrorism, according to Vanda Felbab-Brown, a Brookings Institute expert on foreign policy.
"There is no entity within Haiti capable of quieting the situation or can fix the security situation. They're between a rock and a hard place" Felbab-Brown said.
Currently, Haiti has no elected officials in office. Parliament members' terms expired in January and the country was unable to hold new elections due to the escalating violence.
Prime Minister Henry, who is operating without a legislative body, was instated after the former president, Jovenel Moïse, was assassinated in 2021.
According to the U.N., part of the mission's goal is to help rebuild a stable, democratic environment where they hold elections and have a functioning government. However, opinions are split on how realistic this is.
"Every day, we do not act is another day in which Haitians have to live in terror, fearing for their own safety and well-being," Rep. Sheila Cherfilus-McCormick, D-Fla., the first Haitian-American elected to the Congress, said in a statement. "This resolution will ensure that the Haitian people get relief from the terror they have been facing."
However, Felbab-Brown questions the sustainability of this mission.
"The force may quiet things down temporarily. But without addressing any of the larger structural issues, that will blow up the moment the troops are out," she said.
One of the major issues with this intervention, according to Haitian activists, is that it doesn't address the root of the violence and troubled economy — colonization.
After Haiti gained its freedom from France in 1804, the French government sent warships to the island. The military forced the Haitian government to agree to a debt of $150 million francs to secure their independence. This is equivalent to $20 to 30 billion today.
These funds went directly to slave owners and their descendants as reparations for losing Haitian slaves. The Haitian government did not have the capacity to pay these debts, which led to it taking out loans from American and French banks with high-interest rates.
It took more than a century for Haiti to pay off those debts, and caused Haiti anywhere from $21 to $115 billion in economic growth, according to a New York Times investigation.
"Look at what occupation has done to Haiti before," Luqman said. "Get rid of foreign intervention. Allow Haitians to solve their problems internally and have sovereignty just like every European and Western country. That's what Haiti and its people need."
The High Court will hold another hearing on Oct. 24, in which Kenyan government officials will argue the claims filed by Aukot about deployment. The parties involved could settle privately, but if it goes to trial, the intervention could risk substantial delays.
"It's important for the political process to move forward," Felbab-Brown said. "There needs to be a broader empowering of civil society and a meaningful social contract where the state finally represents the wishes of the people."
---
Published in conjunction with

WASHINGTON — Poland's coming elections this weekend could push the country further to the right and away from the interests of America's Western European allies, foreign policy experts said on Thursday.
The Law and Justice party, or PiS, has governed Poland's parliament since 2015 and is attempting to win an unprecedented third term in office — a feat never accomplished in the country's nearly 32-year democratic history. Sunday's election is expected to be a close race between PiS and the center-right Civic Coalition, or KO.
Former U.S. ambassador to Poland Daniel Fried was critical of the PiS's foreign policy platform because it has an animus toward neighboring Germany and the European Union. However, he said Poland should be interested in playing a larger part in European politics given the country's population size and closeness to the ongoing conflict between Russia and Ukraine.
"Poland is poised to play a leading role in Europe's new Russia policy," Fried said during a virtual panel on Thursday sponsored by the Brookings Institution. "That would be good for Europe and probably good for Poland. Also, it wouldn't be good for Vladimir Putin. It would be good for Ukraine. That is what's being sacrificed by politics and I hope that gets fixed after this election, no matter who wins."
Anna Gryzmala-Busse, a nonresident senior fellow at Brookings' Center on the United States and Europe, said during the panel that since PiS came to power in 2015, the political party has attacked the free press and overhauled Poland's judicial system to be less independent. If PiS wins a plurality of seats this election cycle, she said Poland's relationship with the EU and Germany will likely worsen. 
"PiS conducts foreign policy largely for domestic consumption," Gryzmala-Busse said. "It's driven by signaling to its loyal constituency rather than by some sort of long-term vision or long-term proposals for the future of Polish foreign policy."
Conversely, if the opposition wins control after Sunday's election, relations with Western Europe could improve, she said. Gryzmala-Busse noted that the leader of the opposition Civic Coalition, Donald Tusk, served as president of the EU's governing body from 2015 to 2019, adding he could better address Poland's concerns to its allies. 
Fried, who worked in the U.S. State Department for 40 years, emphasized that Poland's current animosity toward the EU and Germany is due in part to the nation's rapid transition toward democracy — one he said was much quicker than that of many Western European nations. 
"There are a lot of Poles who are discomforted by the rapid modernization of Polish society and the rapid secularization of Polish society, which mirrors what happens in Western Europe," Fried said. "So you're going to get some kind of a reaction."
The former ambassador had some praise for PiS, noting that unlike some other democracies in Central Europe, like Hungary, that have backslid, the party's policymakers in Poland have been firm supporters of Ukraine and opponents of Russian President Vladimir Putin.
Poland has stood with Ukraine after Russia's surprise invasion in early 2022. It has also welcomed more than 1.5 million Ukrainian refugees. Last month, however, Prime Minister Mateusz Morawiecki of PiS announced that Poland would cease sending weapons to Ukraine. 
Fried indicated that current strains to Poland's solidarity with Ukraine are largely a result of economic factors. He said grain imports from Ukraine are depressing Polish markets and alienating Polish farmers. Regardless of which party is in power after Sunday's elections, Fried believes Poland's stance toward Ukraine will not change.
Milan Nic, a senior research fellow at the German Council of Foreign Relations, said he believes the parliamentary elections could have political repercussions throughout the region. He suggested PiS's electoral victory in the 2015 parliamentary elections represented a populist revival in Central and Eastern European countries and this year's vote could potentially do the same.
"I see something similar happening, with however many caveats and differences, because the world has changed and also the region has changed," Nic said. "But, I think the outcome from Poland is now again determining how far the region will go and how far you can have this bounce back of populism."
WASHINGTON — President Joe Biden said it is his priority to secure the return of American citizens kidnapped in the war, reaffirming the U.S. stance on the recent Hamas attacks. The administration said it is seeking more information regarding the safety of U.S. hostages, preparing to send intelligence to Israel.
"We must be crystal clear: we stand with Israel," Biden said in his emotion-filled remarks Tuesday afternoon. The speech came hours after Biden and Vice President Kamala Harris spoke with Israeli Prime Minister Benjamin Netanyahu for the third time in recent days. Meanwhile, the U.S. moved to send weapons and warships closer to Israel, while flowing in additional Iron Dome interceptors — one day after Israel ordered a complete siege over the Gaza Strip. 
As of Tuesday, 14 U.S. citizens in Israel at the time of the attacks have been killed, with others reported missing. National Security Adviser Jake Sullivan said in a press briefing after Biden's remarks that the administration had no information on the condition of the hostages nor a confirmed number of how many are being held. Sullivan said Biden has been in contact with the loved ones of those captured, while some families deny the president's outreach.
"He has proven, in country after country, his willingness," said Sullivan. "To go further than any other president has gone before — to bring those people home." 
In response to the attacks, Israel has launched missile strikes targeting Gaza. Palestinian authorities say 900 have been killed. When asked about the safety of Palestinians impacted by the siege, Sullivan did not comment on the specifics.
"This is something also that we have been discussing with our counterparts in Israel and with our counterparts in Egypt," said Sullivan.
On Saturday, Hamas, the Islamist militant organization that currently governs the Palestinian territory of Gaza, launched a surprise attack firing thousands of rockets into Israel. Armed Hamas forces entered Israeli areas shortly after and raided a music festival in Southern Israel close to the Gaza border, killing more than 260 people and taking scores of hostages.  
According to the Council on Foreign Relations, violence in the area has not reached as intense of levels since the 2005 Palestinian uprising. The death toll from the war has topped 1,500, according to AP. 
A spectrum of prayers and coalition-led protests erupted throughout the country over the weekend. In Washington, members of Jewish and Palestinian communities responded. Many called for an end to the violence while critiquing U.S. involvement in the region.
"There is no place for hate in America: not against Jews, not against Muslims, against anybody," Biden said. "What we reject is terrorism." Sullivan followed, stating that Hamas' actions were comparable to ISIS. 
When asked how long the U.S. plans to provide assistance to Israel, Sullivan dismissed the claim of a timeline. Biden said the next step domestically is to ensure Congress continues Israeli support amid the war in Ukraine.
"When Congress returns, we're going to ask them to take urgent action," Biden said. "This is not about party and politics. It's about the security of our world."