Latest in Education News
Get up-to-date education news from our reporters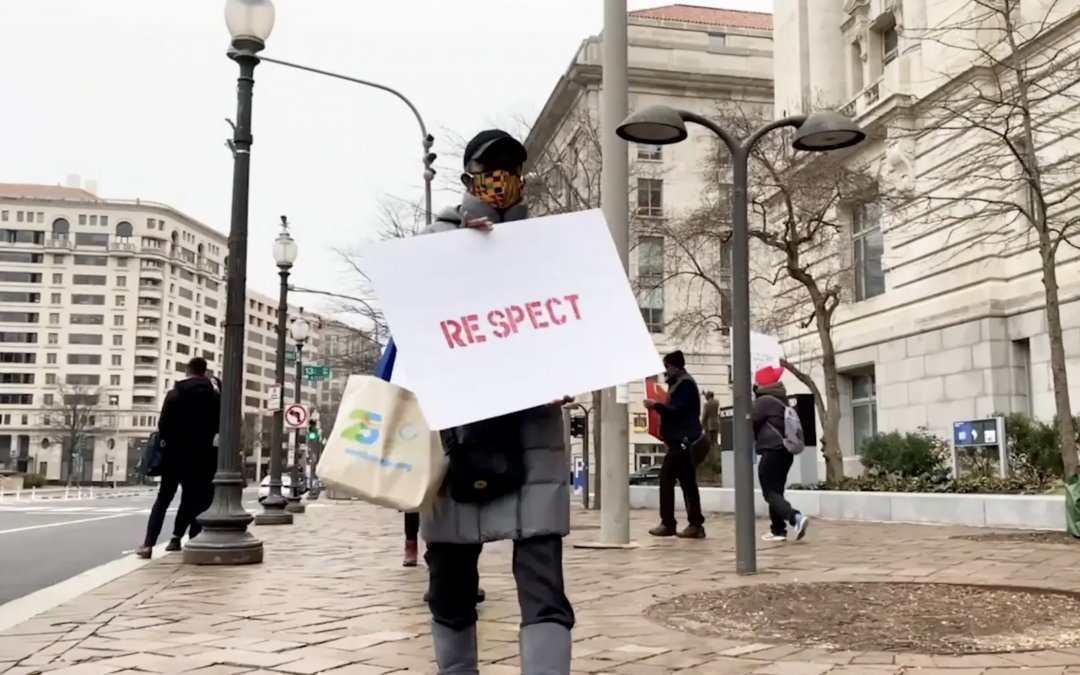 Substitute teachers in the district are demanding improved pay and benefits.
read more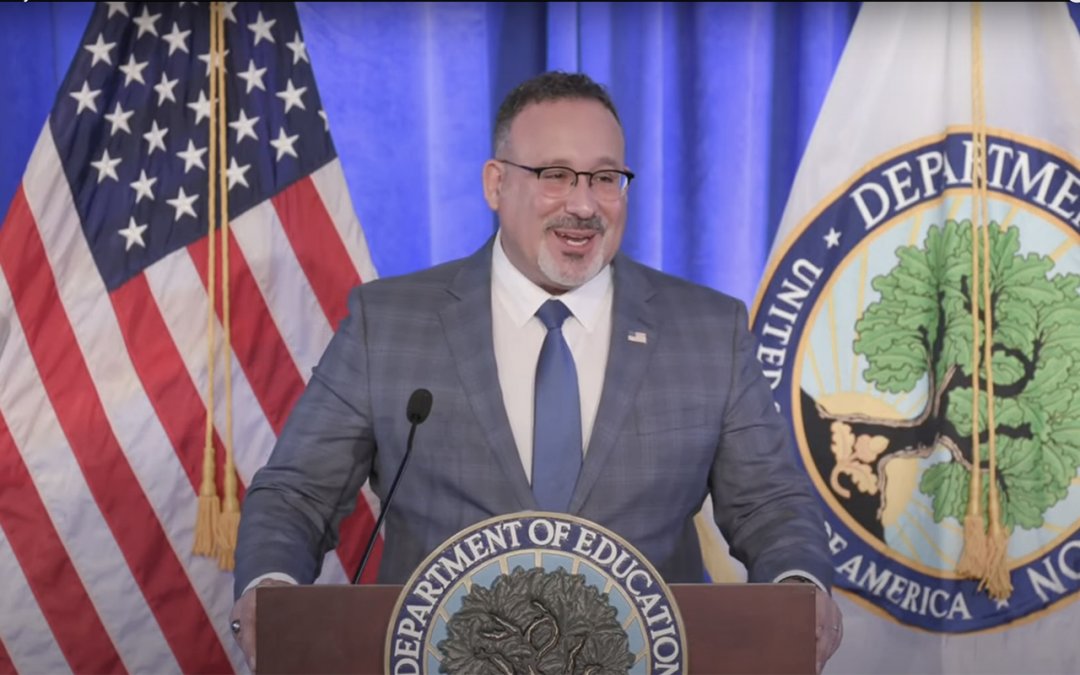 In a speech at the Department of Education headquarters, Education Secretary Cardona made the case for a "reset in education" strategies to address COVID-19-related stressors that have overwhelmed most students and teachers, but disproportionately impacted those already facing inequities. The former principal also touted a number of Biden policy proposals.
read more
ARLINGTON, Va. — Students usually worry about schoolwork and tests, but the looming threat of climate change adds additional stress to children's futures.
"We need to educate, we need to step up and we need to really ensure that our planet is protected and we're able to function in a sustainable and environmentally-friendly society," student leader Thomas Brulay said.
With education being one of the largest public sectors in the United States, coalitions like Aspen Institute's K-12 Climate Action Plan and Generation180 partner with schools to help them reach sustainability goals and net-zero energy.
"It's really thinking about the school districts developing these local climate action plans and then how state and the federal government can really help support that implementation," Laura Schifter, a K-12 Climate Action Plan senior fellow, said.
Schools in the U.S. occupy about 2 million acres of land and teach around 50 million students, according to Schifter. Generation180 Program Director Tish Tablan also said that schools emit carbon dioxide levels similar to that of 18 coal power plants and that switching to solar would reduce schools' carbon footprint.
"In 29 states plus DC, you can go solar with no upfront costs, so the barrier of upfront costs can be removed for many schools around the country, and that really levels the playing field, so that solar is not a technology just for wealthy districts," Tablan said.
Stockton Unified School District in California championed green advocacy work by its quick production of electric school buses. Energy Education Specialist Gilbert Rosas said their bus fleet acts as a model for other school districts and opens the students' eyes to environmentally-friendly careers.
"Not only do I understand the demographic of Stockton Unified, but I look like the demographic," Rosas said. "I think it's important for kids to realize that we have cool green career path choices, and they have the ability to be anything they want to be."
Discovery Elementary School in Arlington, Virginia is one of the many schools that are being catalysts for educating environmental activists. As soon as students enter primary school, they work on year-long mastery projects to help their school become greener.
"All of the projects that the students come up with are amazing. The way they get excited about growing lettuce, that I swear they won't eat until they're a part of the process, and how proud they are to have taken part in that is just really inspiring," Principal Erin Russo said.
From primary school to high school, students like Holly Thorpe and Thomas Brulay, join and form organizations to put what they learn into action. Thorpe and Brulay lead environmental efforts in Green Champions, a student-run club in Florida's Miami-Dade County School District. These groups help kids realize their impact on the planet.
"We're running out of time, and the climate crisis keeps getting worse and worse, and if we don't step up and do something about it, then it's going to be irreversible effects to the environment," Brulay said.
---
Published in conjunction with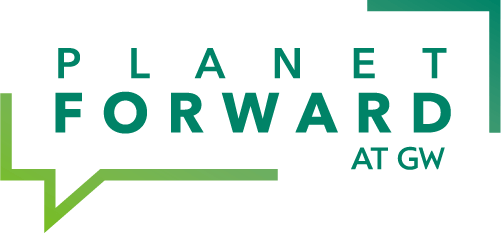 WASHINGTON — With federal student loan borrowers facing a January restart of their loan payments, the Office of Federal Student Aid chief operating officer told House lawmakers Wednesday that ensuring a smooth transition "is crucially important for millions of Americans" and that his agency considers it "a defining moment."
"We know this will not be an easy transition for borrowers, our loan servicing partners or any of the other stakeholders involved in the repayment process," Richard Cordray told members of the House Higher Education and Workforce Investment Subcommittee.
Federal student loan payments were paused in March 2020 as a part of the Coronavirus Aid, Relief and Economic Security Act, with the plan for payments to resume in September 2020.
The freeze suspended most federal student loan payments, instituted a 0% interest rate and stopped collections on defaulted loans.
However, this additional time has not eased concerns for the potential failure to transition smoothly.
Rep. Greg Murphy, of North Carolina, the subcommittee's highest ranking Republican, said restarting the federal loan payments is "one of the greatest challenges the Department of Education has faced since its inception," and a failed transition could be "catastrophic" for borrowers.
Cordray said the office of Federal Student Aid is working on a plan for a smooth transition by establishing clear communication with borrowers, quality customer service and targeted help for those who may have trouble making payments.
Part of this plan, which has yet to be made final, includes a minimum of six communications with borrowers from the Department of Education, a requirement in the CARES Act.
Cordray asked committee members to alert their constituents about the approaching payment restart and changes in programs like the Public Student Loan Forgiveness program, for which some borrowers may qualify for the first time.
Cordray said borrowers have two paths in January when payments resume.
The first is an automatic debit program that takes the monthly loan amount out of a debit account automatically. For those who cannot make regular payments, he recommended an income-driven repayment plan that sets a borrower's monthly student loan payment at an amount intended to be affordable based on income and family size.
"We're trying to make that simpler for people," Cordray said. "And we want everybody out there and help us spread the word among your constituents [that] if you're able to make your payments easily, get on auto-debit. If you're having trouble making payments, get on income-driven repayment."
Alex Ricci, director of government affairs for the Education Finance Council, a trade group for nonprofit or state-based higher education finance organizations, said in an interview that the obstacles that certain borrowers may face mean it is critical to get the FSA plans finalized quickly.
Some of these borrowers may be making payments for the first time or were on income-driven repayment prior to the pandemic, but whose incomes now must be recertified, Ricci said.
"The difficulty is the borrowers have not received, to date, a comprehensive guide or direction," he said. "Until that occurs, we're in a standstill, and it's really incumbent upon the administration to deliver this critical information to the borrower."
---
Published in conjunction with

WASHINGTON – More than 100 students have been sleeping inside and outside the Blackburn University Center at Howard University, demanding student representation and better housing conditions.
The sit-in started after the self-titled "Blackburn takeover team" attended the Howard University Student Association town hall at 6 p.m. Oct. 12, where students expressed their frustrations over the absence of administration at the town hall, to which the administration had been invited multiple times.
Howard University senior Aniyah Vines, one of the sit-in organizers, said the movement goes beyond Howard University.
"Not only do we demand a housing plan, we demand a structural change at Howard. Not only do we demand structural change at Howard, we demand structural change in America," Vines said.
WASHINGTON — The Albany City Council was early to conversations about the need for widespread federal student loan forgiveness. In August 2009, council members passed a resolution urging the federal government to consider forgiving student loans in order to help the economy. 
Jim Sano, a lifelong Albany resident and former middle school teacher, said he conceived the idea for the resolution after receiving an article from his daughter, a graduate student at New York University, outlining the devastating effects of student debt. It struck a nerve, especially because he saw other parts of the economy receiving federal help in response to the Great Recession. 
One section of the resolution focused on expanding access to forgiveness of both private and public loans for public sector employees in order "to better utilize these degrees and experience especially in our most disadvantaged sectors."
At the time, the federal government had already created one program to forgive loans for public servants: the Public Service Loan Forgiveness program. But it has proved to not be as effective as intended, and the Department of Education announced a massive overhaul last week.
Established in 2007, the PSLF program was a promise to public service employees — teachers, firefighters, health care employees and more — that after 10 years in public service their debts would be removed if they had fulfilled 120 payments.
"It was both a reward for people who were doing important work and an incentive to make sure that folks wouldn't be prevented from entering public service jobs because of their debt burden," Winston Berkman-Breen, director of advocacy for the Student Borrower Protection Center, said. 
The first year a group of eligible borrowers would have had their debts forgiven was 2017.  However, the number of participants who benefited was much lower than expected. 
According to a Government Accountability Office report, by April 2018, over 1 million had started the process to verify their eligibility for the program. From there, a total of 20,000 people had submitted an application for loan forgiveness, and only 55 people were granted forgiveness. 
Only 1.2% of New York PSLF participants have had their debts forgiven, with the remaining PSLF participants in the state still owing more than $8 billion in student loans, according to a report by Sen. Kirsten Gillibrand, D-N.Y., using Education Department data. 
A confusing application process, stringent requirements for payments that would qualify toward the 120 and lack of clear communication are partially to blame for this outcome, according to a number of experts. Randi Weingarten, president of the American Federation of Teachers said the program was "worse than the worst maze that anyone has ever gone through." 
With the overhaul, the Department of Education plans to make a number of changes. Significantly, a limited-time waiver will allow borrowers to consolidate their loans, making prior payments count towards their 120 payments regardless of the type of loan or payment plan.  The deadline to apply for this program is Oct. 31, 2022.  
Other changes include plans to simplify the application process, review all denied PSLF applications to correct prior errors, remove barriers that deter the participation of members of the military and improve communication with eligible borrowers, the agency said. 
Eric Harrington, senior counsel for the National Education Association, said the significance of this overhaul is being understated. 
"This is a very big deal… For educators, this overhaul could mean 10 to 15% of all educators in the country, nearly a million people, could have their student debt wiped out from these actions," he said.
But some say these changes only scratch the surface. 
Gillibrand, who's been calling for reform of the program since last year, commended the Biden administration for the recently announced changes. However, she emphasized that the changes are only temporary solutions.
"We can and should do more to help people who have served our communities and planned their lives careers and futures around the promise of the PSLF program," Gillibrand said.
She sponsored legislation last year that would make more permanent changes to the program, including making it more flexible. Her bill would allow participants to have their loans partially forgiven after five years of service and make all federal college education loans eligible permanently. 
Janet Werther, an adjunct professor in the State University of New York System, has failed to qualify for PSLF twice – once while a professor and again while working part-time at an arts nonprofit. PSLF requires borrowers to work full time or at least 30 hours a week and while there are exceptions to the rule, reaching this minimum is a necessity year after year. Werther said this requirement, especially in the higher education system, poses a problem because there is a higher proportion of part-time professors compared to full-time positions. 
"There's a structural inequity there in that those of us who in the university system are the most economically disadvantaged, the most precarious, the most structurally underprivileged in our work, are also the least able to access public service loan forgiveness," they said. 
The impact of the overhaul will be seen in the coming years, and until then, Gillibrand said the key for regaining faith in this program lies in making it work. 
"If we give a million people loan forgiveness, the million who have done the work over the last 10 years, who deserve it, that would transform people's impression of the program overnight."

---
Published in conjunction with
WASHINGTON — Some buildings in historically Black colleges and universities are in such bad shape that "when it rains outside, many times it rains inside," the Tennessee State University president told a House subcommittee on Wednesday.
Tennessee State University is one of about 100 historically Black colleges and universities in the country. According to the National Center for Education Statistics, these institutions were all established prior to 1964 with the principal mission of educating Blacks, who were restricted from attending other universities. 
Deferred maintenance refers to needed repairs that get delayed and it's just one of the problems that TSU President Glenda Glover said HBCUs face. 
"The infrastructure needs extensive work. I've spoken to other college presidents," Glover said. "The deferred maintenance can be anywhere from $200 to $300 million — that's how much it is on Tennessee State's campus. Where you learn, where you live, that's where [it] becomes so important."
HBCUs have become a focal point for the Biden administration and Congress. Last month, Biden signed an executive order reaffirming his stance on advancing educational equity and economic opportunities for students through HBCUs.  
Since March of 2020, Congress has allocated around $6.5 billion for HBCUs through COVID-19 relief funding and a capital financing program.
Glover said this funding helped HBCUs and their students immensely throughout the pandemic by giving them access to funds used for tuition assistance and technology necessary for online learning. 
While thankful for the emergency aid, Glover told the House Subcommittee on Higher Education and Workforce Investment the Build Back Better Act would be game-changing for HBCUs.
The portion of the bill that the Committee on Education and Labor's advanced last month includes over $30 billion in funding for HBCUs: $2 billion for a competitive grant program that would increase their research capacity, $27 billion to reduce low-income students' tuition costs and $1.45 billion in additional funding. However, this could change dramatically as the Democrats and Republicans continue to debate over what the final price tag should be for the Build Back Better Act. 
Rep. Greg Murphy, the highest-ranking Republican on the subcommittee, said he didn't think additional federal funding through the Build Back Better plan would be beneficial. He said federal money has led to decreased accountability for institutions and that HBCUs and other universities should look to partnerships in the private sector and innovation to make their universities better.
Chairwoman Frederica Wilson D-Fla., who graduated from Fisk University, another HBCU in Tennessee, pointed to a history of hurdles and complications that differentiate the struggles of HBCUs from other universities. For example, HBCU endowments, which rely heavily on investments and donations, don't come close to those of other universities. According to the Brookings Institution, endowments for all HBCUs combined totaled around $3.9 billion in 2019, while New York University's endowment alone totaled $4.3 billion.
"HBCUs continue to experience persistent challenges including systemic underfunding, chronic state disinvestment and discriminatory funding policies that left HBCUs to achieve far more with far less," Wilson said. "We must continue to invest in HBCUs and their students." 
WASHINGTON — For years, the NCAA has governed itself. Now, NCAA President Mark Emmert is turning to Congress.
Speaking at a House Consumer Protection and Commerce subcommittee hearing Thursday, Emmert called for quick congressional action to standardize legislation allowing student athletes to profit from use of their "name, image or likeness" nationally and protect athletes from unfair contracts.
In July, the NCAA announced all athletes would be able to profit from use of their name, image and likeness by accepting brand partnerships, giving lessons and signing autographs. About a half million students in 1,100 NCAA schools are eligible for such deals.
Twenty-eight states have enacted NIL laws, but schools in states without legislation have to navigate on their own. The laws also vary greatly from state to state, Emmert said, creating inconsistencies that could favor colleges in some states.
Further, many schools do not have the resources to provide financial advising to their athletes. Many athletes are also under 18 when they begin signing contracts, according to Cameron March, a golfer at Washington State University.
"The NCAA alone cannot address this," Emmert said. "We need to do it together."
Historically, the NCAA has blocked college athletes from getting paid on the basis of preserving the amateurism of college athletics. Meanwhile, coaches make millions each year, and the NCAA recently signed a $10.8 million partnership with CBS to broadcast college sports.
The change in NIL policy comes after years of student organizing, Supreme Court rulings, and states enacting their own NIL policies to protect their students.
Wednesday, the National Labor Relations Board issued a memo that some college athletes are employees and are entitled to protections and the right to collectively bargain. The NCAA released a statement disputing that decision.
"College athletes are students who compete against other students, not employees who compete against other employees," the NCAA statement read.
Former NCAA volleyball player Rep. Lori Trahan, D-Mass., asked Emmert if the NCAA would collaborate with Congress to center NIL legislation student interests and to not pay lobbyists to work on the issue. In 2020, the NCAA spent over $750,000 lobbying to shape any new student athlete policies to their own liking, according to OpenSecrets.org.
Emmert said he has been a lifelong educator and cares deeply about students, but did not address lobbying efforts.
Trahan introduced legislation in April that set a federal right for college athletes to profit from their NIL and supersede more restrictive state laws.
March, the WSU golfer, said NIL laws allow her to put her name on apps she has developed as a digital technology major. Now, she can capitalize on her name and likeness to propel it into the market.
Trahan said Congress should look at compensation through an equity lens. Female athletes are shortchanged by a $1 billion annually, she said. Beyond financial compensation, she also advocated for more protections for athlete health and safety.
"Being a college athlete is a source of enormous pride and also an enormous sacrifice" Trahan said. "Making sure that we have an ability to give the power back to the athlete so that they can bargain for better is key."
WASHINGTON —- For years, the NCAA has governed itself. Now, NCAA President Mark Emmert is turning to Congress.
Speaking at a House Consumer Protection and Commerce subcommittee hearing, Emmert called for quick congressional action Thursday to standardize legislation allowing amateur athletes to profit from use of their "name, image or likeness" nationally and protect athletes from unfair contracts.
In July, the NCAA announced all athletes would be able to profit off their name, image and likeness by accepting brand partnerships, teaching lessons and signing autographs.
Twenty-eight states have enacted NIL laws, but schools in states without legislation have to navigate on their own. Further, many schools do not have the resources to provide financial advising to their athletes, Emmert said.
"The NCAA alone cannot address this," Emmert said. "We need to do it together."
(This is a developing story.)
WASHINGTON — On a sunny Wednesday outside the Capitol, Republican Rep. Bob Good began a news conference about his bill to block federal funds for schools that teach critical race theory by saying Congress must be "diligent" in uncovering and eliminating such teaching in schools.
"It sees things through a racial lens, and it's dangerous. It's dishonest, and it's very divisive to us as a nation. It ignores the tremendous history that our country has made," Good said. "The progress that we've made as a nation was facilitated by our founding principles and increasingly realized over the past 245 years."
His bill, co-sponsored by 17 Republican, lawmakers, all Republicans, would amend the Civil Rights Act to say that any use of federal money to teach critical race theory would be a violation of that law.
Good said he'd been called a racist during an Education and Labor Committee hearing for his opposition to CRT.
"Well, what if you are a racist?" yelled a bystander from across the street as the press conference was sidetracked by protesters. More soon joined in with shouts of "shame, shame, shame," "what about my history," and "Black history matters" — drowning out the voices of Good and others supporting his bill.
One of the protesters, Maria Perez, a state senator from New Hampshire, emigrated from El Salvador. Having put her kids through U.S. schools, she said teachers should be allowed to teach history without interference and that bills like Good's give people an excuse to be racist.
"They have to leave the history alone. The teachers, they're not calling kids bad names. We're not calling white supremacy to the kids in school," Perez said. "We don't do that. We have respect for everyone. No matter how they look or how they speak. We expect them to do the same thing for us."
Capitol Police eventually stopped protesters' yells, threatening to remove people if they continued.
Anne Wilson, another protester, expressed frustration with lawmakers who support banning critical race theory from schools.
"It's essential that voices that have basically been suppressed in traditional ways of teaching in the United States be brought forward," Wilson said. "An opposition to looking at history through the lens of race is basically trying to suppress a whole history and that's not what America is about."
The debate over critical race theory started in state legislatures and schools curriculums as states like Utah, Tennessee, Oklahoma, Texas and others started passing laws that restricted discussion of critical race theory in classrooms. Laws like one in Tennessee threaten to withhold aid from schools that promote concepts that teach that the U.S. is inherently racist or an individual because of race or sex is inherently privileged.
Good's bill is one in a series of bills that have brought the critical race theory debate to the federal level. In September alone, House Republicans introduced three bills relating to the restriction of teaching critical race theory or mentioning white supremacy in schools.
Mary Kusler, director of advocacy at the National Education Association, said these bills are unlikely to go anywhere because school curriculum is more the purview of local and state governments and boards of education than of Congress.
But, she said, the consequences of the debate are felt in the day-to-day that teachers now have to deal with.
"This is a manufactured controversy designed to divide our communities, our families, our students along racial lines for purely political purposes," Kusler said. "We are now seeing educators in local communities being targeted, simply for doing their jobs and teaching our full history."
WASHINGTON — Health inequities and vaccination strategies were the topics of debate at today's House Education and Labor joint subcommittee hearing. The witnesses and committee members discussed ways to protect vulnerable communities from COVID-19, such as schools.
According to the Kaiser Family Foundation, black, indigenous children of color under the age of 19 are two to three times more likely to be hospitalized than white children, based on data as of August 31st.
School closures also disproportionally affect underfunded school districts, which is why the U.S. Department of Education started Project SAFE grants, federal funding rewarding COVID safe in-person learning. Congress hopes to work on initiatives to encourage more vaccinations.