Latest in Education News
Get up-to-date education news from our reporters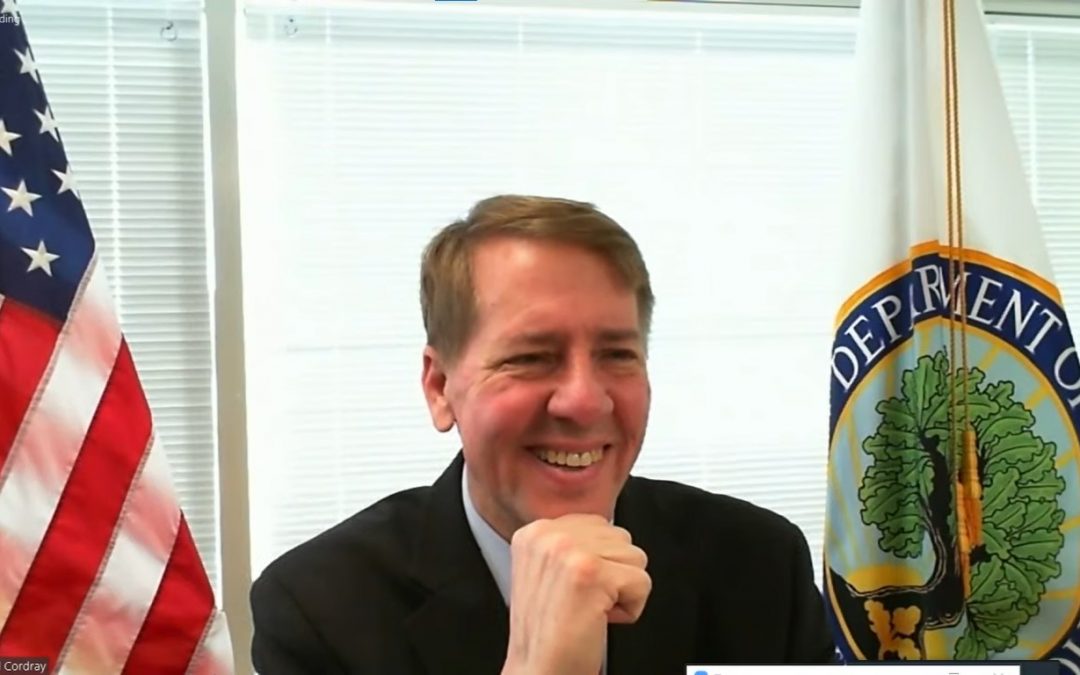 With federal student loan payments restarting at the end of Jan, the Office of Federal Student Aid chief operating officer told House lawmakers that ensuring a smooth transition is crucial.
read more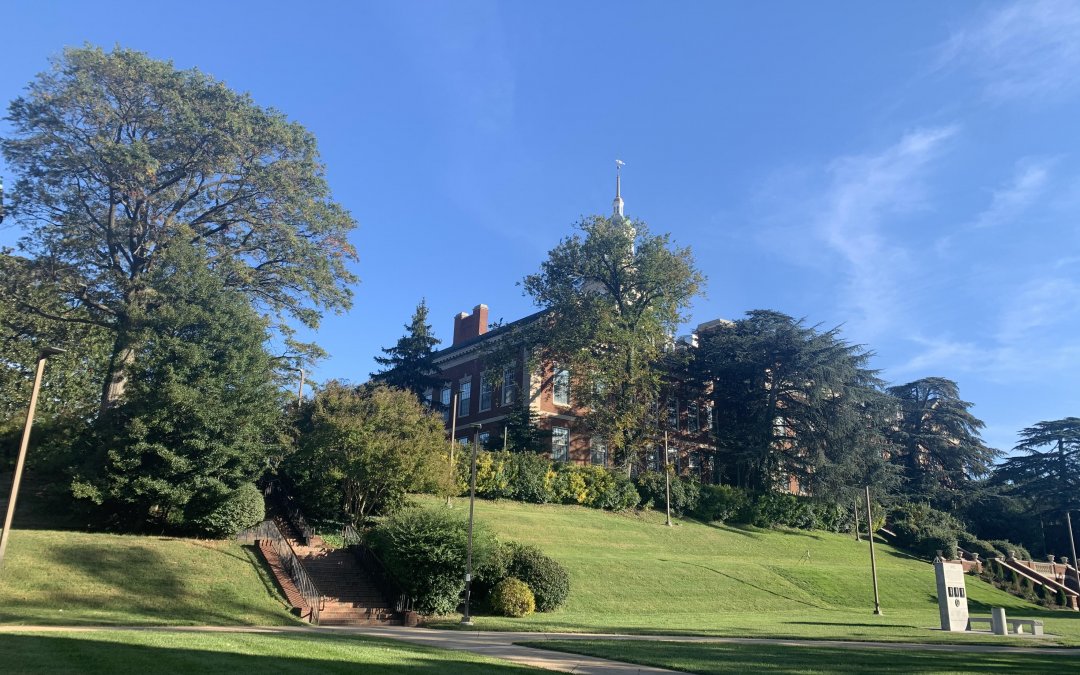 There are more than 50 students sleeping inside Blackburn, and there are around 40 tents camped outside the building, as of Thursday.
read more
WASHINGTON — On a sunny Wednesday outside the Capitol, Republican Rep. Bob Good began a news conference about his bill to block federal funds for schools that teach critical race theory by saying Congress must be "diligent" in uncovering and eliminating such teaching in schools.
"It sees things through a racial lens, and it's dangerous. It's dishonest, and it's very divisive to us as a nation. It ignores the tremendous history that our country has made," Good said. "The progress that we've made as a nation was facilitated by our founding principles and increasingly realized over the past 245 years."
His bill, co-sponsored by 17 Republican, lawmakers, all Republicans, would amend the Civil Rights Act to say that any use of federal money to teach critical race theory would be a violation of that law.
Good said he'd been called a racist during an Education and Labor Committee hearing for his opposition to CRT.
"Well, what if you are a racist?" yelled a bystander from across the street as the press conference was sidetracked by protesters. More soon joined in with shouts of "shame, shame, shame," "what about my history," and "Black history matters" — drowning out the voices of Good and others supporting his bill.
One of the protesters, Maria Perez, a state senator from New Hampshire, emigrated from El Salvador. Having put her kids through U.S. schools, she said teachers should be allowed to teach history without interference and that bills like Good's give people an excuse to be racist.
"They have to leave the history alone. The teachers, they're not calling kids bad names. We're not calling white supremacy to the kids in school," Perez said. "We don't do that. We have respect for everyone. No matter how they look or how they speak. We expect them to do the same thing for us."
Capitol Police eventually stopped protesters' yells, threatening to remove people if they continued.
Anne Wilson, another protester, expressed frustration with lawmakers who support banning critical race theory from schools.
"It's essential that voices that have basically been suppressed in traditional ways of teaching in the United States be brought forward," Wilson said. "An opposition to looking at history through the lens of race is basically trying to suppress a whole history and that's not what America is about."
The debate over critical race theory started in state legislatures and schools curriculums as states like Utah, Tennessee, Oklahoma, Texas and others started passing laws that restricted discussion of critical race theory in classrooms. Laws like one in Tennessee threaten to withhold aid from schools that promote concepts that teach that the U.S. is inherently racist or an individual because of race or sex is inherently privileged.
Good's bill is one in a series of bills that have brought the critical race theory debate to the federal level. In September alone, House Republicans introduced three bills relating to the restriction of teaching critical race theory or mentioning white supremacy in schools.
Mary Kusler, director of advocacy at the National Education Association, said these bills are unlikely to go anywhere because school curriculum is more the purview of local and state governments and boards of education than of Congress.
But, she said, the consequences of the debate are felt in the day-to-day that teachers now have to deal with.
"This is a manufactured controversy designed to divide our communities, our families, our students along racial lines for purely political purposes," Kusler said. "We are now seeing educators in local communities being targeted, simply for doing their jobs and teaching our full history."
CHARLESTON, South Carolina — During his freshman year at The Citadel, Matthew Miller went to events with the College Republicans — because they were the only political activists on campus. Then he decided to create an alternative option.
The Citadel, a military college in Charleston, South Carolina, has long been a common stopping point for Republican presidential candidates and is considered one of the most conservative college campuses in the United States. But Miller felt the College Republicans did not align with his values, so he co-founded The Citadel's College Democrats in October 2018.
"By the time senior year happened I had found my own voice and found there's a large portion of students who do think alternatively to the Republican mantra," Miller said. "They wanted to engage in a different level of conversation."
The group had between five and 10 members at its founding, and by the end of the 2018-19 school year had an email list of 60 students. Miller graduated in 2019, but the chapter has remained strong, with current sophomores Ron Prince and Tyler Mitchell taking over as co-presidents.
Although The Citadel is overwhelmingly conservative, some of its most politically active alumni have been Democrats, including Fritz Hollings, a former South Carolina governor and U.S. senator, and Joe Riley, a former longtime mayor of Charleston.
The chapter was involved in one of the biggest upsets of the 2018 midterm elections, when Democratic Rep. Joe Cunningham flipped a district that includes Charleston and most of the South Carolina coast. The district is now represented by a Democrat for the first time since 1981.
Prince said The Citadel's College Democrats aim to reflect the school's values of honor, duty and respect.
"I've found that when you look at the people in government who honor America and what her values are, fulfills its duties to the fullest and is respectful toward all other people, you'll find most of those people are Democrats," Prince said.
* * *
Even in a conservative state, The Citadel is an outlier when it comes to the political leanings of college students. The University of South Carolina in Columbia, the state's flagship university with more than 26,000 undergraduate students, is much more politically diverse, with well-established student organizations supporting both Democratic and Republican causes.
More than half of the university's students come from within South Carolina, including Hayden Blakeney, a senior from Greenville County who serves on the executive board of the USC College Democrats. Blakeney said at such a large school, many students have little interest in politics and knew next to nothing about Saturday's presidential primary or even how to vote.
USC's College Democrats set up tables on campus in the run-up to the primary with information on registering to vote. Blakeney said although most students passed by their tables without a glance, it was worth it if even one person signed up to register.
"That's one more person who's engaged. And that one more person who's engaged can engage other people," Blakeney said. "Even though the mass of college students wearing hoodies and sweatpants with their AirPods don't care, there is a group of people that are open enough to come up. Even though it may seem futile in some spaces, any positive impact is good."
Blakeney said USC leans more progressive than South Carolina as a whole, but a number of political organizations exist on both sides of the spectrum. The College Democrats and College Republicans host a formal debate every semester. They have also hosted joint meetings in the past, which Blakeney said can turn messy but can also lead to genuine, productive debate.
College Democrats and College Republicans are far from the only political organizations at USC. On the left, there are groups like the Young Democratic Socialists of America, Planned Parenthood Generation Action and Students for Justice in Palestine, and on the right are Turning Point USA and the Advocates for Life.
Those groups do not always get along so well. PPGA has refused to debate the Advocates for Life because PPGA members do not see abortion as an issue up for debate — they see it as a basic human right. Turning Point also backed out of a debate with the YDSA.
Laceasar Sherrod, a senior from Sumter, South Carolina, and the former treasurer of the YDSA, said his organization hosts events where they put up signs reading "Ask a Democratic Socialist" because many students do not understand what being a Democratic Socialist means. Although the national organization has not endorsed a candidate, Sherrod said nearly his entire chapter was involved in Vermont Sen. Bernie Sanders' campaign.
"When we say we're Democratic Socialists, we specifically say our only goals are to make people who are out there and working, make their lives better," Sherrod said. "So our focus is trying to get things like increased minimum wage, affordable college and universal health care."
* * *
Historically black colleges and universities in South Carolina, such as Columbia's Benedict College, tend to have a more liberal and engaged student body. Freshman Janaisha McMillan, a political science major from Aiken, South Carolina, said Benedict students were encouraged to vote in Saturday's primary — there was even a polling site on Benedict's campus.
Benedict hosted the Presidential Criminal Justice Forum, which featured eight Democratic presidential candidates, in October. The university also held a workshop titled "African Americans and Why They Vote" on Feb. 18, with panelists who tried to convince the students of the importance of voting.
While former vice president Joe Biden, who picked up a much-needed win in South Carolina on Saturday, was the most popular candidate among the black community in the state, McMillan said Sanders had the most support at Benedict.
"There's been so much, ever since we got here in August," McMillan said. "It's been a lot of push (to get out the vote). It's the community, it's the faculty and staff, and there's also students who are advocates for voting. There's a voter registration drive, (and) we also use social media as an outreach."
* * *
Politically active students at all three schools underscored the importance of voting — and of educating their peers on how to vote. Mitchell said at The Citadel, which attracts roughly 70 percent of its students from South Carolina, many students do not realize they can vote without going to a polling place. He said his chapter has been sharing links on social media to get people registered.
"Some people have never voted before, and they've been in college three or four years," Mitchell said. "You ask why have they not voted, and they say, 'I don't know how.'"
Prince added that although The Citadel skews Republican, many of the issues that affect its students tend to be winning issues for Democrats, including climate change — Charleston frequently experiences sunny-day flooding — as well as student debt and health care.
Benedict has a program called "BC Vote, BC Voice," which has been handing out T-shirts to students to encourage voter registration. Kymm Hunter, assistant vice president of communications and marketing at Benedict, said the student government has been holding debate watch parties and that many of the candidates have visited campus.
At USC, several left-leaning groups have made efforts to increase turnout at the polls. Blakeney worked for a nonprofit called the Welcome Party, which reaches out to independent voters. South Carolina is one of just seven states to hold its primary or caucus on a Saturday rather than a weekday, which Sherrod said should make college students more likely to vote.
Blakeney said apathy is a major problem among college students — they frequently would like to vote, but feel they don't have time, see themselves as uninformed or feel like their vote doesn't matter.
"I wish I had a thousand clones of myself so I could go up to everyone to shake them and say, 'this is what a primary is,'" Blakeney said. "A lot of it is a lack of education, and I wish I could run through the streets and be like, 'Please vote, you have to vote.'"
WASHINGTON — President Donald Trump said Tuesday he will prioritize supporting working families by mandating paid leave and lowering barriers to education. Members of Congress from both parties said they agree with the sentiments, but disagree on how to implement the policies.
Trump's statements on family leave came in the wake of a December 2019 law that guarantees up to 12 weeks of paid leave to roughly 2.1 million federal employees. The law was the first update to the 1993 Family Medical Leave Act, which protects workers from being fired for taking unpaid family leave.
Trump called on Congress to pass the Advancing Support for Working Families Act, a bipartisan bill that offers a loan to new parents, repayable through reductions to their Child Tax Credit.
Critics say the bill only provides leave to new parents, though over 70% of those who use paid leave need it to care for loved ones who are ill or injured. Rep. Raja Krishnamoorthi, D-Ill. said a tax credit system would disproportionately hurt the working class.
"The problem is for certain folks, who are at the lower end of the income spectrum, tax credits aren't going to be as useful," Krishnamoorthi said.
Democrats have instead proposed the FAMILY Act, which would levy a 0.4% payroll tax on all families to fund paid leave programs. This would apply to new parents or those taking care of sick family members.
Trump also called on Congress to enact school choice legislation, which would allow parents to send their children to alternative public schools or private schools if they feel the traditional public schools in their area are not meeting their needs. Trump's Education Secretary, Betsy DeVos, has long been a proponent of school choice.
Philadelphia resident Stephanie Davis and her fourth-grade daughter Janiyah were in attendance Tuesday night. According to a White House statement, Janiyah has been assigned to a "low-performing school" and is one of an estimated 50,000 students on a waitlist for a tax credit scholarship.
Trump says Janiyah is an example of a student who he believes has been harmed by anti-school choice policy — Pennsylvania Gov.Tom Wolf vetoed a school choice bill in June 2019.
"For too long, countless American children have been trapped in failing government schools," Trump said. "The next step forward in building an inclusive society is making sure that every young American gets a great education and the opportunity to achieve the American Dream."
At a White House "school choice roundtable" in December, Trump said children who were "trapped in failing government schools" would be "forgotten no longer" in his administration.
In February 2019, Sen. Ted Cruz, R-Texas, and Rep. Bradley Byrne, R-Ala., introduced the Education Freedom Scholarship bill, with backing from DeVos. The policy would direct $5 billion annually into locally controlled scholarship programs that promote school choice policies.
Trump touted the bill Tuesday night, saying it would give 1 million American children the opportunity to attend the school of their choice.
Critics of school choice, however, argued that such policies would deprive public schools of the resources they need to be successful.
"Remarks about how schools are failing is tragic because when you're defunding schools," former Rep. Katie Hill, D-Calif., said. "Calling it school choice is a misnomer. It's just another way of saying we want to hand over a public service to for-profit communities."