Latest in Environment News
Get up-to-date environment news from our reporters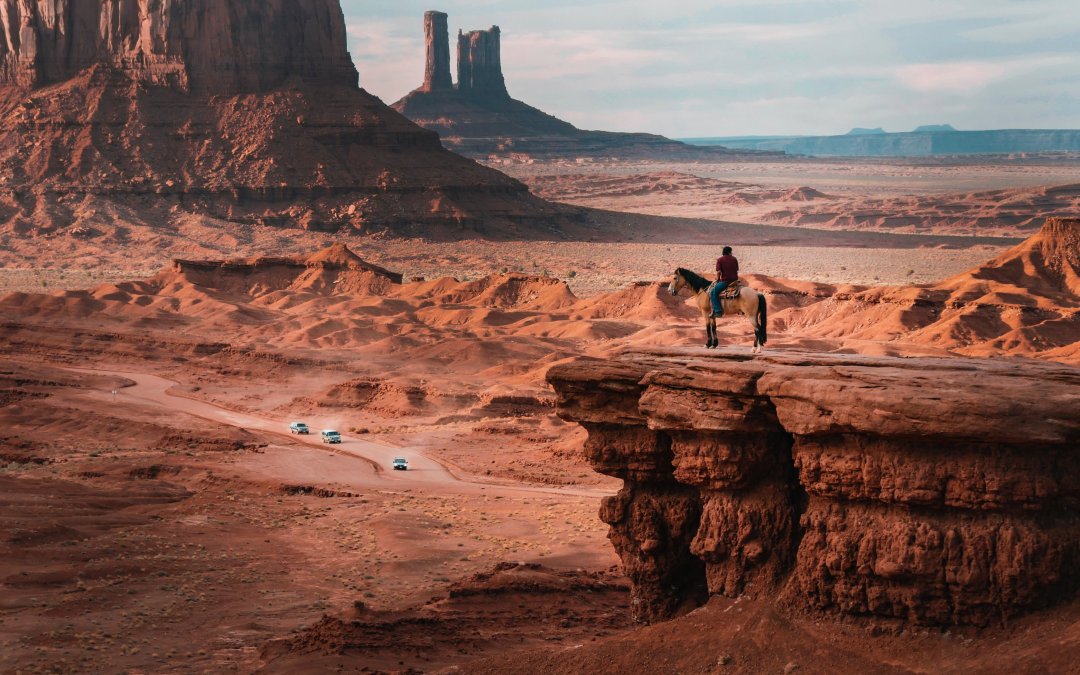 Tribal leaders said they need the federal government to increase funding for Native American climate efforts at a hearing Thursday.
read more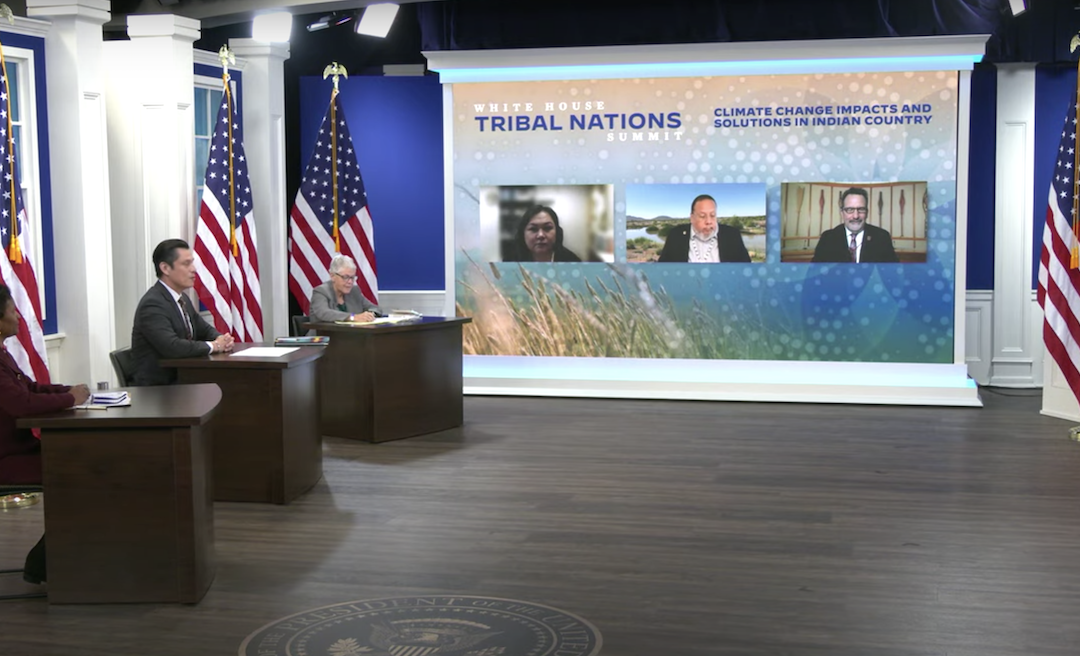 Tribal leaders met with White House climate advisors to discuss climate change consequences and potential Indigenous-led solutions.
read more
WASHINGTON – Surrounded by a dozen electric buses and a few other electric vehicles outside the Transportation Department building Wednesday, Secretary of Transportation Pete Buttigieg called on Congress to fund electric vehicle initiatives — especially in polluted and low-income communities.
Consumers have been turning to electric vehicles because they reduce fuel costs and carbon emissions. In 2020, 1.1 million battery-powered passenger vehicles were on U.S. roads, according to the International Energy Agency. The industry has also expanded beyond passenger vehicles to battery-powered motorcycles, buses, delivery and garbage trucks, Buttigieg said.
"The question is, how do we make sure that EVs are accessible to all Americans?" Buttigieg said. "Especially those who would benefit the most from the fuel savings, which includes people in underserved parts of cities and in rural areas?"
Malinda Sandhu, business development director for Lion Electric Co. – a zero-emissions electric school bus manufacturer — said making electric vehicles affordable is an equity issue.

"When electric cars came out, they were expensive," she said. "And people thought EVs were only for higher demographics."

According to Sandhu, low-income communities, communities of color and residents living in polluted neighborhoods near highways and airports need EVs the most because they live with noise and air pollution, but charging infrastructure for EVs is often not found in these communities.
Lion Electric Co. is working to bring its school buses to diverse communities, Sandhu said.
But Jackie Piero, vice president of policy at Nuvve Corp., which develops charging stations, said electric school buses cost three times more than current buses.

The bipartisan infrastructure bill before Congress includes a $7.5 billion investment in electric vehicle charging and more than $10 billion for zero- and low-emission buses. If passed, this money would bolster the country's EV infrastructure to be internationally competitive, and it would connect more Americans with EVs.
Orville Thomas, Lion Electric's lobbyist, said federal funding from the bill is key to getting electric buses into more communities.

"That is going to help communities get to a point in a post-COVID world where they have the ability to spend," Thomas said. "And not in a program that says, 'Okay, you pay for it first and then we'll pay you back,' but a program that says, 'We'll make it easy for you on the regulatory side and we're giving you the funding to get buses into communities and full of children.'"
With additional funding, Lion Electric can also expand its supply chain, bringing down the cost of its buses, he said.

"Everything right now is just a matter of money," Thomas said. "Because the more that they fund, the more that we can get ready to do."
WASHINGTON — Over 10 years after the Deepwater Horizon oil spill, the House Natural Resources Committee approved Democratic legislation Wednesday to implement stricter regulations on offshore oil drilling operations.
Earlier this month, a leaking pipeline off the coast of Huntington Beach, California, released more than 126,000 gallons of oil into the water, resulting in "substantial ecological impacts" to the beach and surrounding wetlands, according to the city. Committee Chairman Raúl Grijalva of Arizona called the event a "wakeup call" for Congress to implement stricter regulations.
The Offshore Pipeline Safety Act would implement stricter pipeline oversight and require owners to pay an annual fee to raise revenue for oil spill cleanup efforts. Rep. Julia Brownley, D-Calif., introduced the bill in April after the Government Accountability Office reported that the Bureau of Safety and Environmental Enforcement does not have a "robust" oversight process for active and decommissioned pipelines, making it harder to detect and track leaks.
"The industries who want to exploit our natural resources for profit should clean up their own
garbage, and not leave it behind for future generations of American workers to pick up the tab,"
Brownley said.
The Offshore Accountability Act, introduced by Rep. Donald McEachin, D-Va., would require operators to report any equipment failures to the federal government, which would then make these reports available to the public.
Both bills were opposed by Republican lawmakers, who claimed the regulations would increase the country's reliance on imported oil, drive up costs for consumers and lead to a loss of jobs and revenue. Republican efforts to strike the annual fee failed.
Rep. Darren Soto, D-Fla., criticized Republican attempts to kill the bill. Florida is the only state on the Gulf of Mexico with a moratorium on offshore drilling in federal waters — a 2006 policy that was extended by former President Donald Trump at the end of his term, when he extended the moratorium until 2032.
"I know a lot of you represent oil in your states, you're representing your constituents, but to say
that we don't need to do anything is ridiculous," Soto said.
WASHINGTON — People forced to flee their homes because of climate change should be considered refugees by the U.S., Rep. Joaquin Castro, D-Texas, said Thursday.
Speaking at an event hosted by the advocacy group Climate Refugees, Castro said America's understanding of what a refugee is remains "still stuck somewhere around 1960 or 1975."
According to Citizenship and Immigration Services, to be designated a refugee, a person must face persecution or fear of persecution "due to race, religion, nationality, political opinion or membership in a particular social group." Castro said the definition should be expanded to include those fleeing other threats such as drug cartels or climate change.
Another speaker, Professor Saleemul Huq of Independent University in Bangladesh, said that "the primary victims of the impacts of climate change in any place are the poorest people of that place."
Melanne Verveer, the former U.S. ambassador for global women's issues and executive director of the Georgetown University Institute for Women, Peace and Securit,y said women are disproportionately affected by climate change, but they also need to be viewed as key players in the fight against climate change.
"(Women) are extraordinary resource managers," the ambassador said. "They can create resilient communities. They can reduce the kind of conflicts that begin to happen locally."
The 2021 United Nations Climate Change Conference, also known as COP26, begins Oct. 31 in Glasgow, Scotland, where world leaders and experts will discuss ways to tackle climate change. It comes on the heels of the release of this year's Intergovernmental Panel on Climate Change report, which found that without immediate and drastic reductions in greenhouse gas emissions, global warming cannot be kept below the critical 2°C mark.
WASHINGTON — One month after Hurricane Ida made landfall in Louisiana, legislators called Tuesday for faster and more effective disaster responses from the Federal Emergency Management Agency, which some said has kept their constituents waiting for federal aid for far too long.
Ida, a Category 4 storm, resulted in over 100 deaths from Louisiana to New York, wiped out New Orleans' power grid and left more than 1 million residents without power. It made landfall 16 years to the day after Hurricane Katrina and was the fifth strongest hurricane to hit the United States.
Testifying before the House Committee on Oversight and Reform, FEMA administrator Deanne Criswell warned that the frequency and intensity of these types of storms will continue to increase because of climate change.
According to Committee Chairwoman Carolyn Maloney of New York, Ida is estimated to have caused between $53 and $64 billion in damages.
Last week, Congress allocated nearly $29 billion in natural disaster relief for survivors of Hurricane Ida in the short-term budget bill that expires in December. Despite the funding, some committee members said their communities need more and better support from FEMA.
Rep. Clay Higgins, D-La., said many of his constituents in southwest Louisiana have yet to receive disaster relief money for last year's hurricanes Laura and Delta. Local jurisdictions and school boards have had to use their own revenue for relief, costs he said they cannot afford.
"While politicians and bureaucrats discuss the need for better mechanisms to respond to these disasters, the answer is definitely not to create more bureaucracy," he said. "The bureaucracy we have is slow and thick. As we discuss potential changes to federal programs to better respond to future natural disasters, meeting the citizens' needs should be our top concern."
Criswell said her agency is reviewing its processes to reach more communities and work with state and local governments to improve their disaster preparation and relief programs.
Early last month, FEMA expanded the types of documentation individuals can use to prove homeownership or occupancy — a move Criswell said makes individual recovery assistance more accessible.
In an effort to provide equitable damage evaluation, her agency has also made its direct housing program more accessible to lower-income populations, she said. The program provides eligible individuals with temporary housing and helps rebuild their homes or renovate them.
Criswell said communities have less time between each event to recover and prepare for the next. Ultimately, the most effective strategy will be to invest in climate resilient infrastructure and mitigation measures, she said, including the improvement of levees and drainage systems.
Along with several other representatives, Rep. Troy Carter, D-La., noted that the Biden administration's $3.5 trillion Build Back Better legislation, which is stalled in political wrangling in Congress, includes funding to upgrade infrastructure in response to climate change.
"We know hurricanes come every year," Carter said. "We don't know the name yet. We may not know the intensity, but we know that with climate change, warmer waters bring stronger storms, and we should endeavor to do better than we did from previous years."
WASHINGTON —In order to curb the effects of extreme weather events, emergency management leaders said Wednesday that the federal government needs to increase state and local funding for natural disaster preparedness and simplify the Federal Emergency Management Administration's preparedness and mitigation procedures.
The Senate Committee on Homeland Security and Governmental Affairs met to discuss the worsening threats of natural disasters just a day before the House was expected to vote on the $1 trillion bipartisan infrastructure bill, which currently includes funding for natural disaster mitigation and relief programs.
If passed, the bill would allocate $1 billion to FEMA's Building Resilient Infrastructure and Communities Program and $3.5 billion to the agency's Flood Mitigation assistance program over five years. According to Democratic Chairman Sen. Gary Peters, the legislation would also provide $500 million to the STORM Act, which funds hazard mitigation projects.
Jerry Hancock, executive director of the Michigan Stormwater Floodplain Association and Stormwater and Floodplain Programs coordinator for Ann Arbor, Michigan, said increased funding for floodplain mapping and flood insurance data collection is crucial to reducing the impacts of floods. Making data publicly available may allow individuals to better prepare and reduce damages of extreme weather events, he said.
State and local governments also need to invest in climate resilient infrastructure —a task communities would be better prepared to do with data on future flood conditions, Hancock said.
"When buildings are built, they're not just built for today, but for decades. To plan for a safe building based on what happened in the past might not make that building safe in the future," Hancock said. "We're building infrastructure for the future."
Sima Merick, president of the National Emergency Managers Association and executive director of the Ohio Emergency Management Agency, said in addition to increased funding, allowing states to use federal funds across all disaster relief could ensure quicker relief and recovery. When the money is limited to a specific disaster, she said states have less reason to close out disasters quickly because they want to use as much of the funding as possible.
Federal disaster programs are complex, slow and bureaucratic, she said, and in order for states to help communities, FEMA and state governments need to create more clear and accessible procedures. Expanding the reach of disaster relief programs also requires collaboration between government, nonprofit organizations, community groups and religious institutions, said Jennifer Pipa, vice president of disaster programs at the American Red Cross.
Pipa said climate change-related extreme weather events will continue to increase in frequency and intensity, disproportionately impacting communities of color and individuals who are low-income, elderly and disabled.
Peters introduced legislation to establish the Office of Equal Rights and Community Inclusion at FEMA in May 2020.
"Too many of our most vulnerable communities do not have equal access to this vital assistance," he said. "I look forward to continuing that effort to ensure that no matter when or where disaster strikes, help will be readily available."
WASHINGTON — Small forestry products businesses play an important role in combating climate change and should be encouraged to use practices that protect forests against wildfires and that preserve forests, members of the House Subcommittee on Underserved, Agricultural, and Rural Business Development said Wednesday.
Chairman Rep. Jared Golden, D-Maine, said small companies in the forest products industry, which include logging operators and biomass facilities, often implement sustainable forestry, which hopes to manage and support natural forest resources.
"I believe it's our responsibility to support industries, like those that we have in our forested states and communities," he said. "Protecting our environment doesn't have to be bad for business."
Golden also said the forest products industry contributes heavily to the economy in Maine, but the industry has faced difficult times in recent decades due to trade policies, outsourcing of jobs and demand slumps.
"Keeping our forest healthy helps to promote sustainability, address climate change and ensure that small businesses and workers in rural areas share the economic benefits as Congress works to address and mitigate the negative sides of climate change and bolster American small businesses," Golden said.
Rep. Kathy Castor, D-Fla., chair of the House Select Committee on the Climate Crisis, said at a press conference Tuesday that "it's time for polluters to pay for the harm they have caused to the air that we breathe, the water that we drink, the climate that we share."
In pushing for congressional approval of the $3.5 trillion spending bill that includes money for climate change measures, Castor said low-cost clean energy and American-made electric vehicles already are available "and we intend to make sure that all Americans enjoy the benefits."
Rep. Pete Stauber, R-Minn., said forest management is essential for finding solutions to climate-related problems. However, small businesses involved in forestry are discouraged due to high fuel costs, economic shutdowns and a declining industry workforce, he said.
"Forest management is a solution to preventing and mitigating wildfires. Forest management is a solution to ensuring sustainable public lands," Stauber said. "Forest management is a solution to economic development and job creation."
University of Maine Associate Professor of Forest Policy and Economics Adam Daigneault said timber markets are important to maintaining the health and sustainability of forests.
"Robust and stable timber markets enable a carefully planned harvest of trees that allow for us to have appropriate stocking levels, balance… species diversity," Daigneault said.
WASHINGTON — Environmental Protection Agency Administrator Michael Regan made a brief appearance Tuesday at a rally of environmental activists outside the agency's headquarters who called for stronger vehicle emission standards, saying the administration is listening to their concerns.
"I greatly appreciate you all for being so focused on the planet," Regan said. "Thank you for being engaged."
Organized by the League of Conservation Voters, the rally included representatives of numerous environmental advocacy groups including the Sierra Club and Natural Resources Defense Council. They advocated for a more aggressive policy to rein in vehicle emissions, but also praised the Biden administration's current efforts, citing last month's EPA proposal to revive stringent emission standards and President Joe Biden's recent executive order establishing ambitious electric vehicle production goals through 2030.
"This is our lunch counter moment of the 21st century," said Hip Hop Caucus President and CEO Rev. Lennox Yearwood Jr. "We've come so far." Yearwood was referring to the 1960s sit-ins at department store lunch counters by Black protesters as part of the civil rights movement.
The EPA's vehicle emissions proposal would restore regulations in line with policies established under former President Barack Obama, which were gutted by the Trump administration.
The standards would increase the year-to-year emissions improvement requirement from 1.5 percent to 10 percent for both passenger cars and light-duty vehicles produced in 2023, and 5 percent increases each subsequent year through 2026.
"We would like to see a shift towards zero emissions, and a shift towards electric vehicles," said Lucia Valentine, a member of Moms Clean Air Force. "We'd like [the emissions standards] to be stronger, and that's what we're advocating for today."
The executive order sets a goal for electric vehicles to compose 50 percent of all vehicle sales by 2030. Biden was joined by executives from Ford Motor Company, General Motors and Stellantis as he signed the order, which relies on voluntary commitments from the vehicle manufacturers.
"I'm very encouraged with the administration's swift action and now we want to be sure that they move forward with the strongest possible rules," said Carol M. Browner, League of Conservation Voters Board Chair and former EPA administrator in the Clinton administration. "We have four years to make up. Those were a pretty complicated, difficult four years."
The EPA's recent emissions proposal has faced criticism from some environmental advocates for key provisions that expand vehicle manufacturers' access to "off-cycle credits," Daniel F. Becker, director of the Safe Climate Transport Campaign at the Center for Biological Diversity, said in a phone interview.
The off-cycle credit program was first created by the EPA to credit vehicle manufacturers' use of fuel-efficient and emission-reducing technologies that could not be captured by the agency's regulatory test procedure, according to the Environmental Defense Fund.
"The Biden proposal, at the behest of the auto companies, would see a 50 percent increase in the limit on how many of these off-cycle credits can be used," said Becker.
WASHINGTON—For 93 years, Americans have celebrated the blooming of Japanese Cherry Blossom trees on the tidal basin of the Potomac River. The festival's start date has moved about 20 days earlier over the years due in part to rising global temperatures, scientists say.
This year, the peak cherry blossom bloom, when 70% of the blossoms have flowered, is predicted to happen between March 21 and March 24, according to the National Park Services. The bloom is determined by the flowering patterns of indicator tress around the basin.
In 2019, peak bloom started on April 1, April 4 in 2018 and April 11 in 1931.
This date cannot be predicted earlier than 10 days beforehand because of the cherry blossoms' ability to easily bloom depending on temperature. Cherry blossom buds have enzymes that are sensitive to temperature, biological conservationist Richard Primack said. The warmer it is, the faster the enzymes stimulate the bud to develop and bloom.
Primack said the timing of cherry blossom's blooming is a strong indicator of the effects of climate change.
"They respond to a variety of environmental cues, but of all the environmental cues they respond to, by far, the most important one is how warm it is in the spring," he said.
Primack said urbanization is also a culprit in the rising temperatures. Naturally, sunlight is reflected off of trees and the air is also cooled by trees. When there are a lot of buildings and roads, the sunlight is absorbed by the dark surfaces and released throughout the day and night, causing cities to become warmer.
As weather patterns are becoming more unpredictable, this can hurt the blossoms. Although earlier blooming means the tress have more time to grow flowers that will last longer, this puts them at more risk.
Warmer temperatures in the spring can lead to hotter summers that are strenuous for the cherry blossoms. Primack said they cannot tolerate higher temperatures in the summer and plants are starting to grow at their limits.
Primack also said the warmer weather can put cherry blossoms under physiological stress that makes them more susceptible to attacks from insects and fungus.
On the other end of the spectrum, earlier warmer temperature followed by a cold front can also kill the cherry blossom flowers.
"The plants can always rebuild their leaves, but they can't make new flowers again until the next year. This is kind of a danger." Primack said.
In 2017, half of the blossoms in Washington died from frost before the predicted peak bloom. February 2017 was unusually warm, and March 2017 started with an unusual high of 81 degrees and temperatures dipped down to 21 degrees just two weeks later.
"A little bit of climate induced change can disrupt their timing just enough that maybe there'll be some greater losses to sort of those rare unseasonable temperature dips," said Kenneth Wudack, a research botanist at the Smithsonian Institution.
Wudack said climate change is a subtle aggregate component that cannot be determined by warmer temperatures in the past five years. He said the history of cherry blossom blooming dates have to be looked at in order to understand the trend.
A study conducted by Climate Central, an organization that reports and researches climate science, shows the average peak bloom period happens five days earlier than it did in 1931. Based on blooming patterns since the arrival of the cherry blossoms, the study projects that future peak blooms will happen between March 4 and 10 by 2070.
WASHINGTON — Climate activists have been calling on the next president to declare a national climate emergency within his first 100 days in office. But the legality of such a move will be tested when the Supreme Court rules on whether President Donald Trump can proceed with his wall on the southern border.
So far, over 20 countries have declared climate emergencies, including Canada and the United Kingdom. Many of these declarations have come from their legislatures, akin to what Rep. Alexandria Ocasio-Cortez, D-N.Y., and Sen. Bernie Sanders, I-Vt., have included in their "Green New Deal."
"The time is now for Congress to declare a climate emergency and swiftly mobilize federal resources" the two say in their climate emergency resolution, "to protect the interests of our nation and its people."
The resolution had little, if any, chance of getting through Congress, with a Republican-controlled Senate. Instead, the resolution represented part of a larger effort by Democrats to test climate legislation so that if a Democrat wins the White House in November, they will already know what legislation has a chance of passing and what doesn't. In this scenario, climate action could begin on day one of the next presidency.
A resolution like the Green New Deal would be able to influence what is on the table in a legislative session. Congress declaring a climate emergency would help in clarifying legislative priorities on the environment.
But the president declaring a national climate emergency is not so easy – it runs into constitutional questions governing the use of executive power.
That power is being tested on the border now – and the result could answer whether a national climate emergency declaration by the president is a realistic goal.
On Feb.15, 2019, Trump released Proclamation 9844, declaring a National Emergency Concerning the Southern Border of the United States. Under statutes including U.S .Code 1431-1435, declaring a national emergency allows more flexibility in the use of Defense Department funds.
For this emergency, Trump intends to put billions of newly flexible defense funds toward wall construction.
The declaration faced many legal challenges from the outset. But one, Trump v. Sierra Club, cuts to the question of executive power in national emergencies. The Sierra Club filed a lawsuit alleging one key requirement of a national emergency is that the threat be immediate and time-sensitive.
The lawsuit is on its way to the Supreme Court, and the court's decision on the breadth of executive power will affect how other presidents approach their agendas. Sen. Marco Rubio, R-Fla., was one of the first public figures to point this out.
"If today, the national emergency is border security … tomorrow the national emergency might be climate change," said Rubio in January 2019. At that point, the emergency declaration was a hypothetical, while wall funding was being used as a bargaining chip in budget negotiations.
Now, that hypothetical is closer to becoming a reality. In July 2019, the Supreme Court allowed the federal government to continue progress on building the wall while legal arguments played out in the courts.
University of California, Berkeey law professor Dan Farber said this decision provides insight into how justices are leaning on the case.
"[The Supreme Court] generally won't intervene unless they think that in a case like this, the lower courts are off track," said Farber. What is unclear, he said, is the justices' reasoning.
"There seem to be big issues of standing in these cases," he said, referring to the question of whether a group like Sierra Club, or any organization that isn't part of the federal government, can challenge a national emergency declaration.
"I read the Supreme Court's action as probably being based on those doubts," said Farber. "So we don't know one way or the other what they think about the emergency action."
What the court's decisions on the border wall so far do show, Farber said, is what the court is prone to consider in a case on executive emergency power. If the court is willing to allow the emergency because the Sierra Club does not have standing to sue, the question would change from whether a national emergency has to present an immediate danger, to who, if anyone, has the ability to challenge a presidential emergency declaration.
Farber said , he is concerned that if the president gets the go-ahead from the court this year, there would be a dramatic expansion of what the president can do unencumbered.
"I don't think that should become the new normal, that we're just going to do things by declaring emergencies and then presidents will jump in with both feet," he said.
If the court does allow the wall emergency to move forward, what would a national emergency on climate change even look like? Federal code governing emergency procedures was written with the idea that an emergency would present a physical or medical threat to the population.
This means that a lot of the code allows the president to take direct control over federal operations and take actions, like increasing defense production or rolling back environmental regulations.
Because the code allows for executive control of defense functions, defining a climate emergency could allow for defense production systems to be converted to produce climate-sensitive products, like solar panels and batteries.
Expanding a national emergency would open up presidential power in all directions. "What about malnutrition among children?" Farber asked. "It seems to me there are a lot of social problems where you could make some kind of argument" for declaring a national emergency.
If the court were to rule that not only does Sierra Club have standing to sue, but the president cannot declare an emergency on an issue so broad, then a president looking to declare a climate emergency would be facing the same set of issues as Trump with the border wall.
In that instance, activists may be better served pursuing legislation like the Green New Deal. Most other countries that have declared climate emergencies have done so through their legislatures.
Farber also points out a difference between a border emergency and a climate emergency. "I think climate change is a stronger case…because you've already got pre-existing government statements that it involves national security," he said.
In early 2019 the Pentagon released a report saying in part, "The effects of climate change are a national security issue." The report explains that over 60% of military outposts surveyed are currently suffering increased natural disasters linked to a changing climate. A national security threat could put climate change in the realm of a more traditional national emergency.
"I think you can make an argument that although it's a long-term problem, we have a decreasing window of opportunity to act that makes it urgent," said Farber.
For now, construction of the border wall will proceed as lawsuits are fought in court over the emergency order. It is likely that at some point this year, the court will hear a case relating to the issue, which may, or may not, clarify the question of presidential power.
However, the idea of a national climate emergency will not necessarily die in the courts. If the president wins re-election in November, it is all but guaranteed a climate emergency will not be declared in the next four years. If a Democrat wins the White House, executive power could see a new use in the fight against climate change.
"That would be the trade off," Farber said, referring to trading executive climate action for an expansion of presidential power that could be difficult to walk back. "Is this something we really want to establish as being the new normal?"