Latest in Business News
Get up-to-date business news from our reporters
Women and people of color should once again receive a tax incentive to purchase broadcast TV and radio stations to diversify station ownership
read more
The nominee to lead the Federal Housing Finance Agency told senators he wanted to reform Fannie Mae and Freddie Mac but Democrats wanted answers about his controversial blog posts on the subject.
read more
WASHINGTON —The United States needs to adjust its labor laws and regulations that are holding back growth of an expanding technology-based economy, Labor Secretary Alexander Acosta said Thursday.
Speaking to the U.S. Chamber of Commerce Technology Engagement Center's new economy group, Acosta said U.S. labor laws and regulations were "designed in the time of time cards."
"The growth and the strength of this new economy is really in this entrepreneurial space and it is [held back] by these laws," Acosta said.
The working group is focused on educating and retraining American workers to better compete in a 21st century, technology-driven workplace and make them fit for jobs with companies that make up the "new economy." They include ride-share services like Uber or Lyft, food delivery apps like Postmates and online marketplaces like Etsy.
The rise of new economy companies and jobs represents a shift in the economic landscape, but a majority of Americans lack confidence in the preparedness of workers and policymakers to adapt to it, a recent Morning Consult poll found.
Cheryl Oldham, a senior vice president at the Commerce Department's center for education and workforce, said she and other members of the Chamber of Commerce Technology Engagement Center believe "free enterprise is the single greatest provider of opportunity in this country" and want to be sure the new economy companies don't have roadblocks.
A skilled and educated workforce is also crucial for the companies' success, she said.
Morning Consult polled 500 employees of new economy companies and found that workers were drawn to these types of jobs because they offer flexible hours and an easy way to supplement an existing income.
Still, only a small share of workers — around 14 percent — work full time, or 30 hours a week, for new economy companies. Four in five say they have an additional full- or part-time job.
But Oldham and others said the new economy employers are considering providing employees with benefits like health insurance.
Acosta said Thursday he wants to open discussions health care and employee benefits. Morning Consult's poll found that a majority of Americans support public-private collaboration when it comes to drafting legislation that deals with these new economy companies and jobs.
Philip Minardi, the head of public affairs at Expedia and a co-chair of the working group, said  said he is seeking out to do just that by working with government on every level to ensure policies and regulations work for employees, employers and the community.
"Being able to effectively collaborate with folks in the public and private sector is more important today than it ever has been before," Minardi said. "We believe that only through collaboration … can we see effective public policies."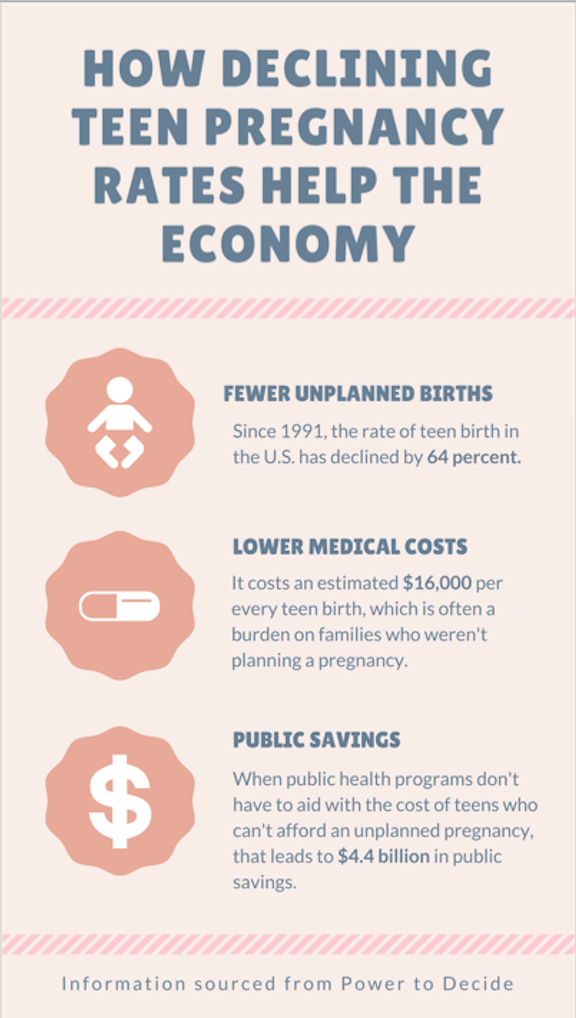 WASHINGTON — The substantial declines in teen pregnancy over the last 20 years have saved the country billions of dollars, a sign that President Donald Trump's recent cuts to teen pregnancy prevention programs could end up costing the government in increased spending on safety net programs for teen moms, a pregnancy prevention group said Wednesday. 
"Now more than ever, our political climate and rhetoric is particularly polarized," Power to Decide researcher Kelleen Kaye said. "Having objective empirical data that emphasizes the importance of prevention is particularly compelling, because even though there's been a lot of progress, we still have a long way to go." 
The Department of Health and Human services cut $213.6 billion in grants to teen pregnancy prevention programs in July 2017.
In November, HHS granted $10 million to pregnancy prevention programs that include abstinence research.
In July, the Department of Health and Human Services cut $213.6 million for grants to teen pregnancy prevention programs across the country working on statistics-based approaches. In November, HHS announced a $10 million research grant endeavor to improve pregnancy prevention programs, including efforts that promote abstinence, although that means the programs still faced significant net reductions in funding. 
The organization behind the recent findings, Power to Decide, released a report last week that said declines in teen pregnancy led to a $4.4 billion savings in 2015 alone, the most recent year for which data was available.  Kelleen Kaye said the group started this research over two years ago, and she hopes this report underscores the importance of continuing teen pregnancy prevention programs in today's political climate. 
Power to Decide estimates that each unplanned teenage birth costs $16,000.
In 2015, the U.S. avoided 428,000 unwanted teenage births, resulting in significant cost reduction.
The research quantified the cost of providing medical and economic support during pregnancy to be $16,000 per teen birth in 2015. It estimated that prevention programs averted 428,000 births based on trends since 1991, and nearly 75 percent of those avoided births would have required the use of public programs – resulting in the consequent savings when those births were avoided. 
"Prevention pays off," Power to Decide CEO Ginny Ehrlich said on a teleconference. "Prevention is an investment that saves money in the long run, and it allows young people to live their best lives." 
The $16,000 per-birth cost, according to Power to Decide researchers, covers prenatal, labor, delivery and postpartum care for the mother and one year of infancy care for the child. These expenses are often covered by programs such as Medicaid, Women Infant and Children, Temporary Assistance for Needy Families and the Supplemental Nutrition Assistance Program.   
But some researchers caution against looking at these raw numbers in an overly simplistic way. Duke University Economics Professor V. Joseph Hotz pointed out that while declines in teen pregnancy may have contributed to government savings in public health programs, society may be paying the cost elsewhere, such as in the form of the costly earned income tax credit policy. 
"This may come off as, ok, public health costs went down," Hotz said. "But did society pay more? We really need to do the total cost-benefit analysis." 
The EITC is a tax subsidy for low-income families, and larger credits are available to families with more children. According to the libertarian Cato Institute, the EITC puts a $60 billion cost on other taxpayers. While most of the EITC beneficiaries were not teenage mothers, Hotz points out that this may be one way society is offsetting the $4.4 billion it's saving in public health programs designed to help with teenage childbirth. 
The number of sexually active teens declined by 16 percent between 1988 and 2015.
Dr. Michael New, an associate scholar at the pro-life Charlotte Lozier Institute, agreed that reductions in teen pregnancy can have beneficial economic effects. However, he criticized the study for failing to acknowledge that declines in teenage sexual activity also contributed to declining teenage pregnancy rates. According to the Centers for Disease Control and Prevention's National Survey for Family Growth, between 1988 and 2015 the percentage of teenage boys who had had sex fell from 60 percent to 44 percent. 
Despite contentions over the data's implications, Power to Decide said that the substantial strides prevention programs have made in preventing teen childbirth have improved society. The number of teens who had unplanned births dropped 64 percent between 1991 and 2015, the group said, and mainly credited increased contraception access and education.  
WASHINGTON – The recently passed federal tax bill is one of the most significant tax code rewrites in U.S. history, according to Laura Wheeler, a senior fiscal researcher at Georgia State University. Wheeler and four other tax experts, speaking Wednesday at the Urban Institute, said that because states directly model their tax codes from federal policies, most states are now facing the need for significant tax overhauls, which could mean big changes for state taxpayers.
"The easy part was passing a bill in the middle of the night," Sandra Beattie, the deputy director of the New York State Division of the Budget, said. "The hard part is actually taking that bill to maintain the economic well-being within your state."
State legislators are rushing to determine exactly how the upcoming changes will affect their constituents, particularly because the fiscal year is already well under way. Taxpayers are worried about how they will be affected. Here are some of the main changes the panelists predicted state taxpayers will see in the upcoming months.
Property tax changes
Under the old tax code, state taxpayers received a state and local tax deduction if they owned property. The policy was intended to encourage home ownership, which would then increase spending and boosting economic growth.
Under the new tax code, however, the state and local deduction is capped at $10,000. States like New York, where the average property tax deduction has been $22,000, could face pressure to reduce or not increase state taxes as homeowners are hit with higher federal tax bills. The experts said that the state and local deduction cutback primarily impacts states like New York or California, where property taxes are higher and people tend to be wealthy enough to own large amounts of property.
In Beattie's home state of New York, Gov. Andrew Cuomo issued in an executive order in December that allows local governments to collect property taxes earlier than usual. This was an attempt to offset the estimated $14 billion deficit the change would create for New York. Other states, such as California and Maryland, have also attempted to pass legislation to circumvent the policy.
New York will be destroyed if the deductibility of state and local taxes is included in any final plan that passes the House.

— Andrew Cuomo (@NYGovCuomo) October 26, 2017
Laura Wheeler, a senior fiscal research associate at Georgia State University, said her home state of Georgia has not yet decided how it will address the state and local tax changes, but she does not anticipate the widespread panic New York experienced, particularly in states where many of the households make under $100,000.
State withholdings
The new tax law also rewrote the federal tax withholding tables. If states follow suit and adopt new, similar withholding guidelines, which many are expected to do, some taxpayers could soon see a boost in their take-home pay.as lower amounts of taxes are withheld.
"As the feds do, they think about the feds, and don't think about the implications to the states," Wheeler said. "Things are going to change dramatically, and every state is doing something different."
Taxpayers may want to consider a conservative approach toward the amounts they have withheld from their paychecks for state and federal taxes in case states make tax changes later this year.
Hicks warned taxpayers that "they're on their own" to make sure they're not underpaying their state and federal taxes.
How much will taxpayers really be affected?
In the end, the experts said, the degree to which taxpayers will be directly affected will depend on how much of the federal policy their state adopts.
"Regardless of which state you're in, this is the biggest breach the federal government has had into state budgeting processes," Beattie said. "Now we know what we're dealing with, now we know what we can analyze. However, on the backs of that we still have additional, significant cuts to domestic programs in the states, and all of that factors into our discussions."
WASHINGTON — European countries are major players in North American imports and exports so their impact should be considered in the renegotiation of the North American Free Trade Agreement, experts on international trade said Wednesday. 
The experts, hosted by the Canada Institute at the Wilson Center, a think tank focusing on international issues, stressed the importance of the agreement to European countries. 
"There are so many areas that we're making good progress in inside NAFTA where it would make much more sense to have a transatlantic conversation," Dawson said. "If you think that trade is about bringing willing buyers closer to willing sellers and removing the barriers between them and letting competitive industries be more competitive in the world, then we need to have better conversations." 
Since NAFTA was created in 1994, U.S. trade with Mexico and Canada has more than tripled to over $1 billion a year, said Anthony Wayne, the former U.S. ambassador to Mexico and Argentina. Critics of the agreement claim it's responsibility for U.S. job loss and wage stagnation caused by low-wage competition across the open market. 
Among the industries that benefit from the agreement are car manufacturers, whose supply chains often stretch across all three countries. Daniel Andrich, president and CEO of the Office of the Representative of German Industry and Trade, said that German manufactures — especially car companies — see the NAFTA market as "crucial, important and very attractive." 
Andrich said the U.S. is Germany's main export market for Germany and NAFTA is vital to ensuring the market's accessibility. He said that over two-thirds of German products made in Mexico go to the U.S. and Canada. 
"NAFTA is an integrated platform for global export," Andrich said. "Almost like the EU, it's about an integrated market."  
President Donald Trump has often derided NAFTA, once calling it "the worst trade deal ever signed." At the beginning of his presidency, he threatened to back out of it completely, but he has recently made statements to suggest he would be open to stay if it could be renegotiated to his satisfaction. 
The sixth round of renegotiation talks are underway in Montreal, and are expected to continue in an informal setting at the annual World Economic Forum in Davos, Switzerland, where Trump is scheduled to speak on Jan. 26. 
Damien Levie, the first counselor for trade and agriculture of the EU delegation in Washington, said NAFTA renegotiations could set an example other trade negotiation processes. 
"When NAFTA was concluded, that provoked shockwaves in the world of trade policy," Levie said. "A new NAFTA agreement may play an important role as well."   
WASHINGTON — A World Bank Group official announced Monday an all-time high for countries implementing its reforms they say increase the ease of doing business.
Augusto Lopez-Claros, a top official at the World Bank Group, said 137 economies around the world implemented 283 reforms last year called for in the group's influential annual report. It analyzes 11 areas of business regulation, including enforcing contracts, paying taxes and labor market regulation.
The report is a benchmark study of regulation. Its backers claim "Doing Business" has motivated action for reforms in developing countries, including Tanzania and Rwanda, where government officials point to improvements in the ranking as a measure of success for its constituents.
In the overall aggregate ranking, the study saw New Zealand overtake Singapore last year as the place with the highest ease of doing business. The United States rose to eighth, just behind the United Kingdom.
Lopez-Claros announced a significant change to this year's report: corrections of gender biases. In the past, the methodology assumed all of the workers were men. Now, it takes into account the greater difficulties women have in some countries when trying to start a business, such as more permits required or a mandatory male cosigner.
In Latin America, for instance, 23 percent of businesses are owned by women. That nuance has been added to the report.
Latin America as a region has seen much progress in the past decade, according to Lopez-Claros. In 2005, six out of 30 economies in the region could incorporate a company in under 20 days. Now, that number is up to 19 out of 32.
However, the region is still expected to contract economically by about one percent this year.
Latin America's top performers by ease of doing business are Mexico, ranked 47 in the world and Colombia at 53. The worst performers are Haiti and Venezuela.
Richard Newfarmer, the World Bank Group's former chief economist for Latin America, said the undertaking "is one of the most influential reports the bank has ever produced," in part because its addresses gender biases.
Yet Newfarmer also noted that the report has been subject to a lot of criticism. He attributed that to its high visibility. The critiques include an alleged bias against developing nations, small sample size for some countries in certain measures and presenting all regulation as inhibiting economic growth.
WASHINGTON — The United States should bar Chinese state-owned enterprises from acquiring U.S. companies – takeovers that give China an unfair advantage in trade relations, according to a report released Wednesday by a congressional advisory panel.
While Chinese companies face less restricted access in the U.S., China has locked out countries from being competitive in its own country, according to the U.S. China Economic and Security Review Commission. The lack of market access for U.S. firms has created an unbalanced trading and investment relationship with China, which is harmful to U.S. interests, the commission's annual report maintains.
"We don't want the U.S. government purchasing companies in the United States," Commission Chairman Dennis Shea said. "Why do we want the Chinese communist government purchasing companies in the United States?"
The report says unfair market practices by China, including cheap steel imports, have cost the America manufacturing jobs in the steel industry. China's protection of its domestic manufacturers, boosted by government subsidies, has led to overcapacity in its steel, aluminum and coal production and subsequent low-cost dumping of the goods on global markets. That makes it difficult for the U.S. to compete.
The notion that the U.S. is being outsmarted by China in trade relations between the two countries was a central theme of President-elect Donald Trump's campaign. Trump said during his campaign he would take tougher stands in trade with China, mentioning imposing a tariff of 45% on imports.
Commissioner Michael Wessel said the new report "actually provides a pretty good premise for the incoming U.S. president who provides some alternate views from what we've been getting from the outgoing administration"
Commissioner Carolyn Bartholomew said in an interview she was encouraged that Trump raised the issue of trade with China "even if I can't say I agree with all of his solutions."
The commission, a congressional entity mandated to monitor trade relations with China, argued that China does not act purely on commercial interests but rather is driven by strategic considerations that may threaten U.S. national security. In particular, there are concerns about the increasing Chinese lean toward the U.S. semiconductor industry.
The "hollowing out" of the U.S. steel industry will force the U.S. to import components from China, which raises the possibility of "compromised" products entering the country that could pose a military threat, Bartholomew said.
The commission also raised alarms over the cumulative U.S. trade deficit with China, which reached $365.7 billion in 2015, the highest on record, according to U.S. Census Bureau numbers. In 2015, both private and public Chinese investment in the U.S. grew to a record $15 billion, according to the commission.
In its recommendations, the panel urges Congress to demand reciprocity in its trade agreements with China.
Former Sen. Byron Dorgan of North Dakota, who is on the commission, said in an interview the American response to increase in purchases by Chinese companies of U.S. assets as "timid."
"Our government has been rather timid in dealing with the Chinese on the issues of reciprocity," Dorgan said. "I'm suspecting that Chinese leaders wonder why they're able to do this…We need to expect better treatment from China if we're going to have strong economic competition. We have been afraid to push this because most of our trade policy is foreign policy, and we're afraid to offend."
At the end of this year, China will be under the review by the United Nations on whether it should be granted status as a market economy. The commission asserted Wednesday that China does not meet the UN standards for being considered a market economy.
WASHINGTON – Top fashion industry leaders said Wednesday that immigration policies will hurt their competitive capacity if they do not continue to allow robust legal immigration and protections for illegal immigrants because foreign-born entrepreneurs, creative talent and workers are crucial to the American fashion industry's future.
"So much of the fashion industry is a story of immigration," said Todd Schulte, president of immigration reform lobbying group FWD.us. "…The best global competitive advantage our country has always had is that we are a nation that welcomes immigrants and is a magnet for the best and the brightest."
Schulte also said 20 percent of the fashion industry workforce is undocumented.
"If you think about any industry being told that 20 percent of their workforce can be removed, that would be likely devastating," he said.
And it's not just undocumented workers who may be in jeopardy without immigration reform, he said.
New York design college The New School—a renowned feeder into the fashion industry—has the second highest percentage of international undergraduates among U.S. colleges, according the U.S. News and World Report annual rankings.
Most foreign-born high-skilled workers apply for an O-1 visa or a H1-B visa. The O-1 is reserved for foreigners with "extraordinary ability" in science, technology, engineering and math fields or the arts; there are no limits on the number of such visas.
The H1-B has a strict cap of 65,000 visas and 20,000 additional visas for "advanced degree exemptions," which it reached less than a week after the application period began this year.
The Obama administration should push for more immigration reforms before President-elect Donald Trump is sworn in as president, Kenya Wiley of the Fashion Innovation Alliance, which represents fashion technology leaders in Washington policy discussions.
Schulte recommended that President Barack Obama finalize a proposal to make a two-year "parole period" for foreign entrepreneurs and prevent Trump from removing protections provided by the Deferred Action for Childhood Arrivals executive order, which allowed undocumented immigrants who arrived in the U.S. before aged 16 of who were under 31 in 2012 and have been here since 2007 to remain for two years and get work permits.
Another executive order, the Deferred Action for Parents of Americans and Lawful Permanent Residents, has been blocked from going into effect by a federal district court ruling last February.
Trump has vowed to "immediately reverse" both of Obama's executive orders on immigration.
In his interview on CBS' "60 Minutes" last Sunday, Trump more broadly revealed plans to deport undocumented immigrants who "are criminals and have criminal records," whom he estimated to number up to 3 million. That figure has been criticized as too high.
In a speech in August, he vowed to keep immigration levels within "historical norms," select immigrants based on likelihood of financial success and merit and "establish new immigration controls to boost wages and to ensure that open jobs are offered to American workers first."
"We've been living under outdated immigration rules from decades ago," Trump said. "To avoid this happening in the future, I believe we should sunset our visa laws so that Congress is forced to periodically revise and revisit them."
WASHINGTON — President-elect Donald Trump needs to show the world that his promise to "Make America Great Again" will focus on powerful American leadership that upholds existing free trade deals and military alliances, experts said Tuesday.
World leaders are worried America will not practice "openness," reverting to isolationism by enacting high tariffs and scaling back on foreign aid — what Trump promised during his campaign — panelists told more than 100 guests at the Wilson Center. The non-partisan policy forum tackles global issues.
"The realities of campaigning are one thing," said Aaron Miller, vice president for new initiatives at Wilson. "The cruel and unforgiving realities of governing, are another."
Throughout the campaign, Trump promised to revise or reject some of President Barack Obama's foreign policy priorities: military alliances such as the North Atlantic Treaty Organization, trade deals such as the North American Free Trade Agreement, the Paris climate accord, and the Iran nuclear deal.
Mexico in particular has been "hit hard" in this election by Trump's vow to renegotiate NAFTA, in addition to building a wall on the U.S.-Mexico border, said Duncan Wood director of the Mexico Institute at the Wilson Center.
"Mexicans reacted with horror to the idea that perhaps NAFTA would be called into question," Wood said. "The Mexican peso this year has been hit harder than any other currency around the world…It's created a great deal of uncertainty."
And from a U.S. standpoint, almost 5 million jobs in the country directly and indirectly depend on the trading relationship with Mexico, Wood added.
But panelists said they are hopeful for a smooth transition and for a Trump administration with flexible individuals who are accepting of an expanding world market and can maintain positive foreign relations.
Wood, who was a member of the Mexican National Research System and studies North American relations, said he is sure  Trump's fellow Republicans will convince him that dropping out of NAFTA — which also counts Canada as a trading partner — is "economic suicide."
The event at the Wilson Center followed Obama's announcement Monday that Trump has indicated that he will stay committed to "strong and robust NATO" partnerships even though the Republican had previously called the treaty "obsolete."
Obama kicked off his final overseas trip to Europe Tuesday, hoping to reassure world leaders Trump is committed to U.S. allies abroad.
The Trump transition organization could not be reached for comment Tuesday. Trump, for his part, has begun to clarify some of his campaign statements to these world leaders over the phone.
Robert Daly, the director of the Kissinger Institute on China and the United States, said although Trump apparently did not get into any substantive negotiation in the phone calls, the message of cooperation — on trade and foreign assistance — is the first step in strengthening tense relations, especially with China and Russia.
"This election reinforced two major Chinese narratives: the American democracy is failing and that the U.S. is in long-term decline," Daly said. "So what is at stake is the long-term, reshaping world order by having an active leadership."
WASHINGTON — The Supreme Court heard arguments Wednesday in a case that could make it easier to sue foreign governments in U.S. courts, an outcome that a Justice Department lawyer said would damage foreign relations.
Oklahoma oil company Helmerich & Payne International Drilling Co. went to court against the Venezuelan government in 2011, alleging that it seized ownership of company rigs and other assets to use in the state-owned drilling business. H&P had stopped drilling because the state-owned operation had fallen $100 million behind in payments to the company. Hugo Chavez, then the president of Venezuela, said the seizure was necessary to put the rigs back in operation.
H&P argued that by expropriating the property of a U.S. company, Venezuela lost the immunity usually granted to foreign governments from the jurisdiction of U.S. courts under the Foreign Sovereign Immunities Act. The act specifies a few exceptions to the immunity rule, among them situations "in which rights in property taken in violation of international law are in issue."
A federal district judge agreed that H&P could file suit against Venezuela, as did a federal appeals court. Venezuela petitioned the Supreme Court last year to overturn the lower courts' rulings, saying the country was immune from legal action.
Catherine Carroll, representing H&P, emphasized the historical precedent for future cases involving U.S. diplomatic relations.
"There has been a problem of foreign sovereigns taking [U.S.] property, for discriminatory reasons or without paying for it, [and] using that property to gain advantage in the marketplace," Carroll said. "And we want the courthouse doors to be open to that."
Justice Department lawyer Elaine Goldenberg told the justices that upholding the lower courts' ruling could be a "real affront to a foreign sovereign if another court sits in judgment of something that foreign sovereign has done."
Chief Justice John Roberts questioned why a ruling for H&P would make a difference, since a judge would sit in judgment "one way or the other," either at the beginning or further along in the legal process.
Several justices noted the sensitivity of suing foreign governments.
Catherine Stetson, an attorney representing Venezuela, urged the justices to limit their consideration to the U.S. relationship with Venezuela.
"[This] isn't just about jurisdiction over a class of cases or a type of case," she said. "It's jurisdiction over this sovereign standing in front of the court."
She said the standards must be higher for determining a violation of international law than the "exceptionally low bar" set by the appellate court.
A ruling is expected by the end of June.
---
Published in conjunction with