Latest in Health & Science News
Get up-to-date health & science news from our reporters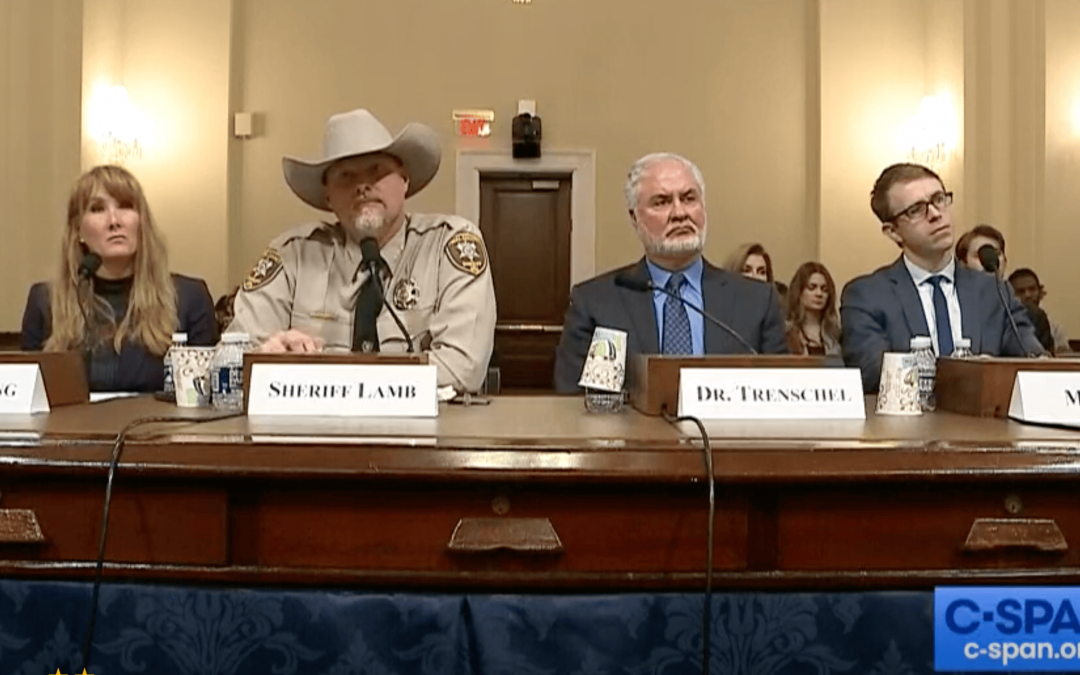 The newly GOP-led committee condemned Biden and DHS Secretary Mayorkas's "failed" border policies, calling for stronger crackdown on immigration despite expert witness's conflicting evidence.
read more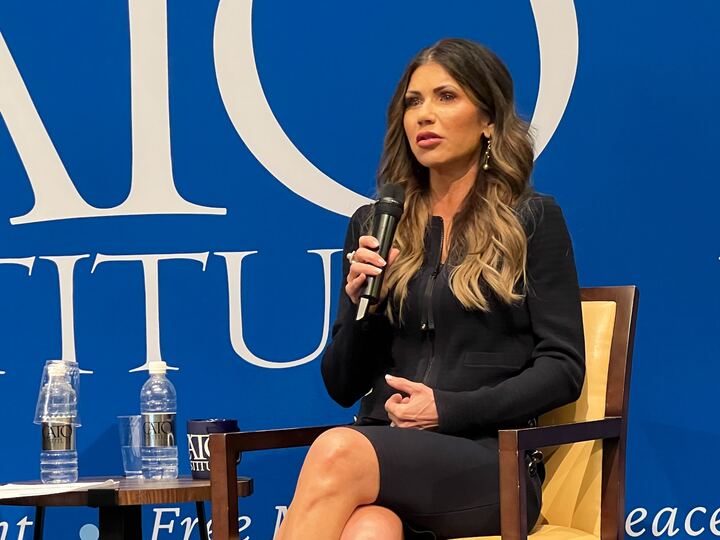 Gov. Kristi Noem discussed the impact of South Dakota's loose COVID-19 policies at the Cato Institute on Thursday.
read more
WASHINGTON –– The Republican-led House on Wednesday is pressing through a series of measures aimed at immediately ending the national health emergency issued at the start of the COVID-19 pandemic, although the move may be more symbolic after President Biden this week announced he would do so as of May 11. 
On Wednesday, the House introduced a bill to mandate workers return to the office and a joint resolution with the Senate to end the public health emergency. The joint resolution came after the House passed largely along party lines on Tuesday a bill to end the public health emergency. Some representatives argued that the current emergency had long outlived its efficacy. 
"President Trump rightfully declared a national emergency concerning COVID-19," Rep. Paul Gosar (R – Ariz.) said on the House floor on Tuesday.  "Mr. Biden has since abused presidential authorities by repeatedly extending pandemic powers beyond their timeline."
The public health emergency, declared by the Department of Health and Human Services, allows the federal government flexibility to modify requirements for the treatment of COVID-19, including for those on  Medicare, Medicaid, the Children's Health Insurance Program and private health insurance programs.
The national health emergency opened up additional resources for the response. It expanded funds for hospitals caring for COVID-19 patients, continued coverage for people under Medicaid and increased access to treatments and other resources to halt the spread of COVID. 
The emergencies also allowed for the development and authorization of medical countermeasures and  FDA-regulated products. These included several COVID-19 vaccines and drugs like Paxlovid used to treat severe cases of the disease.
Gosar and other Republican representatives contend that continuing the national emergency gives Biden unnecessary powers. Even though neither former President Trump nor President Biden used these powers, Gosar contended the national state of emergency allows Biden to draft Americans without consent, barricade the United States Capitol, place the Public Health Service under military control, and "move money around." 
"Under the continued COVID national emergency extension, more than 120 special statutory powers, only meant for times of actual emergency, continue to be available to Mr. Biden," Gosar said. "Why does Biden continue to extend the COVID-19 national emergency? The answer is simple. To force Americans to live under extreme measures that deprive us of our freedoms."
A spokesperson for the HHS, Ilse Zuniga, however, said the national and public health emergency declarations remain effective. Zuniga said allowing the measures to stay in place until May 11 allows HHS to work with local governments before the emergency declarations expire. 
"COVID-19 remains a public health priority," Zuniga said. "Over the next few months, the Department of Health and Human Services will transition its current flexibilities enabled by the COVID-19 emergency declarations into normal order working with states and jurisdictions to ensure an orderly transition." 
But, Zuniga added that the agency agrees it was time to start transitioning out of the national emergency. She said the Biden administration has successfully implemented the largest adult vaccination program in U.S. history. 
Daily COVID-19 cases are down 90%, COVID-19 deaths have declined 80% and hospitalizations have dropped 75%, she added. At least 1.1 million Americans have died of COVID, including more than 3,700 last week alone, according to the Centers for Disease Control and Prevention.
"COVID-19 is not over, but thanks to the Biden-Harris Administration's whole of government response, we are in a different phase of the pandemic than we were three years ago," she said. "(We) can effectively lift the PHE and leave the emergency phase of the response."
WASHINGTON — Democratic Senate leadership expressed their support for abortion rights at a press conference Tuesday, commemorating the 50th Anniversary of Roe v. Wade and the seven-month anniversary of Dobbs vs. Jackson Women's Health Organization.
Majority Leader Chuck Schumer (D-N.Y.) said Democratic members spent Tuesday in mourning. 
"We mourn the fact that millions of women and girls now have fewer rights than their mothers and grandmothers," Schumer said. "We mourn the loss of individual freedoms. We mourn the loss of a woman's right to choose."
He also said that the Dobbs decision, which overturned the federal decriminalization of abortion established in Roe v. Wade, would not be the last Republican attempt to restrict abortion. Minority Leader Mitch McConnell (R-Ky.) threatened a nationwide abortion ban, he said, and Sen. Lindsey Graham (R-S.C) has proposed legislation prohibiting abortions after 15 weeks.
Senate President Pro-Tempore Patty Murray (D-Wash.) followed Schumer's remarks, adding that her time in office has been difficult since the Dobbs decision. 
"The months since (Dobbs) have been really hard," Murray said. "They have been heartbreaking, and the health care crisis that followed has been horrific."
Sen. Maria Cantwell (D-Wash.) said the health care crisis in her and Murray's home state has been overwhelming. She added that the reported number of people coming from Idaho to seek an abortion in Washington has gone up 78% since Dobbs.
Cantwell said this has added costs and extended wait times for millions of women seeking abortions.
"The United States Senate needs to act," Cantwell said. "We are not going to play defense. We're going to play offense. We're here to stand with these organizations to say to our Republican colleagues, 'it's time that they stand up and help protect a woman's right to choose.'"
Senators were joined by representatives from NARAL Pro-Choice America, Planned Parenthood and the National Family Planning and Reproductive Health Association, among others. Nonprofit leaders praised senators for prioritizing abortion access.
"Democrats in the Senate continue to fight for reproductive freedom and they have shown that protecting our fundamental rights is their top priority," NARAL President Mini Timmaraju said.
WASHINGTON ––  More people have died from opioid overdoses than during the Vietnam War, Levar Stoney, mayor of Richmond, Va., decried Thursday at the United States Conference of Mayors here. Yet federal funds for cities looking to tackle the epidemic can be hard to come by. 
"The U.S. Conference of Mayors is committed to fighting the opioid overdose epidemic and supporting all of you as you continue to work to identify outbreaks, collect data responding to overdoses, and provide care to those in need of help in your cities," said Stoney, who led a discussion on strategies to address the crisis.
In Richmond, overdose deaths more than doubled between 2017 and 2021. To tackle that epidemic,  Stoney helped create a $5 billion fund to address health equity issues. The money came from the American Rescue Plan Act, President Biden's $1.9 trillion economic package passed in 2021 aimed at pandemic recovery.
One of the programs funded by the trust helps formerly incarcerated individuals, distributing Narcan and fentanyl testing strips to clients. 
"They use their grants to educate all of their participants about the impact of opioid use in our communities," he said. "It is this type of attention and intentionality that, with wraparound services and support, we must offer to help lift up our folks with a history of substance use and get them on a path to thriving." 
Cities around the nation are struggling to develop similar programs with several mayors saying that federal funding is not easily accessible to them. But there are federal programs that can help provide money to address opioid use, Rahul Gupta, director of the Office of National Drug Control Policy told the mayors. 
Gupta highlighted the High Intensity Drug Trafficking Area Program, which sends federal law enforcement into cities, as well as the Drug Free Communities Program, which establishes call centers and other "delay methods" to keep youth away from addiction.
"When we look at this president, it's very clear that it (the opioid crisis) is one of his top priorities," Gupta said. "And we've got to address the drivers of this epidemic –– that's untreated addiction, and it's drug trafficking problems." 
The stimulus plan also directed the Department of Health and Human Services to provide $3 billion in block grants to address addiction and mental crises.
Though Richmond was able to channel some federal stimulus funding into an opioid-prevention program, other cities are struggling to obtain federal funding that is not distributed directly to their cities. 
"The more you send your money to the state, the less it's going to get to the cities," Acquanetta Warren, mayor of Fontana, Calif., said. 
Warren said state governments are not as close to the crisis as mayors are. Gupta added that many states have invested money into tackling the opioid crisis. 
The Biden Administration is working on creating federally-funded prevention programs that cities can more easily utilize, Gupta said. The federal anti-trafficking program, a $300 million endeavor, is increasingly turning toward prevention programs. 
The Office of National Drug Control Policy is starting to invite applications for the anti-trafficking program's discretionary funds, encouraging cities to create programs that work for their jurisdictions. 
"Last year we lost over 107,000 Americans," Gupta said. "That's a person losing their life every minute of every hour of every day. These are sons and daughters. These are family, friends, neighbors, teachers, that are not coming back."
WASHINGTON– NASA is flying closer to home this time, seeking to help traditional aircraft save fuel and lower costs.
NASA Administrator Bill Nelson announced Wednesday the Sustainable Flight Demonstrator project, which is aimed at bringing new climate-friendly technologies to single-aisle aircrafts. The project specifically focuses on developing a longer, thinner wingspan for small commercial planes – a change that would result in less drag and faster speeds. 
The new wing design, called the Transonic Truss-Braced Wing, is expected to use 30 percent less fuel "relative to today's most efficient single-aisle aircraft," NASA said in a press release. Single-aisle aircrafts are responsible for about 50 percent of all global aviation emissions. 
"We are also hoping that the technology we are working on is something you will be seeing across industry and at airports in the 2030s," said NASA Deputy Administrator Pam Melroy. 
The plane is projected to be in the air by 2028, according to NASA. Nelson said the overall goal is to meet President Biden's U.S. Aviation Climate Action Plan of net-zero aviation carbon emission by 2050.
The project will be produced through a partnership with the aerospace giant Boeing. It will cost nearly $1.2 billion over seven years. Boeing and its partners will pay for the bulk of those costs, at $725 million, while NASA will invest $425 million. 
"The reason we want industry to go further than they otherwise would and we want them to have skin in the game is to be confident that if this proves successful, they will find a way to commercialize," said Bob Pearce, NASA associate administrator for the Aeronautics Research Mission Directorate, a department which is handles much of the agency's research. 
"This is high-risk technology and together by partnering between NASA and industry together we can go further. We can stretch further and take on higher risk that commercial industry can do on their own," Pearce said.
NASA is seeking to encourage commercial airlines to adopt new technologies that will decrease emissions. 
Yet, the key to achieving net-zero carbon emissions lies in other aspects of aviation. Pearce explained net-zero depends on the big thing other than technology and that is fuel. Sustainable aviation fuel could contribute to around 65 percent of the reduction in emissions needed by aviation to reach net-zero in 2050, according to the International Air Transport Association.
But even that goal is a challenge itself. Pearce said in an interview that the industry only produces 100 million gallons a year in sustainable fuel right now but will need 35 billion gallons a year to power the entire fleet."That is a really high bar, right?" Pearce noted. "One of the things that NASA is exploring is other pathways."
Still, the Transonic Truss-Braced Wing marks the introduction of a new series of technology that can help meet climate goals. 
"We are gonna be looking at a bunch of different options outside of this because, that is really the primary U.S. industry strategy, to push harder on sustainable aviation fuels and, I think, that is the best bet," Pearce said. "Someone like NASA can take those, look at alternatives and I think it is on us to do some of that."
WASHINGTON –– The House passed a bill Wednesday that, if enacted, would enforce punitive measures for health care providers who don't attempt to preserve the life of an infant born after a failed abortion. 
H.R. 26, dubbed the Born-Alive Abortion Survivors Protection Act, is unlikely to be taken up by the Democratically controlled Senate. But if the bill becomes law it would require doctors to immediately transport infants born after failed abortions to the nearest hospital.
Health care providers who fail to immediately place newborns on lifesaving care and move them to a hospital could face fines or up to five years in prison, regardless of the mother's wishes or the immediate needs of the infant. 
Babies born after failed abortion attempts are extremely rare. According to the Center for Disease Control, only 588 of 315,392 infant deaths between 2003 and 2014 involved an induced termination. 
According to Kate Masur, author and professor of History at Northwestern University, this bill is more representative than it is practical –– since its applications are few and far between, she said it mostly intends to stigmatize abortion.
"Many, many Republicans care deeply about trying to restrict or even ban abortion, and many have run on platforms associated with trying to restrict or ban abortion," Masur said. "They're wanting to show their constituents that they're serious about this, and they're going to put forward measures that are designed to not just restrict abortion, which this measure does not, but stigmatize abortion."
Lifesaving care is not always recommended by doctors; a 2015 study in the New England Journal of Medicine on preterm births recommended against the intervention required in this bill for infants born before 22 weeks of gestation. 
Per the CDC, less than one percent of abortions in 2020 were performed at or after 21 weeks of gestation. 
"We can't even get into the specifics of whether this is practical," said Moises Serrano, a spokesperson for Whole Woman's Health, a DC-area abortion clinic. "No one has ever experienced this (a failed abortion) in any of our clinics… this is a super niche, almost impossible scenario being used to distract the American people."
Dr. Diane Horvath, an OB-GYN based in Maryland and a Fellow with Physicians for Reproductive Health, said babies are rarely ever born after an abortion attempt. Instead, the bill intends to deliberately confuse constituents about the complex circumstances some families with terminally ill fetuses are forced to face.
If a fetus is known to have a lethal abnormality, she said, a family may choose to induce labor, knowing the fetus will either not survive the labor process or they will die shortly after birth. Families receive extensive counseling and some choose to give birth so they might be able to say goodbye to their baby. 
When the baby is born, end of life palliative care is provided.
"The idea that this loving option could be taken away from these families, or that terminally ill babies would be subjected to futile medical interventions against the will of their parents, is heartbreaking to me as both a clinician and a parent," Horvath said. 
Republican representatives who spoke in favor of the bill maintained that it intends to protect the fundamental right to life of a newborn. Though the bill does say that an infant born alive after an abortion has the same rights as a human being, that is not a change from today's legal standards. 
Some Republican representatives incorrectly claimed in debate Wednesday that the United States currently permits infanticide. Majority Leader Steve Scalise (R-La.) claimed the law in some states permits an abortion provider to end a baby's life after birth.
"If a baby is born alive outside the womb, alive, how could you kill that baby and that be legal?" Scalise said. "How is that not already murder? I questioned how it wasn't myself. And yet in a number of states it is legal and happening today… In America, there are some states that allow that baby to be killed." 
Masur said killing an infant is currently illegal in every state, as well as on the federal level. 
"In 2002, Congress passed and President Bush signed a law that is very, very similar to this one," she said. "If a child, a baby, is born in the process of a failed abortion, it's required that medical professionals have to give it medical care. We already have a law in the books that's like this."
The federal law was applied in 2013 when Kermit Gosnell was found guilty of three counts of first-degree murder for the deaths of three babies born alive in his Philadelphia abortion clinic. His case came after the Born-Alive Infants Protection Act of 2002. 
In the end, Masur said, the bill simply serves to further stigmatize abortion and impose harsher consequences for abortion providers –– she said it does not make any significant changes to federal law. 
Democratic representatives said the bill intends to reach even farther. Representative Jarrold Nadler (D – NY) said the Born-Alive bill aims to deter providers from executing abortion procedures by adding fines and a five-year prison sentence to the 2002 legislation.
He added the Born-Alive bill insults abortion providers in the process. 
"The bill's implication that providers who perform abortions act in a criminal matter that would result in an infant's death, or that a provider cannot be trusted to take adequate measures to save a baby's life, is insulting and untrue," he said.
WASHINGTON – The GOP-led House on Wednesday passed a bill that would require doctors and other medical professions to provide care to infants who survive abortions.
The bill, which passed 220-210, is one of two anti-abortion measures that the House took up on Wednesday though neither is likely to pass in the Democratic-controlled Senate. Opponents said the legislation is not necessary and could interfere with doctors' medical judgment. 
"The bill does nothing new to protect infants," Rep. Jerry Nadler (D-N.Y.), the ranking member of the House Judiciary Committee, said. "The bill, however, is not harmless. Rather, if enacted, it could place the lives and health of newborn infants at risk."
H.R. 26, which was named the Born-Alive Abortion Survivors Protection Act, was introduced by Rep. Ann Wagner (R-Mo.). It would penalize health care providers who don't treat infants who survived an abortion attempt with the same "professional skill, care, and diligence" they would treat newborn babies.
Health care professionals who fail to comply could face a fine and up to five years in jail.
The bill's supporters said this legislation will guarantee all infants appropriate medical care. But such rights are already protected by the federal Born-Alive Infants Protection Act of 2002. Versions of today's bill were also introduced in 2019 and 2021, but did not make it through the Senate.
The chance of a fetus surviving an abortion attempt is exceedingly rare. This is most likely to occur in the third trimester of one's pregnancy — in these cases, abortion is usually due to extreme medical risks to the parent or fetus. 
Conservatives and anti-abortion factions in the House hoped to make a political statement with passage of the bill, although public opinion is generally in favor of abortion rights, especially after the Supreme Court overturned Roe v. Wade last year. 
Some in the GOP, like Rep. Nancy Mace (R-S.C.), have called on the party to take a more cautious approach.
"This is an issue that I want to see us take seriously," Mace said in an interview on Wednesday on MSNBC. "And if we're going to be serious about balancing the rights of women and protecting the right to life, I don't think the two are mutually exclusive, this is probably not the way to start off the week."
Wagner contended the latest legislation "has nothing to do" with the Supreme Court's decision to overturn Roe v. Wade. She said the bill does not affect a state's ability to implement abortion laws.
"That's it, plain and simple," Wagner said. "I implore my Democratic colleagues to put aside politics and stand in support of life-saving care for these innocent newborns."
During the debate on the floor of the House, Democratic legislators said that the bill could prevent parents from holding their babies after delivery, instead requiring them to be rushed to to receive treatments that would be unlikely to save their lives. 
"This legislation will deny parents a say in how their child spends the final minutes, hours or days of his or her life: whether hooked up to a medical device or in the arms of his parents," Rep. Madeleine Dean (D-Pa.) said. 
A number of Democratic congresswomen wore white during the vote on Wednesday afternoon, a symbol of solidarity for women's rights. H.R. 26 was argued alongside H.C.R. 3, a resolution condemning attacks on pro-life facilities, groups and churches. Neither measure had widespread Democratic support.
Reproductive rights organizations have been publicly condemning measures trying to curb abortion access. NARAL Pro-Choice America characterized H.R. 26 as a bill "that would allow politicians to interfere in personal family decisions."
"House Republicans are patently rejecting the will of the overwhelming majority of Americans who voted to support legal abortion in November," The organization's president Mini Timmaraju said in a statement. "The American people are watching this fight, and the contrast with their GOP colleagues is damning."
A typical therapist's waiting room may contain a few unremarkable chairs, a handful of outdated magazines and the quiet bustle of a receptionist's desk. 
But in Veterans Affairs facilities, patients can sometimes be bombarded by swaths of military paraphernalia and fellow service members milling around — potential triggers that could deter them from seeking mental health support.
As Congress and the White House zero in on mental health legislation, some advocates and lawmakers are pushing specifically to establish more robust telemental health services, providing services like psychiatry appointments conducted over the phone, to better serve veterans reluctant to receive in-person care.
Telemental health can be particularly helpful for veterans with lingering negative associations from their time in the military, said Samantha Connolly, a clinical psychologist for the Boston VA Healthcare System.
"There are also veterans who maybe didn't have the best experience during their military service, and they don't like to come into a VA facility," Connolly said. "They don't want to sit in a waiting room with other veterans and maybe see regalia or just memories of their time in the service."
Last year, the VA provided 5.6 million telemental health visits, up from 3.2 million in 2020, according to Kendra Weaver, a senior consultant in the VA's Office of Mental Health & Suicide Prevention.
"Prior to the pandemic, we often used telemental health as more of a selective or secondary strategy," Weaver said. 
In October, Rep. Matt Rosendale, R-Mont., introduced a bill requiring the VA to report a comprehensive telehealth strategy. Last summer, Sen. Bill Cassidy, R-La., and Rep. Doris Matsui, D-Calif., introduced twin Senate and House bills to expand access to telemental health care.
While the recent string of mental health-focused hearings on Capitol Hill and President Biden's call for mental health legislation in the State of the Union have garnered more national attention, Weaver said the VA has been working on building up its telehealth infrastructure since well before the pandemic.
The department dabbled in telehealth as early as the 1960s and '70s, with providers communicating with patients through televisions. After piloting a few programs in the 1990s and early 2000s, the VA formally launched a national telemental health initiative in 2002, including introducing its own video application for virtual appointments, Weaver said.
But the pandemic proved a turning point, with the VA switching from providing 80% of its care in-person to 80% virtually.
An option for veterans wary of the stigma
While some veterans may be deterred from seeking help by the intimidating experience of obtaining services at the VA, others may carry lingering worries about how talking with an expert is viewed in the military.
"Going to the mental health clinic can jeopardize your career, and sometimes that stigma stays with military service members," Kenneth Marfilius, a former active duty mental health therapist, said. "They might feel more comfortable engaging in a telemental health appointment from the comfort of their home especially if there's a certain level of anxiety or even some PTSD symptoms that could potentially flare up by going to the clinic."
Crowded cities can be a common trigger among veterans experiencing PTSD, so some veterans may prefer to live in more remote, rural areas — areas that are often under-resourced with VA and mental healthcare facilities alike.
Marfilius, who has also worked to provide healthcare to and relocate unhoused veterans through the Syracuse VA Medical Center, said telemental health has long been a way to reach these veterans while also prioritizing their preferred way of life. 
"It may be easier to find an apartment for a veteran experiencing homelessness in a city center or immediate surrounding areas, but they might not want to live there for reasons… related to their mental health symptoms," he said. "That's where we see, telemental health really kicks in to be able to have them live where they want to live, where they feel most comfortable, but also having that constant communication (with a healthcare provider)."
Even for veterans living in major metropolitan areas, Connolly said, the stress of navigating a tricky commute or heavy traffic can be a trigger. In Boston, some of her patients have to budget significant amounts of time just to get to their appointments.
"I think for some providers, they question, 'how much therapeutic benefit does the session have if getting to and from the appointments has caused so much stress in my patient's day?'" Connolly said. "So I think telehealth can help in those cases, too."
Advocates and VA leaders outline next steps
The largest barrier to expanding telemental health services is ensuring veterans have the technology to access virtual appointments. The VA has launched programs to loan veterans phones and computers, as well as support services for users to familiarize themselves with the technology ahead of their first telehealth appointment.
Addressing the "digital divide" has been an ongoing priority for the VA, Weaver said. 
Marquis Barefield, the assistant national legislative director for Disabled American Veterans (DAV), said the group has been advocating for lawmakers to pass legislation to help the VA get the technology it needs to make telemental health services possible for more vets.
For those who do not have broadband or internet access, the DAV has been pushing for the expansion of VA initiatives like the 2018 Accessing Telehealth through Local Area Stations program.
Partnering with organizations like The American Legion and Walmart, the program offers veterans private spaces with internet and computers to access telehealth appointments. However, the program currently only operates 12 active locations across the country, with only one other location expected to be added soon.
For veterans who struggle to operate technology, DAV hopes in-person care remains an option as well.
"We want to encourage the VA not to just heavily rely on telehealth and telemental health services," Barefield said. "We also still want them to have their doors open, so if veterans have an opportunity to come back inside of the facilities themselves, that option is still on the table as well."
Published in conjunction with

WASHINGTON – Six-year-old Isa says she doesn't mind being a girl with a penis.
"Yep, very happy," said Isa, formerly Isaac, who, according to her mother Violet A., has identified herself as a girl since she started speaking at two.
Though she's too young to know that she's a transgender woman and part of the LGBTQ+ community, Isa says she's felt "different." 
"One of the questions that she asked me was, 'why don't the other girls have penises?'" recalled Violet, who says her daughter frequently chooses her own sparkle and pattern-bedazzled outfits. "'Why am I different from the other girls?'"
But for Texans like Isa and Violet — as well as trans individuals and advocates nationwide — alarm bells blared after Texas Attorney General Ken Paxton wrote in an opinion last Friday that providing gender-affirming health care to minors can be considered child abuse under Texas law.
"[Lawmakers are] using trans people and trans youth as political pawns," said Andrea Segovia, senior field and policy adviser for the Transgender Education Network of Texas (TENT). "The primary election being at the height of next week, this isn't a coincidence… If [it] garnishes [Republicans] more votes, then [they're] going to do it, which is very harmful and alarming."
As Segovia confirmed, an attorney general's opinion alone cannot change state laws, so agencies, such as the Texas Department of Family and Protective Services (DFPS), can decide whether to follow and utilize the opinion. But Texas Gov. Greg Abbott responded to Paxton's statement, encouraging DFPS to investigate trans children, as well as prosecute their parents as child abusers, should the minor be suspected of receiving gender transitioning treatment. 
"We've not yet seen the response from DFPS, other than they're trying to look at the opinions, investigate what's happening and go from there," Segovia said. 
But experts say Texas already is unwelcoming to trans individuals. According to Lone Star Legal Aid, only about 1 in 10 trans and gender nonconforming Texans have all their IDs align with their gender identity. And 1 in 3 have IDs reflecting their correct name and gender. 
Furthermore, despite having the highest known population of trans individuals nationwide, Texas also has the most trans deaths of any state. 
"You're watching [Texas] leadership be bullies that then citizens of the state, people of the state, are then saying, well, if you don't care about trans people, I don't have to care about trans people," Segovia said. 
"Trans people are, especially in Texas, just wanting the ability to survive, not even to thrive, because we're not there yet, but to survive," Segovia added. 
According to a December 2021 study by the Journal of Adolescent Health, access to gender-affirming hormone therapy drastically reduced depression and suicide attempts in trans teens aged 13-17 by 40%. Erin Reed, a trans rights advocate and trans woman herself, says such medical care is one of the most effective treatments, as well as prevention of suicide among trans teens. 
"These are real lives," Reed said. "These are people that will, that can harm themselves and are very vulnerable." 
MIDTERM MESSAGING 
Such anti-trans agenda and legislation have been surging nationwide since 2021, particularly in GOP-dominated legislatures, with the midterms fast approaching. Trans rights advocates and experts say a primary focus is maintaining a Democratic, pro-equality majority in Congress. 
"In the upcoming midterm elections, the stakes for LGBTQ+ people — and all of us — are huge," said Geoff Wetrosky, HRC national campaign director, in HRC's "Equality Magazine" Late Fall 2021 issue. "Passing pro-LGBTQ+ federal legislation like the Equality Act becomes much more difficult if pro-equality majorities in the U.S. Senate or U.S. House are lost."
With a total of 469 congressional seats – 34 Senate seats and all 435 House seats – as well as 36/50 state governor seats up for grabs during the 2022 midterm elections, experts predict Republicans could soon dominate the House. They say Democrats may have a better shot at maintaining control of the Senate. 
"We are now in what is a fairly familiar cycle of the conservative Republican base being mobilized by appeals to a fabricated threat of trans people in educational settings," said Katherine Franke, director of The Center for Gender and Sexuality Law at Columbia University. "It's just heartbreaking to see the horrible things that are being said about trans kids and the ways in which health care professionals and educators, parents, community members and others are being asked to play an active and hateful role."
Though the political playing field is recurring, experts say there is a key difference this time around. 
"They've ratcheted up the panic from one in which it was cisgender girls who were the ones at risk to now, it's the actual trans kids themselves who are at risk by their very own identity and their own reasonable medical needs," Franke said.
Both experts and trans rights advocates alike say that Democrats must address Republican pushes for anti-trans legislation head on, noting this could help rack up Democratic voters come November.
"To the extent that the Democrats don't stand up for the fight and don't provide a kind of defense of the people who are most vulnerable in the state, the Democratic base is not going to get out and vote for them," Franke said. "Tacking to the middle has not been a great strategy for the Democrats, but they can't seem to help themselves." 
On the other hand, more conservative Republicans may show up at the polls, Franke added. 
There's also shared disappointment by experts and trans individuals at the lack of Democrat response, both at the state and federal levels. 
"The Democrats are often caught on their heels in the face of a well-orchestrated and fabricated panic that's mobilized by the Republican right… rather than stepping up and asserting an affirmative agenda," Franke said. Democrats "tend to be much more reactive than proactive around these issues."
Some left-leaning voters and trans rights advocates, however, are also expressing uncertainty on whether their votes might matter this election cycle, especially when it comes to trans issues. 
"I'm politically active, especially for this specific topic," said Noelle Eve Palmer, a Northwestern junior, who transitioned in March 2020. 
While Palmer still plans to head to the polls, come the midterms, doubt remains about whether the power of a single vote could solve this particular issue. "It's scary to feel like you're up against the government that wants you dead," Palmer said. 
Yet another fear of the political implications: Reed says she's worried the political playbook can mean violence. 
"If [Democrats] do nothing, things are going to get bad, bad, bad, bad and worse and worse and worse for us, starting in these red states," Reed said. "It can just take a moment, it could just take one election, and then we lose it all. And a lot of people get hurt." 
For many trans individuals, physical identity very much ties into overall identity. 
"[Isa] said, 'I hate myself, because I hate boys,'" Violet said. "That was before the transition. The second thing that she said, which was a four-year-old version of a suicidal statement, was, 'I just want to get smashed by a train.'" 
To this day, Isa still says she wants to "cut off her penis." Violet believes moving to California will offer safety and refuge for her daughter, whom she's struggled to keep sheltered from the lack of support in their home state. 
"The straw had already broke the camel's back," Violet said. "[Paxton's announcement was] a little bit more alarming, because now I feel like anti-trans people are going to be more vocal." 
TENT's Segovia blames a lack of statewide safety for the large population move out each year, especially during legislative cycles, in which parents of trans children grow increasingly concerned.
"[Lawmakers] could let us parent our children and make the decisions that we know are best for our children, instead of trying to put laws on us that would limit our ability to do what's best for our kids," Violet said. 
Violet, with the help of Reed's large social media following, has created a GoFundMe page to help her and Isa's relocation to California. The single-mother says most of the donations came from outside of Texas.
 "When I finally affirmed what she said [about being a girl]… she just came out of her shell, and she was vibrant and happy," Violet said. "I just hadn't seen her smile really until that day, so I'll never forget it."
And while Violet believes California will prove a more nurturing home for her daughter, she says she can't help but worry for Isa's future.  
"[Isa's transition] was still very scary for me as a parent because I'm like, wow, the world knows her as a boy. The world knows her as Isaac." 
If you or someone you know may be considering suicide, contact the National Suicide Prevention Lifeline at 1-800-273-8255 (En Español: 1-888-628-9454; Deaf and Hard of Hearing: dial 711 then 1-800-273-8255) or the Crisis Text Line by texting HOME to 741741.
WASHINGTON – For Senate Special Committee on Aging Chairman Bob Casey (D-Pa.) and ranking member Tim Scott (R-S.C.), Thursday's hearing on dual-enrollment in Medicare and Medicaid was an opportunity to tout an accomplishment all too rare in today's political climate: a true bipartisan legislative collaboration.
"One of the things I enjoy and appreciate about this committee," Scott said, "is that we put seniors first, and not red ones or blue ones, Black ones or white ones, just seniors."
To put seniors first, in Scott's parlance, Casey announced the introduction of the Program of All-Inclusive Care for the Elderly (PACE) Expanded Act.
The bill, Casey said, "would reduce administrative barriers that prevent the development and expansion of PACE programs" that "enable people with Medicare and Medicaid to receive all their benefits through a single organization, providing primary care, long-term care and more in one place."
For many elderly Americans, this legislation comes not a moment too soon.
Jane Doyle, a resident of Bartonsville, Pennsylvania, and grandmother of three, was diagnosed with multiple sclerosis over 20 years ago. Because of further medical complications, she has been unable to work since 2017. In Pennsylvania, Doyle said, Medicaid offers a waiver for home care expenses.
"Our family viewed this as a great alternative to a nursing home," said Doyle, "but to qualify, someone must first apply for Medicaid and then apply for the waiver. This process was long and difficult."
Harvard University associate professor and physician at Boston's Brigham and Women's Hospital Dr. Jose Figueroa said that — though the American health care system is difficult for anyone to fully comprehend, regardless of status — the process is "far more difficult for the 12.3 million dual-eligible patients living with disability, serious mental illness, frailty, multiple chronic conditions, and importantly, living in poverty."
"One of the greatest failures of our health care system," said Figueroa, "is that so much of dual-eligible patients' time is lost navigating the complex and confusing rules and regulations of the two programs, which they must do to ensure they get the care and services they need."
Eunice Medina, chief of staff of South Carolina's Department of Health and Human Services, also stressed the importance of making the dual-enrollment program easier to understand. 
"Streamlining programs and focusing efforts and funding on an integrated program," Medina said, "can help avoid confusion and administrative burden among dual beneficiaries and providers." 
"When states are looking to integrate care," Medina noted, "they may also need to consider the capacity of their Medicaid agency to manage the programs they have already committed to … resources that would allow states to strengthen their agency to support these massive internal and external changes would be most welcome."
Scott surely embraced Medina's analysis with open arms.
"To help states further improve coverage," Scott said, "I have introduced legislation to provide further assistance to state Medicaid agencies to help integrate coverage. It creates a $100 million grant for states to improve care coordination for their dually-eligible population."
"You have so many layers of complexity in your life as you age," he said. "If we can eliminate any of it, it helps all of it."