WASHINGTON – Last year female Democratic lawmakers wore white to President Donald Trump's first address to a joint session of Congress to honor suffragettes. This year, the color will be black as both male and female members of Congress show support for the #MeToo and #TimesUp movements at Trump's State of the Union address Tuesday night.
The symbolic gesture follows a similar demonstration organized by women at the Golden Globe awards, where many in the entertainment industry dressed in black to protest sexual harassment in Hollywood and elsewhere.
"It will be a moment for so many survivors of harassment and assault to say, 'Thank God somebody in the legislature has my back. Thank God that it's not just celebrities, that it's people who have the power to invest in ending harassment and assault in meaningful way,'" said Emily May, co-founder and executive director of Hollaback!, an anti-harassment advocacy group.
With the increased national focus on sexual harassment as allegations surface in sports, the service industry, the media and more, some Capitol Hill lawmakers have taken up the crusade among their own ranks, notably Rep. Jackie Speier, D-Calif., who has proposed legislation to increase accountability for members of Congress. Sen. Al Franken, D-Minn., and Reps  John Conyers Jr., D-Mich.,and Trent Franks, R-Ariz., are among those forced to resign or retire because of sexual harassment allegations. A number of others have been reprimanded, announced early retirements or otherwise punished.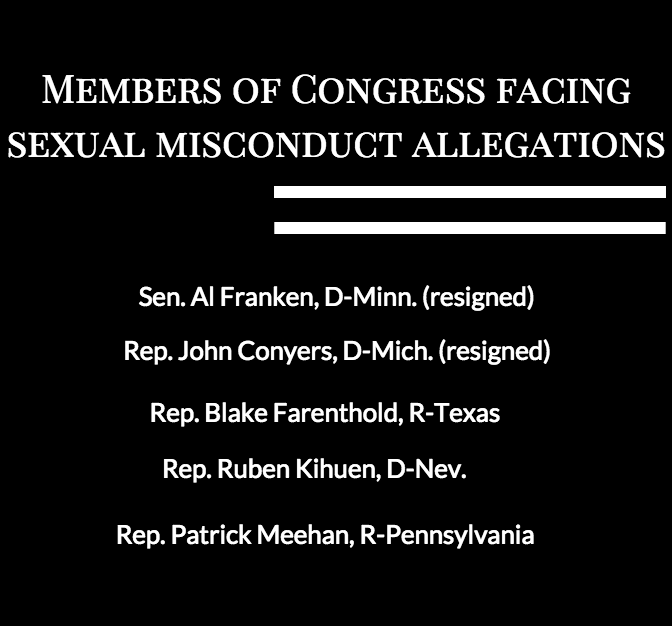 Policy experts like Jocelyn Frye, a senior fellow at the Center for American Progress and former member of the Obama administration, said that while messages and symbols highlighting this issue are important, lawmakers and employers need to follow through with reform that will benefit everyday workers, not just film stars and white-collar employees.
"We have to understand that this is not just a problem facing famous people. That's the risk," Frye said. "You have a bunch of actresses and political folks and media figures who by definition are able to tell their stories in a very public way … but they're only a piece of the puzzle."
Women of color face harassment and assault at higher rates than white women, but white women have largely dominated the #MeToo conversation. With high-profile cases like those of movie mogul Harvey Weinstein and Dr. Larry Nassar, who was convicted of sexually abusing scores of young female gymnasts, largely brought forward by white women, the emphasis was removed off of the systemic power imbalances that #MeToo movement founder Tarana Burke said are especially acute for women of color, who often don't have the wealth or social capital to push back like other women with more means.
A symbolic moment like members of Congress wearing black is powerful, Noor Mir, a board member of Washington, D.C. activist group Collective Action for Safe Spaces, said, but it is crucial to include all women.
We have to really think about who occupies seats at the table, and when we're talking about women are we really talking about all women?
Noor Mir
"We have to really think about who occupies seats at the table, and when we're talking about women are we really talking about all women?" Mir said."We still have a long way to go, I think, in equalizing the narrative."
Organizations like Hollaback! and Collective Action for Safe Spaces lobbied, often at the local level, to get governments to act. Mir praised a bill introduced by Brianne Nadeau, a D.C. council member, last year that is designed to educate city employees about how to identify and address street harassment and would follow New York City by becoming the second city to collect data on harassment's many forms.
"If this legislation goes forward, we could really become national leaders in this," Mir said.
She and May said increased criminalization is not the answer to street harassment.
"There is still this ever-present myth of it being mostly brown, mostly black and Latino men who are doing all this harassment, and that the victim is this sort of innocent white woman," May said. "What we want to make sure that we're not replicating those stereotypes, and we're not entrenching those stereotypes into laws."
On the federal level, Frye said, lawmakers should increase funding to not only combat sexual abuse, but to collect better data nationally. Equal Employment Opportunity Commission reports indicate that more research is needed to understand how it affects women from all walks of life, she said, and Congress could also expand the budget for support services for victims of sexual harassment.
Last month, Sens. Lindsey Graham, R-S.C. and Kirsten Gillibrand, D-N.Y, introduced a bill to put a stop to forced-arbitration clauses in employment contracts, making it illegal for employers to require employees to sign an agreement forfeiting their rights to take a harassment case to court.
But Mir cautioned that there is not one simple fix to the widespread sexual harassment problem. "When it comes it down to really grappling with this culture that allows for patriarchy to flourish, allows for people to think they own a woman's body and are able to do whatever they want to it, that's something that's much deeper that no text or lawmaker or policy can necessarily fix in a day."