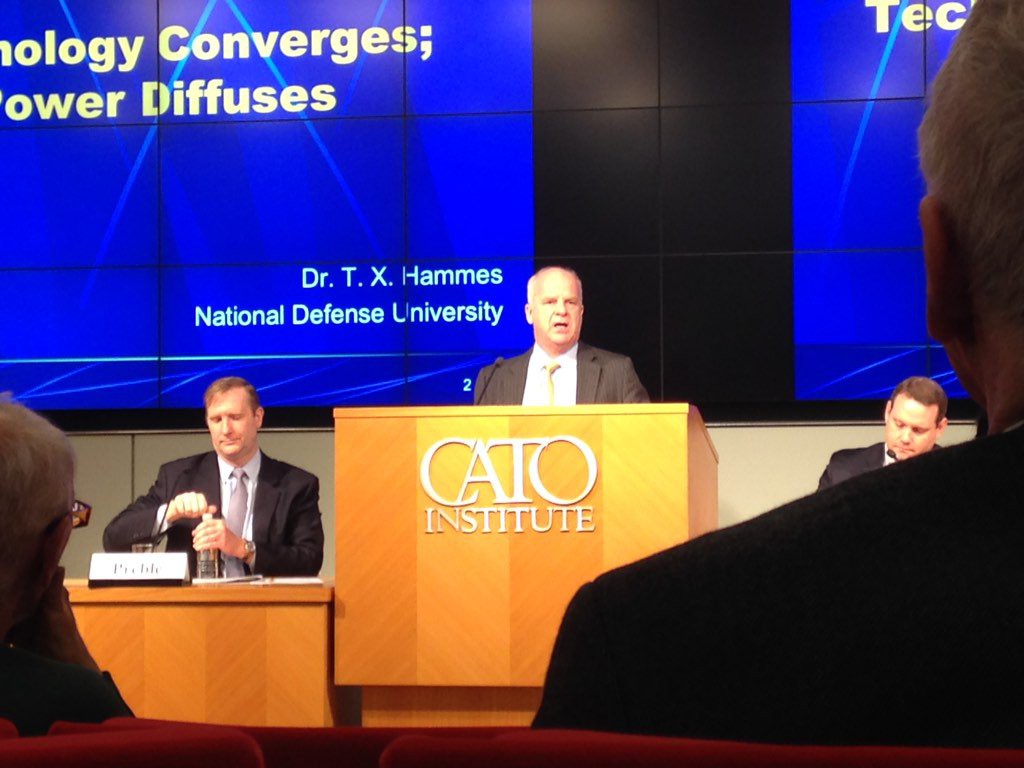 WASHINGTON — Technology is drastically changing the way wars and smaller-scale conflicts will be fought, and the U.S. needs to be wary of how adversaries like Russia and China can leverage their technology for military advantage, retired Marine Col. Thomas Hammes said Wednesday at a Cato Institute panel.
The Pentagon is actively developing and testing new technology, but so are Russia and China. The U.S. no longer has a monopoly on technology-based strategies like long-distance precision strike targeting, according to Hammes.
Over the last five years, the U.S. military has developed explosive-armed drones weighing a few pounds that can penetrate well-armored vehicles. Additive manufacturing, or 3d printing, is a way to streamline manufacturing of metals and even weapons like drones and engines, Hammes said.
Evolving tech like nanotechnology and artificial intelligence is nudging gadgets past the "toy phase, moving to supplement phase [and] moving to the partner phase" for military weapons and defense, Hammes said.
The Air Force is pursuing "swarm use" of low-cost drones that can communicate with one another, and researchers have created complex prototypes that cost only $2,500, according to a recent report Hammes wrote for Cato, a libertarian think tank. This year, the Navy launched a drone that can follow instructions and can go five years without fuel.
The Department of Defense has less ownership over tech innovation than ever before. It was a funding powerhouse for technologies in the '60s, with two-thirds of innovation under its supervision, according to the former director of the Pentagon's international security program, Andrew Philip Hunter. Now commercial firms are taking over, using drones in agriculture, for instance, to survey crop yields.
Hammes agreed, noting that there is no need for the Pentagon to invest in artificial intelligence because tech and other commercial industries already are doing itThe government should invest in a niche area over which the DoD can take greater control, he said.
But the focus on new technology should not lead the military to dump traditional tech in exchange for new toys, said Jerry Hendrix, a director at the Center for a New American Security. "Rather, we should focus on taking new tech and graft it onto older technology and look into the future because doing so is responsible," Hendrix said.