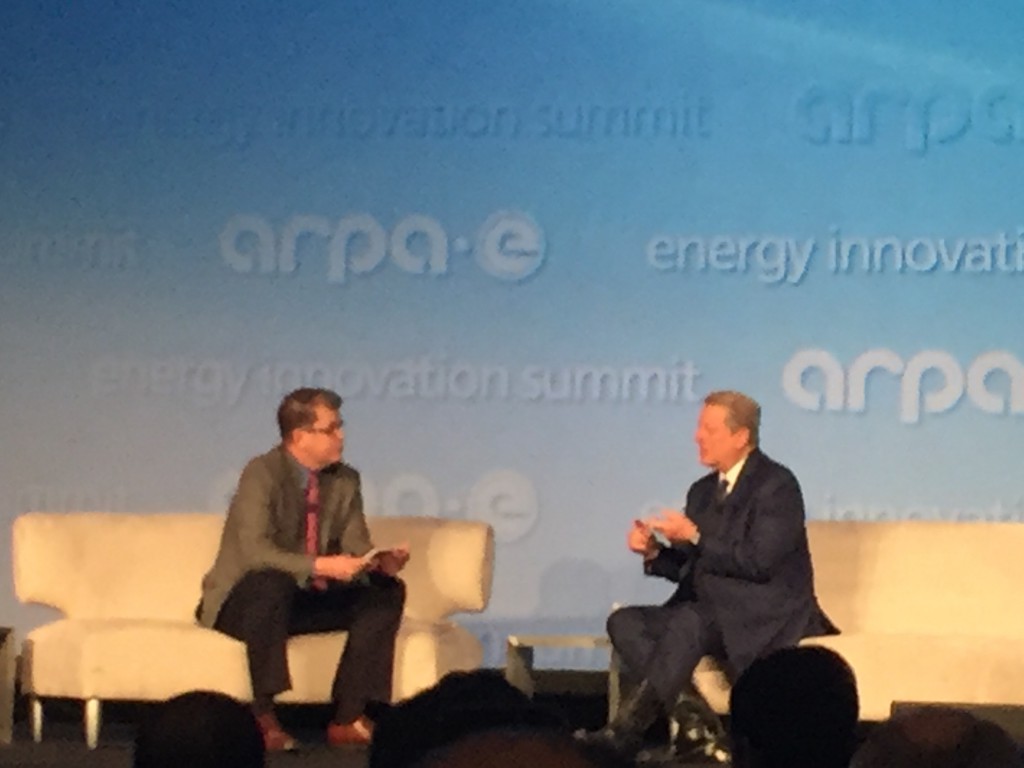 Former Vice President Al Gore speaks at annual energy summit in Maryland. (Allyson Chiu/Medill News Service)
NATIONAL HARBOR, Md. — Former Vice President Al Gore called on businesses to get greener and combat climate change at an energy summit Tuesday. However, cheap oil and natural gas pose a problem.
The 45th vice president turned Nobel Prize-winning environmental activist recommended businesses adopt sustainable practices to reduce human impact on the environment in a way that also creates financial benefits.
"All of those choices that were made over the last century and a half in favor of inefficiency and absorbing the costs of artificial energy has created the biggest business opportunity in the history of the world," said Gore, who is also the co-founder of Generation Management Systems — an investment company that supports sustainability research ventures.
He spoke at the annual ARPA-E energy innovation summit, a three-day conference hosted by the Advanced Research Projects Agency-Energy in Prince Georges County, Maryland.
Gore referenced Walmart's successful transition to greener business practices, such as the use of eco-friendly packaging, sustainable sourcing of food products and electronics recycling.
"What they found out was that it improved their profits, and they were saving money," he said. "That is a lesson that is now very commonplace in the corporate world. When companies get into this transformation they find out there are a lot of benefits they didn't count on."
Other benefits include improving the company's image, which impacts sales, said Charles Ebinger, senior energy and climate initiative fellow with the Brookings Institution, a Washington-based think tank.
"The public opinion polls show overwhelmingly that they favor doing business with companies that are showing a commitment to the environment," said Ebinger in a phone interview. "In
theory if you go that way, you'll see an increase in sales and a more favorable attitude toward whatever goods or service you produce." 
However, prices for fossil fuels such as natural gas and oil have fallen more than 60 percent in the last year and a half. The low prices make it difficult for companies to justify investing in sustainable practices, even though they have positive impacts in the long-term, said Ebinger.
"We have a real challenge for society not to get wooed back to polluting fossil fuels, just because prices are low today," he said.
Investing in green practices is also harder for small businesses because they have fewer resources to spare, said Andrew Wimer, senior media manager with the National Federation of Independent Businesses, a small business advocacy organization.
"A lot of small business owners I've talked to are not very appreciative of the kind of advice about business practices that Al Gore likes to give," he said. "They're not multi-millionaires. They have to look at their balance sheet week to week and they have to make rent." 
Small business owners often have fewer than 10 employees and have to focus on a bottom line to stay open, said Wimer. Making investments that may hurt them financially in the short-term could put some companies out of business, he added.
"Whenever they have to jump through another hoop that costs them time and money, it distracts them from running their business," he said.