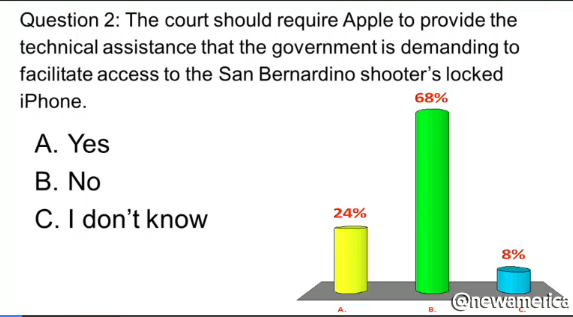 WASHINGTON–The Apple v. FBI debate has been framed as a battle between the government and Silicon Valley, but other tech companies have shied away from taking a strong stand in support of the pioneering tech giant, cybersecurity experts said at a conference on Wednesday.
Panelists at a New America Foundation forum said that Silicon Valley's calculated responses to the Apple v. FBI case — regarding the government's attempt to force the tech giant to unlock the San Bernardino shooter's iPhone 5C — illustrate the uncertainty surrounding the debate about encryption.
There has been a "tremendous outpouring" of amicus briefs from companies like Microsoft, Facebook, Twitter and Amazon, said Michael Vatis, founding director of the FBI's National Infrastructure Protection Center, a government organization responsible for detecting cyber attacks.
However, Vatis said that Microsoft founder Bill Gates' comments that Apple should cooperate with the government to unlock the iPhone demo may reveal that not all companies want to take such a hard stance against the federal government.
Gates was interviewed in the Financial Times.
"Behind closed doors, within the industry, I think views are much more mixed," Vatis said.
Technology companies may be waffling about the case because the implications for their own businesses are unclear, said panelist Peter Swire, a former member of President Barack Obama's review group on Intelligence and Communications Technology. Many firms started to encrypt their own Internet traffic services after Edward Snowden's leaks about NSA Internet surveillance, Swire said.
"They've done that (encryption) to show customers in the U.S. and abroad that they can trust them with their data," he said.
Because so much of how Silicon Valley does business now involves encryption, though, Swire said companies worry taking a strong stance against the court order ordering Apple to cooperate with the FBI might affect their own disputes with law enforcement in the future.
However, it might just be a matter of time before tech companies feel comfortable speaking out.
For example, a group of tech companies including Twitter, Google and Facebook, the Reform Government Surveillance coalition, after initially refraining from taking a stand, recently came out in support of Apple's position.
"As technology companies, we want to keep people safe, we want to stop crime, and accordingly, we cooperate with law enforcement in ways that are consistent with the law," the coalition said in a on its website. "But we do not believe that the law allows the government to demand that a company create new software that supplies a backdoor to a secure technology."