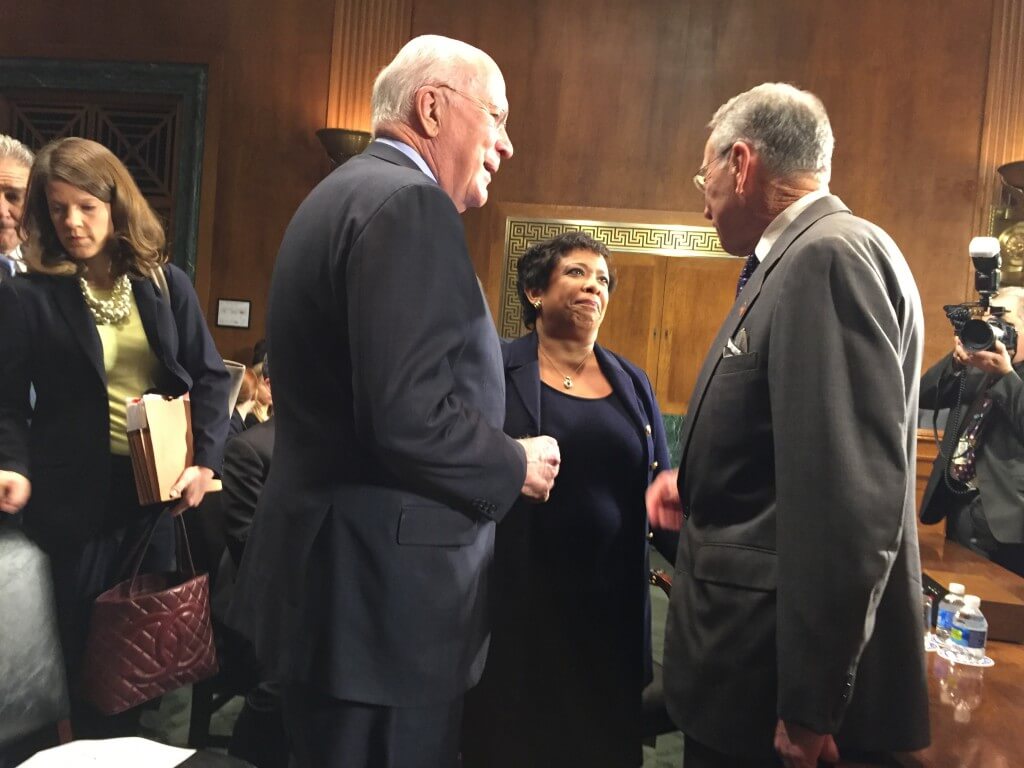 WASHINGTON– Attorney General Loretta Lynch found herself in the middle of controversies ranging from the Supreme Court to Hillary Clinton's emails during testimony to the Senate Judiciary Committee Wednesday.
For starters, Sen. Charles Schumer, D-N.Y., asked Lynch how tie votes on an eight-justice Supreme Court would play out in terms of setting judicial precedents, or impacting the executive branch.
Lynch said ties, which would uphold lower rulings but not create national precedent, would make it harder for the executive, but she assured lawmakers that her agency would continue to enforce the law.
She added, "I think people want clarity on those important legal issues."
A day after Lynch announced she had removed herself from consideration to succeed Supreme Court Justice Antonin Scalia, the hearing revisited the vacant seat flap. Vermont Sen. Patrick Leahy, the panel's top Democrat, criticized majority Republicans for meeting behind closed doors to decide against holding hearings this year on any Barack Obama nominee. Leahy pushed Chairman Charles Grassley, R-Iowa, to reconsider.
"I've never been invited to a Democratic caucus," Grassley responded. He likened the Senate leadership's refusal to consider a high court nominee to instances when the president vows to veto legislation before a version of a bill reaches his desk.
Lynch, who had been mentioned by some observers as a possible nominee for the high court, announced Tuesday that she is not interested the seat. She was confirmed by the Senate as attorney general in April 2015.
Reports in recent days have focused on several federal judges as possibilities for the nomination, including Jane Kelly of Iowa and Sri Srinivasan and Merrick Garland, both of Washington D.C. All three are moderates; Kelly and Srinivasan were confirmed by the Senate unanimously in 2013 to Court of Appeals seats and have made few controversial rulings. The thinking is the White House hopes nominating one of these candidates would put political pressure on Grassley and other Senate Republicans to hold confirmation hearings.
On Wednesday, Republican Senators found time to press Lynch on the White House's plan to close the the U.S. prison at Guantanamo Bay, Cuba.
Existing law prevents the administration from transferring any of the Guantanamo Bay detainees to the United States. Grassley called the prohibition, "critical to ensure that this president cannot act unilaterally to endanger our public safety."
Lynch said the administration realizes it cannot act on its own. President Obama has shown, "a desire to work with Congress" on the issue, she said.
Sen. John Cornyn, R-Texas waded deeper into political waters, asking Lynch about the Justice Department's involvement in granting immunity to a staffer involved in setting up Hillary Clinton's private email server while she was secretary of state. The email issue has nagged Clinton throughout her presidential campaign.
Lynch avoided dealing with the question directly. She said she could not comment on on-going cases but noted that immunity agreements take many different forms.