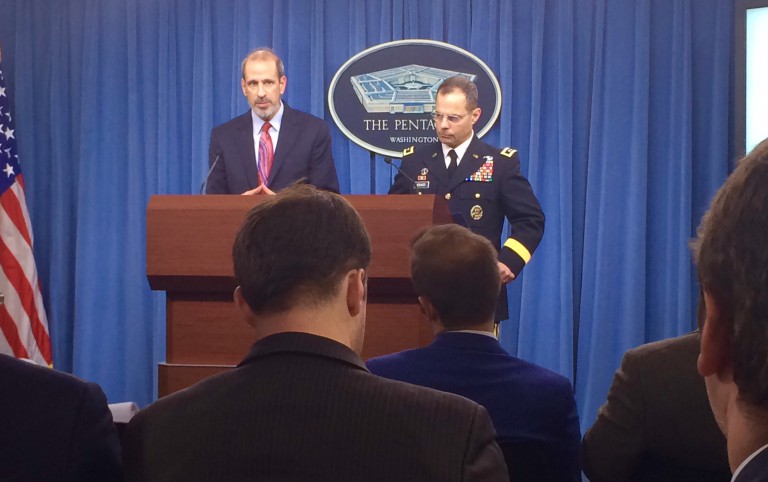 WASHINGTON — The Pentagon wants to more than triple spending in Eastern Europe in the next fiscal year to contain the emerging threat of Russian aggression and protect its allies, top Defense Department officials said Tuesday in releasing the proposed $582.7 billion defense spending plan.
The European Reassurance Initiative, which provides American military support to U.S. allies in Europe, currently has a roughly $985 million budget from the budget deal reached last November. But the proposal for fiscal 2017 would increase that number to $3.4 billion.
The army also plans to deploy an armored brigade to an undetermined location in Eastern Europe, Pentagon officials said on Tuesday. The move reflects a shift in strategy by the DoD over the past two years from previous efforts to scale down European forces as Russia has become an increasingly dangerous presence. It has annexed Crimea, fostered violence in Ukraine and conducted aerial bombing in Syria.
Overall defense spending would change little, up to $582.7 billion from last year's $580 billion, with most of the change coming from a proposed 1.6 percent pay raise, according to Defense Comptroller Mike McCord. Highlights include $6.7 billion on cybersecurity capabilities, part of a significant $19 billion cybersecurity push across the federal government, and an increase to $11 billion from roughly $5 billion for Operation Inherent Resolve, the fight against ISIS in Iraq and Syria.
Republican leadership expressed their disappointment with the president's defense spending proposal, saying it didn't spend enough and failed to honor last year's budget deal.
"I hoped [the Bipartisan Budget Act] would provide some budget stability and begin to rebuild our military," said Rep. Mac Thornberry, R-Texas,  chairman of the House Armed Services Committee. "Unfortunately, this administration continues to play budgetary games with our country's security and diminishes what credibility it had left."
Last week the Republican chairmen of the House and Senate budget committees announced neither would hold a hearing to question the Director of the Office of Management and Budget, a common first step in the budget process.
"Rather than spend time on a proposal that…will double down on the same failed policies that have led to the worst economic recovery in modern times, Congress should work on building a budget that balances and will foster a healthy economy," said House Budget Committee Chairman Tom Price, R-Ga., in a statement.
But DoD officials, including Deputy Defense Secretary Bob Work, insisted the Pentagon supported November's budget deal and had honored it in their proposal.
Fiscal hawks have also criticized the use of the Overseas Contingency Operations budget, at the heart of a growing debate within national security circles. The account was used primarily for the wars in Iraq and Afghanistan, and has come to be known as a general war fund. However OCO has little to no oversight and is not subject to sequestration spending caps, and some critics have accused the Pentagon of using OCO to obtain more total funding. But McCord refuted the claims.
"I don't think of us as the ones who are 'robbing' the base budget," McCord said at a press briefing Tuesday. "We've been making the case for greater resources and Congress as a whole has been unwilling to comply."
McCord said the recently released budget proposal was the first to include defined OCO amounts, and the Pentagon has begun to explore moving OCO back into the base budget as a solution.