WASHINGTON- 

The news media and social media have roles to play in promoting Americans'


resilience in response to violent attacks such as bombings or mass shootings, according to

experts discussing emotional responses to terrible events Tuesday.

New America, a progressive think tank, released a report Tuesday examining the media's


evolving role in influencing public reactions in the wake of terrorist attacks. The study looked at

events ranging from the 1993 World Trade Center garage bombing to the Orlando Pulse

nightclub attack earlier this year in June.

New America senior adviser Sharon Burke, one of the authors of the "War and Tweets" report,


recommended promoting community resilience through a more constructive role of the public,

social media use in post-disaster communications and local media empowerment.
Orland Mayor Buddy Dyer said that after the Orlando shootings, he tried to set a tone that would
show Orlando would not be defined by the murderous rampage at the nightclub by using the
hashtag #OrlandoUnited on Twitter.

"We came out and said we're not going to be defined by the hateful act of the killer, but rather through love and compassion, and that's what the community got behind," Dyer said. "We

wanted to calm everybody down and insti

ll confidence to let them know we were in control."

Dyer's Twitter 

account 

mentioned the shooter's name only once in a retweet from the Orlando

Police account. Instead, he tweeted messages of support and encouragement.

"We need to support each other, lo

ve each other and this will not define us but bring us


together," one of Dyer's tweets said.
When reporters called, Dyer's office told them to go to Twitter and Facebook for information
, he
said. City officials held three press conferences on the first day and instead focused on setting
up a website with victims' names and an assistance center for families.
Social media has become a resource for both citizens and reporters, but is evolving to
encourage community action, the report said. Facebook lets users check in after a terrorist
attack or natural disaster, while Uber's UberHEALTH promotion encourages riders to get their
flu shots.
But while social media can be a powerful tool, it can also be dangerous. CNN National Security Analyst Juliette Kayyem said users of the social news website Reddit tried to help FBI after the 2013 Boston Marathon bombing but misidentified the bomber, causing confusion.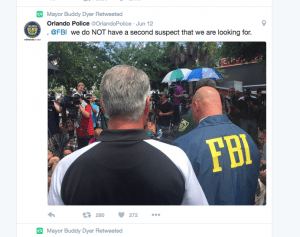 In Orlando, however, rumors surrounding the Pulse shooting were publicly addressed through Twitter. "There was a rumor that an unidentified body was a second shooter and the other was if the SWAT team came into the club too late," Kayyem said. "On Twitter, (Dyer) acknowledged that you understood there was that rumor mill, so you didn't look stupid. By acknowledging those rumors, you're protecting yourself by not buying into that narrative."
While the news media plays a powerful role in shaping the narrative, terrorists also have their own narratives on social media, according to Katie Wheelbarger, counsel for the Senate Armed Services Committee.
The Orlando shooter, Omar Mateen, 29, posted live status updates on his Facebook page during the shooting, which Facebook later took down. He also googled his name to see if he was trending and called 911, pledging allegiance to the Islamic state.
"Terrorist groups always show themselves trying to look successful, like heroes of their own story," Wheelbarger said. "We can counter that narrative by showing their failures, that they're not 10 feet tall. The challenge is getting it out at the speed and volume they've been able to."