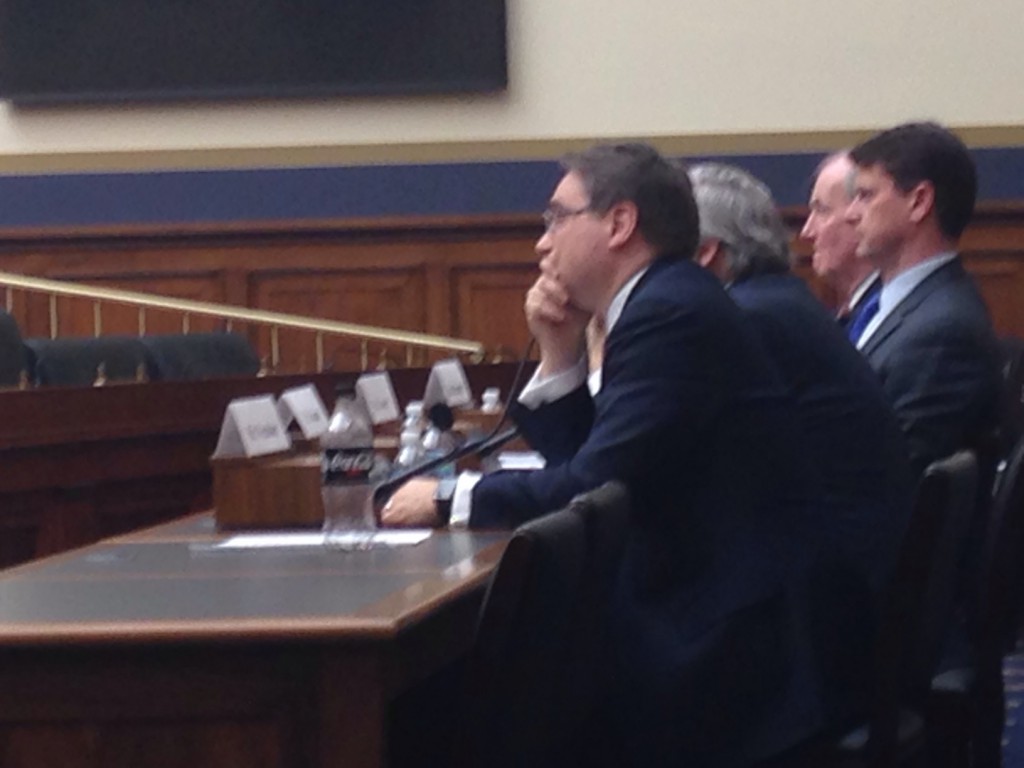 William Wechsler and other witnesses say that the government needs more specialized workers dedicated solely to anti-terror finance efforts. (Celena Chong/Medill News Service)
WASHINGTON — The United States and international partners are not yet up to the task of  stemming the flow of trade-based money laundering, the most common strategy used by terrorist organizations such as ISIS to move billions of dollars undetected.
The concern came from Rep. Mike Fitzpatrick, R-Pa., at a House Financial Services Committee hearing Tuesday.
 ISIS, the self-proclaimed Islamic State, has been accused of making between $1 million to $2 million daily from oil profits alone, sold by sponsors who smuggle it past the southern border of Turkey. The terrorist group loots, controls land, extorts taxes and obtain ransoms from kidnappings in order to finance its organization, according to congressional hearing reports.
 U.S. agencies are using sanctions, technical assistance and training to help build capabilities of foreign governments to combat terrorism financing. But that effort is currently "shallow," said William Wechsler, a senior fellow at the Center for American Progress.
Many governments of developing nations, like war-torn Somalia, are slow to join efforts such as developing more trustworthy bank systems, however, because their banks are afraid of reputational risks and financial losses.
 A group dedicated solely to prevent money laundering, called the Financial Action Task Force, has warned that there could be unintended consequences if the U.S. is too "aggressive" to stem terror finance activity.
Creating formal financial products and services in foreign countries can better document transactions to entrap a terrorist. However, such tactics could also drive up the costs of doing business for low-income households, according to the task force's 2013 report. It may also be less attractive for the private sector to provide the unbanked the financial support that they need to survive.
"A huge lesson we've learned is that virtually nothing can be changed until the host country commits to reform," Wechsler said. "Otherwise we are wasting taxpayer resources."
U.S. embassies in host countries engaged in the counter-terrorist financing effort need an overhaul in personnel systems to help get the job done, said former Deputy Secretary of the Treasury Robert M Kimmitt.
He recommended that each embassy have an attaché, or a specialized member, who is dedicated to the anti-terror finance efforts. There also needs to be a capable ambassador, working towards this goal, who can bring unity of command to foreign civilians, he said.
Witnesses at the hearing said that the U.S. also needs to convince wealthier countries with established banking institutions, to adopt intelligence and analysis units within their finance or defense ministries.
"The U.S. military could not have successfully targeted large cash holdings in (Iraq) without an anti-terror finance intelligence unit staffed within military operations, Wechsler said.