WASHINGTON — The nation's chief technology officer called Monday for top tech talent to join a White House team in modernizing government.
"It's an honor to get to work in the federal government on behalf of the American people," said Megan Smith, who has served since 2013 as the country's third CTO. "It's our country. And so how do we get involved and specifically engaged?"
Smith, along with several representatives from the U.S. Digital Service, came to the South by Southwest festival in Austin, Texas, to recruit engineers and designers for the team working within the White House to improve the government's digital presence.
Smith emphasized the importance of innovation at every level. She highlighted federal initiatives from increasing diversity in technology to improving training for vacant technical jobs in government
"That's always been an American truth, this techie part of us," she said. "We're a nation of makers."
The U.S. Digital Service – which Smith compared to "Navy SEAL teams" – launched in 2014 after a team was brought in to fix the healthcare.gov website. Now at over 140 people, the service recruits talent from companies like Facebook and Amazon to work in small units across the government, providing IT support and improving digital resources for citizens.
Haley Van Dyck, deputy administrator at the U.S. Digital Service, showed off the team's work in digitizing green card replacement forms and making services for veterans easier to access online.
"These are the people who need government the most, and our failure to provide those services is disproportionately impacting them the most," Van Dyck said.
The presentation comes after President Barack Obama spoke at the festival last Friday, saying, "The toughest problems are government problems" and encouraging citizens to get involved in solving them.
"So the reason I'm here really is to recruit all of you," Obama said. "It's to say to you as I'm about to leave office, how can we start coming up with new platforms, new ideas, new approaches across disciplines and across skill sets to solve some of the big problems that we're facing today."
The Obama administration has supported a number of technology-friendly innovations. In addition to starting the U.S. Digital Service and creating the position of U.S. Chief Technology Officer – Megan Smith's job. The president has emphasized technology education and open data. Recently, he pledged $4 billion in his 2017 budget to increase K-12 access to computer science education.
Despite improvements, the federal government faces technology challenges across the board. A very public example of this deficit came last June, when the Office of Personnel Management announced that hackers had stolen the records of 21.5 million government employees and contractors, including Social Security numbers and fingerprint scans. This came just a few months after the Government Accountability Office added IT acquisitions and operations to its list of high-risk areas for the federal government.
"Federal IT investments too frequently fail to be completed or incur cost overruns and schedule slippages while contributing little to mission-related outcomes," a report from the agency stated.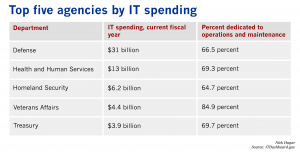 The GAO report attributed lagging technology to a "big bang" project approach, in which agencies work toward broad goals after years of development. In an IT environment of rapid iteration, this time frame is too large to deliver meaningful improvements.
"We have not done a good job of modernizing information technology architecture and systems over the past few years, maybe even up to a whole decade," said Kevin Desouza, nonresident senior fellow at the Brookings Institution, in a phone interview. "So what you have is aging infrastructure that leads itself to issues."
It's also uncertain how initiatives will carry over after the presidential election in November. While Obama has pushed technology initiatives, GOP frontrunner Donald Trump has been combative toward some elements of the tech sector, calling for a boycott of Apple and opposing expansion of the H-1B visa program that tech companies use to hire talent from abroad.
However, Desouza doesn't see any candidate dismantling programs that are saving money and improving efficiency in government.
"I don't expect that any administration that comes in next year is going to make significant changes that might disrupt what's already in place," he said.
And from the U.S. Digital Service's perspective, the work of improving access to government resources is more important than who's in charge.
"We don't care about politics," Van Dyck said. "We care about making government work better, because it's the only one we've got."