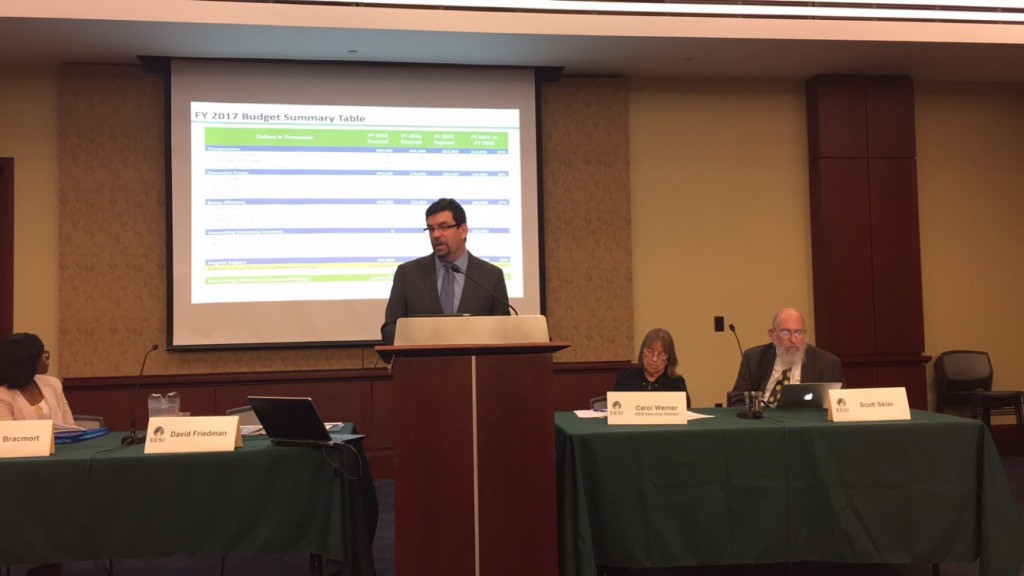 WASHINGTON– A world where all energy is harvested from the wind and sun is becoming a reality with more countries investing in renewable energy and energy efficiency, but the U.S. isn't moving fast enough or spending enough to stay ahead of other nations, a senior Energy Department official said Wednesday.
The $7.7 billion proposed in the fiscal 2017 budget for clean energy research could change that, environmental experts said at an Environment and Energy Study Institute briefing on Capitol Hill.
A 2014 Bloomberg New Energy Finance report said China leads the global clean energy race, investing more than $90 billion in renewable energy. The U.S. is second with about $50 billion in investments and Japan is third at $40 billion.
The U.S. is making progress, but it is not enough, said David Friedman, principal deputy assistant secretary with the Office of Energy Efficiency and Renewable Energy, a division of the Department of Energy.
"When you look at investments in research and development across the globe, the core fact of the matter is we are behind," said Friedman, at the briefing. "It's clear that the clean energy race is on and we are not investing enough in that race right now to ensure that we're going to win."
The federal government plans to fund research initiatives across 12 agencies, with the Department of Energy receiving 80 percent of the proposed $7.7 billion. The Office of Energy Efficiency and Renewable Energy (EERE) — which focuses on producing green technology — would see a 40 percent increase in funding compared to amounts enacted this year. The Advanced Research Projects Agency-Energy — another DOE division that promotes new energy technology — would also get its budget increased by more than 70 percent.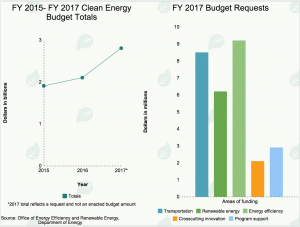 The money budgeted to the EERE would target three areas: sustainable transportation, renewable energy and energy efficiency.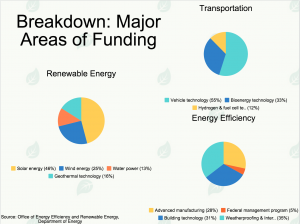 An addition to the budget is President Barack Obama's 21st Century Clean Transportation Plan, which he announced in February. The funding of $1.3 billion — obtained from a proposed $10.25 tax on crude oil — would go toward research and development of clean energy in transportation systems. Projects would include eco-friendly vehicles and energy efficient mass transit.
Investing in clean energy could also help the economy, an idea that seemed impossible in the past, said Scott Sklar, who is chair of the Sustainable Energy Coalition's steering committee. The coalition includes efficiency and renewable energy think tanks, industry associations and advocacy groups.
"I worked nine years in the U.S. Senate in the '70s when energy became an issue," said Sklar, president of the Stella Group, a green technology consulting group. "If anybody said you could grow GDP and use less energy you were thrown off the hill. That was considered heresy."
The nation's economy has grown 10 percent while energy consumption has decreased 2.4 percent since 2007, said Sklar. A report from the International Renewable Energy Agency — an intergovernmental organization that promotes sustainable energy — said the clean power industry created 6.3 million jobs in 2013.
Despite the economic benefits, the environment is still the highest priority, said Sklar.
"This is our planet and it's the only real nest we have, so these technologies do matter," he said.