WASHINGTON — David Farmer, a hunter who has lived in Portland, Maine, for 14 years, wants residents of his state be able to buy guns – but only after universal background checks on gun purchases and transfers. He's part of a growing movement that has given up on Congress enacting stricter gun laws and is taking the issue to states instead.
"I have two kids. I've got a 12-year-old and a 10-year-old and every morning I drop them off at school and I worry about what's going to happen," he said of his support for an initiative on the Maine ballot in November to require the universal background checks.
Farmer is part of Everytown for Gun Safety, an organization founded in 2014 when Moms Demand Action for Gun Sense merged with Mayors against Illegal Guns.
After the December 2012 shooting at Sandy Hook Elementary School in Newtown Conn., congressional Democrats and President Barack Obama pushed for increased background checks and other gun control measures with no success. Since then, no significant legislation has passed either the House or the Senate.
"With Congress stalled, gun control advocates are looking for other avenues for reform," said Adam Winkler, a law professor at UCLA and the author of a book on the history of gun control.
"States are an area where gun control advocates can make some headway."
For years, gun rights groups like the National Rifle Association have been able to use massive budgets—NRA revenue for 2013 totaled $348 million — to fight Washington's efforts to enact gun control, while running campaigns around the country to loosen gun restrictions through legislation at the state level. In 2015 for example, the NRA claimed victories in the Texas legislature on where and how people can carry guns and in state elections in Virginia and Mississippi.
But especially since the shootings at Sandy Hook, groups on the other side of the debate are competing on the state level – and with significant funding. For instance, Warren Buffett serves on the Everytown's board and former New York Mayor Michael Bloomberg pledged $50 million to the group.
In the press release announcing its formation Everytown said it would move "beyond Congress to bring the fight for common-sense gun policies to state capitols, corporate boards, and state and federal elections – fields of play formerly occupied almost solely by the gun lobby."
"The gun control movement has been reinvigorated since Newtown and that's most apparent at the state level where we see significant reform," Winkler said. "The gun control movement now has significant money behind it which had never had."
Backed by that funding, Everytown claimed broad victories in 2015. In a press release at the end of the year the group claimed "the politics of guns in America is already changing," citing the passage of a background check expansion in Oregon and measures to prevent access to guns by domestic abusers in 19 states. Additionally, the group claimed it defeated 64 bills supported by the NRA across the country.
Nationally the NRA is still a financial giant. In comparison to the NRA's $348 million and 785 employees in 2013, the most recent information available, Everytown brought in $41 million in 2014 and reported 130 employees, according to tax filings.
The NRA has more revenue streams than Everytown, Winkler said, citing membership dues and magazine advertising as key advantages.
"There's still no doubt the NRA is one of the most well-funded politically influential advocacy groups in America,"
In light of that resource gap, Winkler said, the ballot initiative process allows gun control advocates to short-circuit politicians.
"It's a work-around. If you feel that it's going to be difficult to persuade legislators to your side, ballot initiatives become a promising vehicle for reform," he said.
And the movement has had success with ballot measures. In 2014 after a costly election fight Washington State passed a universal background check initiative similar to the one that will be on Maine's ballot.
In a spring 2013 poll almost 90 percent of Mainers supported universal background checks. If that number holds and the initiative passes, it would be an endorsement of the initiative strategy in states like Maine, where legislatures seem to be at odds with voters. Last year, the Maine legislature passed a law allowing gun owners to carry concealed weapons without permits.
Opponents of Maine's ballot initiative say the background check expansion and especially its restrictions on private gun transfers infringe on the civil rights on gun owners.
"They'll criminalize normal behavior that Mainers engage in all the time," Gun Owners of Maine President Todd Tolhurst said.
And for Tolhurst and others, the advocacy of New-York based Everytown represents outside meddling in Maine affairs.
"[Bloomberg] has taken his billions and put them to work and bought himself a place on our ballot here," Tolhurst said.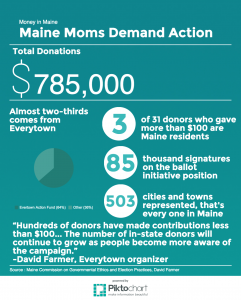 Fifty-five percent of Maine adults have a gun on their property, according to a 2013 survey, and gun ownership is such a part of the state's identity that the state constitution says the right for every citizen to keep and bear arms "shall never be questioned."
All that might make Maine seem like a strange place to focus a gun control effort. But for Farmer, the debate is not so black and white.
"I think this notion that folks who support closing background check loopholes are out for other people's guns is ridiculous on its surface," Farmer said. "I'm a gun owner and I have no intention of giving my guns up."