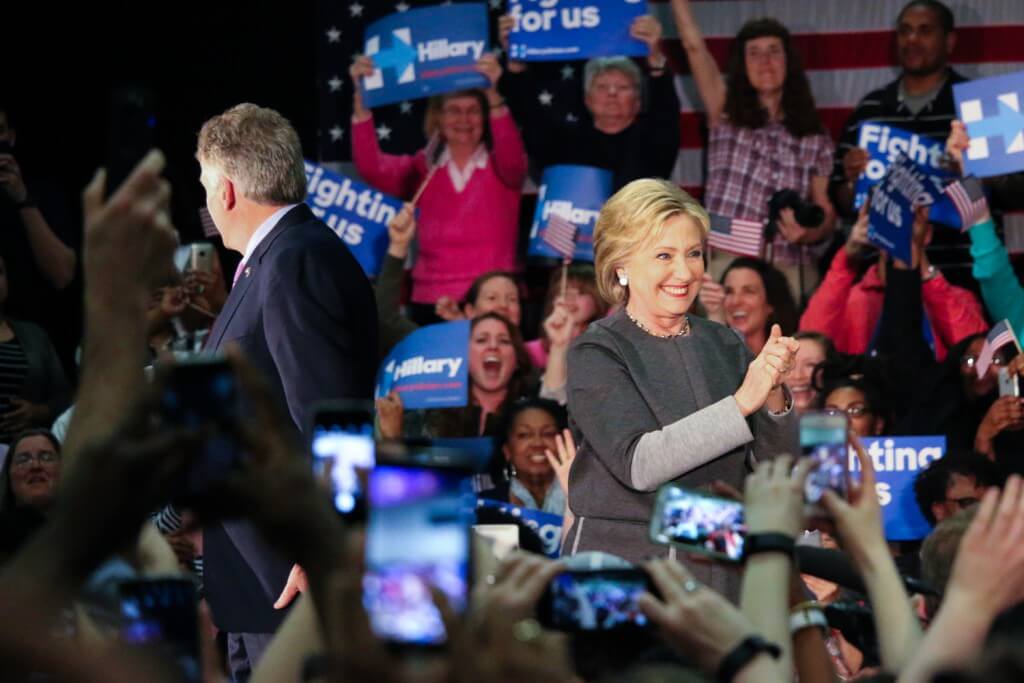 Democratic candidate Hillary Clinton greets a screaming audience at a Monday night rally at Lake Taylor High School in Norfolk, Va. Gov. Terry McAuliffe, [left] who has endorsed Clinton, introduced her before she took the stage. (Natalie Escobar/Medill News Service)

NORFOLK, Va. — While Sen. Bernie Sanders and Hillary Clinton court a black electorate that has played a pivotal role in past Democratic contests in Virginia, voters remain somewhat mixed on the candidates' racial justice messages as the state's Super Tuesday primary approaches.
Clinton and Sanders are battling for the support of black voters, who make up around 30 percent of the state's Democratic base. They turned out in large numbers for Barack Obama in 2008, especially in the southeastern part of the state.
Olevia Smith, 58, was one of those Virginians who backed Obama in 2008 but has since moved to Clinton. She sat next to her daughter Keara, 26, and friend Valencia Yancey, 58, at a rally held by the Clinton campaign in Norfolk on Monday night.
Throughout the rally, the women shouted "that's right" when Clinton spoke about breaking barriers for Virginians. Some of the loudest cheers came when the conversation turned to improving economic opportunity for women and minorities, and reforming the criminal justice system.
Clinton's platform resonates with people living in an area like Norfolk, Yancey said. Twenty-four percent of the city's black population lives in poverty, according to a report released by the city, and there's a relatively large group of formerly incarcerated individuals.
"They don't understand how poor some people are," said Yancey, who grew up in the 1960s civil rights era. "It's pitiful here in this area."
Former Secretary of State Clinton has pivoted her presidential campaign message in recent weeks to focus on racial inequality. She recently released her racial justice-oriented "Breaking Every Barrier Agenda," which aims to tackle systemic racism and opportunity gaps for African Americans and other disadvantaged groups.
Since then, her campaign has put up a television advertisement in the Richmond area about reforming the criminal justice system, similar to another one that aired in South Carolina narrated by Morgan Freeman that said Clinton has "always stood with" black voters.
Last week, Vermont Sen. Sanders also held a rally in Norfolk, Va., in which he talked about criminal justice issues and, per usual, economic inequality in the United States.
However, some young black Virginians remain skeptical of Clinton's commitment to black issues. She might talk about racial injustices in her stump speeches, but that's not saying much in the era of the Black Lives Matter movement, said some students at Hampton University, a historically black college in Virginia.
"It seems like all of a sudden now, she knows she needs the minority voters, so she starts talking about it," said 18-year-old Wynter Glenn. "That's kind of [not] genuine to me."
Some young black voters have reservations about Clinton, but their votes might not figure much into Tuesday's results. Clinton has a 20 point lead over Sanders among Virginia Democrats going into the primaries, according to Real Clear Politics polling data. She has racked up endorsements from state politicians, including Gov. Terry McAuliffe, who introduced her at the Norfolk rally, and Rep. Bobby Scott, D-Va.
Her momentum coming out of the South Carolina primary may also help her among Virginia voters who did not support her back in 2008 when Barack Obama was on the ballot; 86 percent of eligible black voters cast votes for Clinton in that state's Democratic primary last Saturday, according to CNN exit polls.
Her strong showing in South Carolina does not bode well for Sanders, who lost the black vote by "historic margins" said Mo Elleithee, the executive director of Georgetown University's Institute of Politics and Public Service, and former communications director for the Democratic National Committee.
The Clinton campaign has been organizing in black communities in Virginia for far longer than Sanders, Elleithee said in a phone interview, and Clinton has developed relationships and a sense of trust with older black voters like Smith and Yancey.
"This election is not about disruption and revolution," he said. "[Voters are] looking for someone who's willing to go to bat for them."
Olevia Smith said that she believes Clinton will improve conditions for her community.
"Hillary's been around for a while. I trust Hillary. With Sanders, I don't feel he's being fair with young folks," she said. "They think he's going to follow through with these things, but once you get in the White House, it's a different ball game."