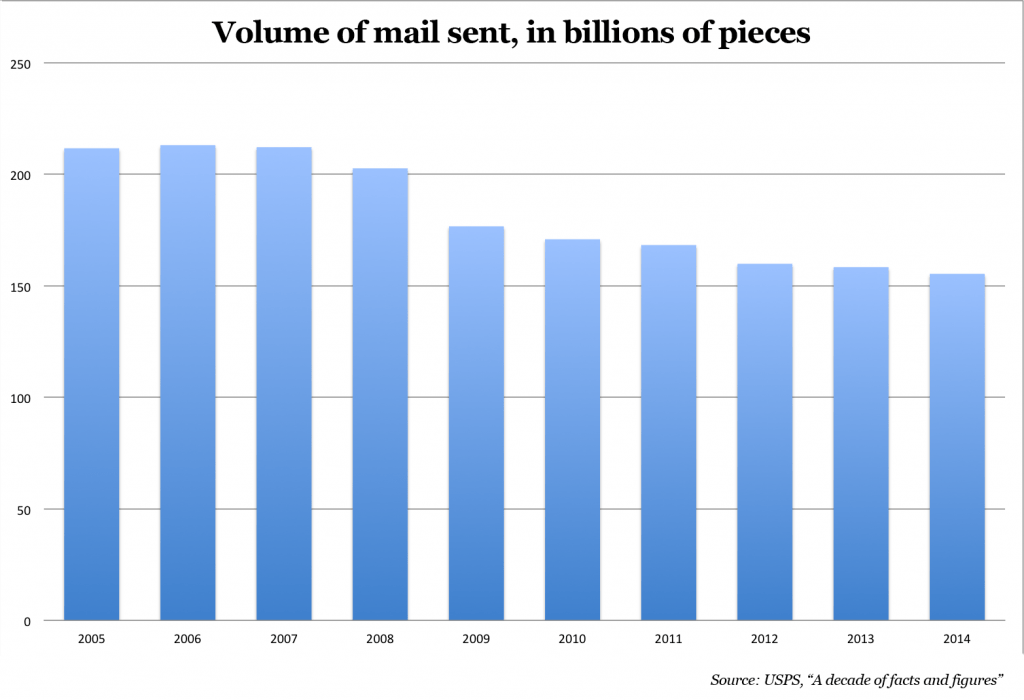 WASHINGTON – In the digital age, direct mail marketing – the postcards and coupon sheets that have filled mailboxes for decades – seems almost quaint, outdated snail mail headed for the nearest wastebasket. But a new product called Scout hopes to revitalize the medium and bring it to a wider audience.
"There's actually a lot of benefit to direct mail," Jordan Crawford, head of customer success at Rocketship Labs, the San Francisco company behind Scout, said. "It's really a perfect way to target folks because you can literally send a note to everyone within half a mile of your business."
In recent years there's been a surge in mail delivery-based startups, from razor subscription service Dollar Shave Club to monthly snack box NatureBox. Crawford sees this trend as offering an alternative for consumers being inundated with digital messages. And he hopes to capitalize on it with Scout.
SendwithScout.com allows companies to upload customized postcards and send them for $1 per card, so just about anyone can run a direct mail marketing campaign. Launched at midnight Sunday, it aims to open up this advertising channel to small companies without the resources to run their own campaigns.
While shrinking volume has caused many to write off physical correspondence entirely, claims that mail is dying might be exaggerated. Companies spent $46 billion on direct mail in 2014, up from $44.8 billion the previous year, according to a report from the Direct Marketing Association. And so though it might seem counterintuitive for companies to focus on traditional mail in the age of instant digital communication, there are signs that this supposedly fading medium could have a future among millennials.
The percentage of 18- to 21-year-olds who planned to respond to mailed advertisements increased from 2012 to 2013, as did the number of 22- to 24-year-olds who found them useful. And since less mail is being sent – households received about 19 pieces of mail per week in 2013, down from 25 in 2008, a 2014 USPS study found – direct mail has a better chance of standing out.
The numbers might support Scout's ambitions, but it's too early to tell if companies will respond.
Apple attempted a similar venture with its Cards app, which allowed anyone to design and send postcards to their friends. The app was shut down in 2013, two years after its introduction, but Apple still offers custom postcards through its desktop Photos app. In addition, companies like Vistaprint and even Walgreens offer custom printing directly to consumers.
Crawford doesn't see these offerings as direct competition. "I'm not really as concerned with trying to compete with the Shutterflies of the world," he said in a phone interview. "I more would like to open up direct mail to people who haven't used it before."
Going forward, Crawford hopes to build out the product so that customers can customize postcards at a granular level – he gave the example of a renewable energy company being able to send people cards with house-by-house data on installing solar panels. And Crawford wants to make direct mail marketing as easy and accessible for small businesses as is digital advertising.
"Anyone can get on Facebook and create a campaign, but that really hasn't existed for direct mail," he said.