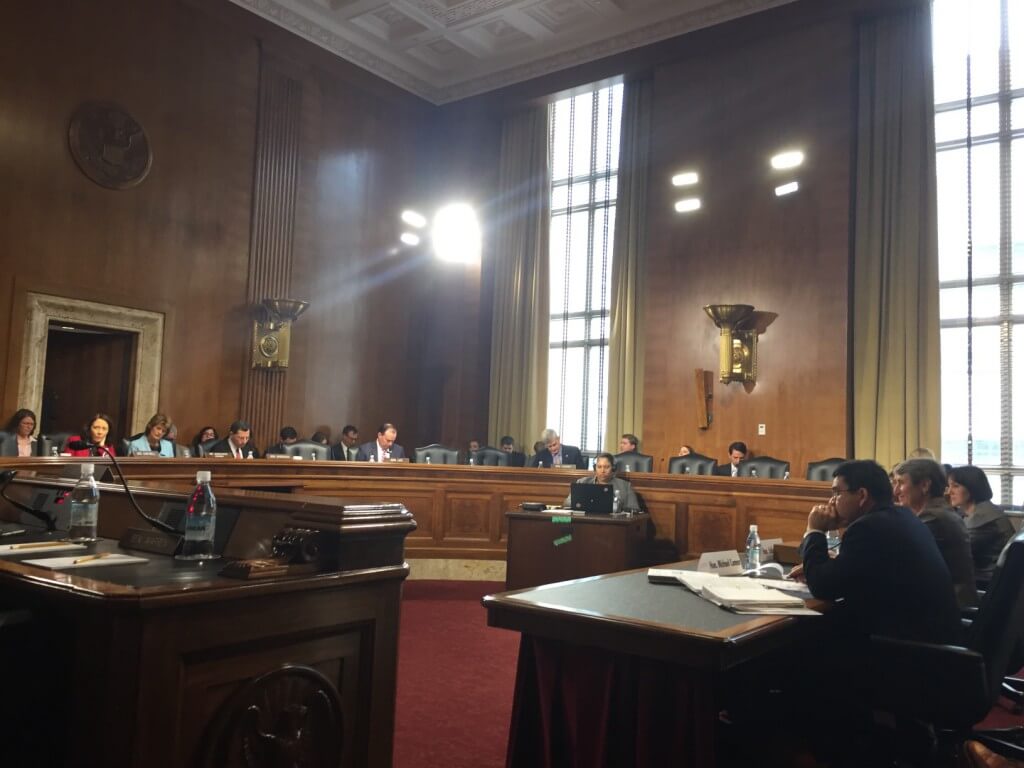 WASHINGTON — Oil-producing Gulf Coast states would lose hundreds of millions of dollars if Congress approves the Interior Department's budget request, which proposes a repeal of offshore oil and gas revenue-sharing allotted to four states — Louisiana, Texas, Mississippi and Alabama.
The Interior's 2017 budget would divert more than half the money now paid to those states under the Gulf of Mexico Energy Security Act — $375 million annually, according to Louisiana Sen. Bill Cassidy — to the Coastal Climate Resilience program, a new initiative that would provide coastal states with resources over 10 years to prepare for and adapt to the effects of climate change.
Critics of the Gulf of Mexico law say the money belongs to the federal government because the oil is taken from federal waters.
But at Tuesday's Senate Energy and Natural Resources Committee hearing, Chairman Sen. Lisa Murkowski said otherwise.
"Depriving the Gulf states of revenue-sharing from offshore production is just a non-starter," she said. "It would upend a deal that 71 senators supported and take money away from states that are depending on it to protect their coastlines."
Roughly $400 million of the $2 billion set aside for the Coastal Climate Resilience Program would go to communities in Alaska, Murkowski's home state, which are vulnerable to climate change, the White House announced on Feb. 9. This would include relocation costs for Alaska Native villages threatened by coastal erosion and rising seas.
Murkowski called the Interior Department's $13.4 billion budget request for 2017 a "rocky start" to the final year of the Obama administration, but Interior Secretary Sally Jewell defended the budget, saying it invests in renewable energy development and national parks.
The Interior Department requested $61.1 million more than it received this year. The budget proposes a $1.1 billion investment in American Indian schools, $290 million to handle catastrophic fires and a $190.5 million increase in funding for the National Park Service for its 100-year anniversary.
Under the proposed budget, oil companies would be taxed $10.25 per barrel of oil, a 25-cent increase over what the White House initially sought. Murkowski called the tax plan ambiguous and said it would hurt families and businesses.
"This mathematical sleight of hand may look innocent, but that additional quarter actually raises the cost of the tax or 'fee' by nearly $8 billion," Murkowski said. "Far from a rounding error, this increase would only put an additional burden on America's oil producers, which dampens our domestic energy production."
Democrats on the committee praised the budget's modest increase in funding from last year, calling it a responsible proposal.
"I am pleased the budget … [is] taking a long-term and forward-looking approach to responsible energy development on public lands to address the impacts of climate change," said Sen. Maria Cantwell, D-Wash., the top Democrat on the committee.
Cantwell applauded Jewell's order last month to require the Bureau of Land Management to halt leases for coal mined from federal lands until the BLM compiles an Environmental Impact Statement.
"It has been 37 years since the current EIS was written," Cantwell said. "I think 37 years was long enough, so I'm thankful this process is underway."
Since the 1970s, coal companies have been required to pay for reclamation of land they mined. But companies may "self-bond," allowing them to cover reclamation costs later. Cantwell argued this has put taxpayers at risk as large coal companies face bankruptcy and lack funding to pay for reclamation. She encouraged the Interior to end this practice.
"How are we making sure that the taxpayer isn't left on the hook?" Cantwell said. "… We can't continue with business as usual. That enormous gap between public revenue and the ultimate cost to the public is simply indefensible."