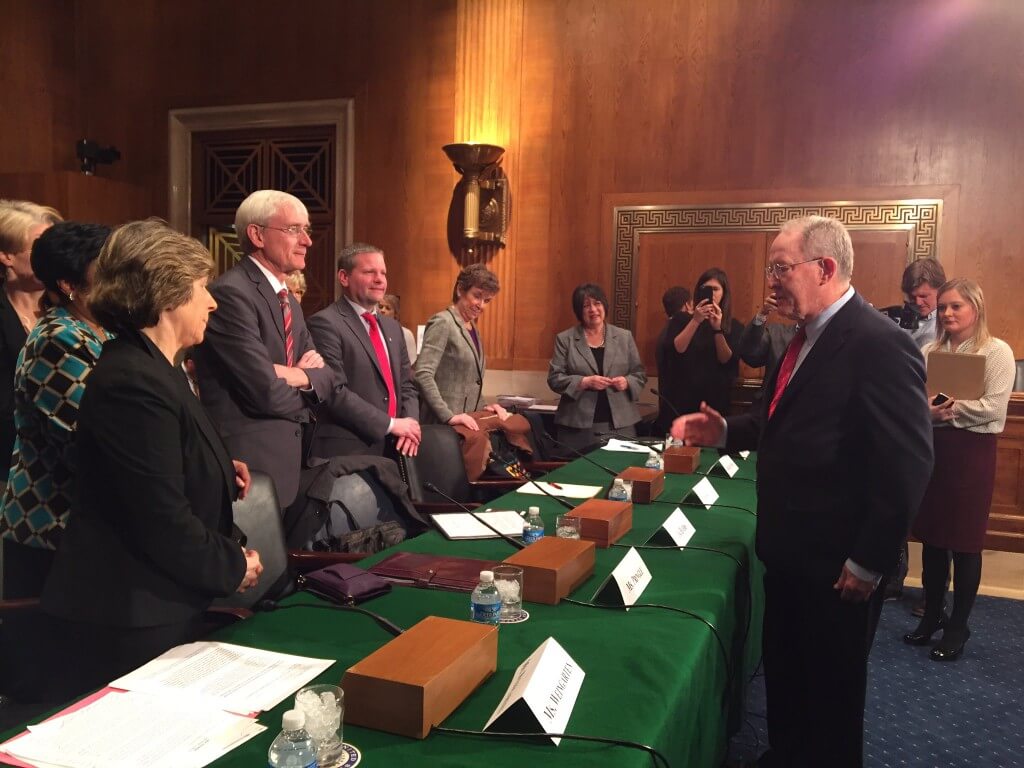 Chairman Lamar Alexander, R-Tenn., greets witnesses before hearing begins.
WASHINGTON–Although Congress overturned the No Child Left Behind Act's unpopular standardized tests, education leaders warned senators Tuesday that the new law will flop unless states are given enough flexibility and support by the federal government.
Witnesses told the Senate Health, Education, Labor and Pensions Committee said that the new Every Student Succeeds Act,  approved in December, can only work if the federal government gives educators time and leeway to create new teaching systems.
"We have gone through many reforms in which there was a rush to publish, a rush to create," American Federation of Teachers President Randi Weingarten said.
States and local school districts have their work cut out for them. Because the new law eliminates "one size fits all" tests and accountability standards, states have to design their own. The new education law still provides general guidelines for those systems, including math and reading assessments and the tracking of high school graduation rates.
These changes must not be rushed, witnesses said. Partnerships between the districts and parents need to be created, and teachers must have time to figure out what they need to run better classrooms. Teachers must now help write policy, not just follow standards that have in the past "tested and punished" them, said National Education Association Vice President Becky Pringle.
Other witnesses said that the federal government should make sure states address the needs of disadvantaged students.  
The No Child Left Behind law's requirements for annual testing and public reporting of student performance data did not narrow racial and socioeconomic achievement gaps, according to federal studies. But the national government must stay the course, since it has long been responsible for making sure local districts do not let vulnerable populations slip through the cracks, said Delia Pompa, a fellow at the Migration Policy Institute, a Washington-based liberal think tank.
"We have a great belief in innovation and what school districts can do, but we also have a long history of needing protection for special groups of kids," she said.
Democrats on the committee said the Education Department has the authority to issue rules and regulations to hold states accountable for giving special attention to vulnerable kids.  Sen. Elizabeth Warren, D-Mass., said Congress attached some strings to the grant money available to states, meaning the federal government still has an oversight role.
"The federal government provides billions of dollars every year to states," she said. "And for that investment to be meaningful, that money must be used to improve education."